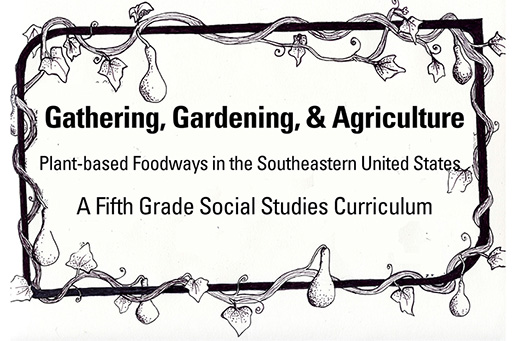 The Arkansas Archeological Survey received three grants to develop a 5th grade social studies curriculum for teachers in Arkansas's public schools. The curriculum explores concepts of Native American and early European- and African-American plant use in the southeastern United States, while highlighting specific sites in Arkansas. The curriculum will be made accessible to educators through free Arkansas Department of Education credit-bearing teacher workshops and a free content and activity book to be hosted on a new Gathering, Gardening, and Agriculture website.
This is an exciting endeavor as each year hundreds of 5th grade educators in Arkansas public schools teach their students about pre-Columbian societies and early European exploration in North America. Educators introduce topics of pre-Columbian human plant use as early as kindergarten when students learn about traditional foods prepared and consumed at the first Thanksgiving feast. This story, albeit inaccurate, introduces students to the importance of plant-based foods, the history of specific foods, and food-based traditions dating back hundreds of years. In most cases however, students do not learn the deep history of these plants, the resulting effects on society and culture that continue to this day, and ways in which archeologists investigate these topics. For this curriculum, we developed core five lessons and a bonus lesson, approximately an hour in length, to be taught over the course of a week. Lessons include:
Lesson One: Archeology is about People. Introduces archeology, dispels common misconceptions, and introduces students to the critical thinking and analysis skills archeologists use to study the past.

Lesson Two: Foraging Foodways. Examines foodways of the early foragers, or hunter gatherers, of the southeastern United States between 9,000 and 650 BC.

Lesson Three: First Gardeners. Explores native plant domestication in the southeastern United States 3,000 years ago and how Native American cultures changed with the development of gardening.

Lesson Four: Changing Gardens and Evolving Fields. Explains cultural changes associated with the adoption of corn agriculture.

Lesson Five: Stability and Change in Early Colonization. Guides students to use primary sources to identify evidence of additional changes in Native American foodways.

Bonus Lesson: Many People, Many Plates. Investigates the Columbian Exchange and maps the origin and spread of plants, examining how this historical process shaped diets of today.
To facilitate the use of this curriculum, workshops will be held for Arkansas teachers:
The full-day workshops are free. Teachers can receive 4 ADE Professional Development credits.
In addition, a shorter workshop will be offered on Thursday, March 2nd at the Arkansas Gifted and Talented Educators Conference, Little Rock.
*For more information or to register for one of these workshops contact Dr. Emily Beahm at beahm@uark.edu*, and don't forget to check the Gathering, Gardening, and Agriculture website for new workshop offerings.
Supported by the Southeastern Archeological Conference, the Arkansas Archeological Society, the Arkansas Humanities Council, and the National Endowment for the Humanities.
Save
Save
Save
Save
Save
Save