Indians in the New South
by George Sabo III
The years following the Civil War were hard ones for Indians. Caddos, Cherokees, Osages, and Quapaws returned to Indian Territory reservations hoping to rebuild community-based agricultural economies. Nearly all of these groups had splintered during the preceding era of removals and relocations, and most now also lived with or alongside members of other Indian as well non-Indian groups. Even so, tracts of land still claimed by individual tribes made it possible to maintain traditional, kin-based networks for organizing work and sharing the fruits of their labors. The existence of these networks distinguished Indians from their non-Indian neighbors in nineteenth-century rural America.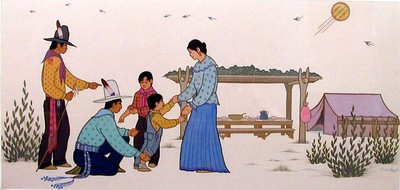 Medicine for Children, by Acee Blue Eagle.
Courtesy of the Gilcrease Museum.
The Indians' emphasis on extended, kin-based society and community-wide sharing was not in line with the assimilation policies of the U.S. government. Thus, the tribes' ability to maintain some degree of cultural integrity led to congressional passage of the Indian Allotment Act, or Dawes Act, in 1887. By this act, reservation lands were divided among families and individuals. Generally, each family or adult received a 160-acre allotment, though the Quapaws argued for and won 200-acre allotments. Surplus or unassigned lands were opened for public sale, usually to non-Indian buyers. The Dawes Act brought about a significant reduction of Indian-owned lands, and by establishing individual holdings made it more difficult for Indians to maintain their traditional communal living arrangements and cooperative social networks.
Several religious denominations set up churches and schools in Indian Territory, but the schools usually required Indian children to live away from their families for extended periods. This made it harder for Indian communities to pass on traditions from one generation to the next.
In the face of these challenges, many Indians turned to spiritual sources for solace and a means to rebuild a sense of community. During the nineteenth century, many religiously charged "revitalization" movements took hold among Indians across North America. These generally took shape around the leadership of a prophet who had received instructions during a dream or a trance leading to the formulation of a new set of beliefs and associated rituals to revitalize oppressed communities and provide hope for a brighter future. Often, these movements brought together separate elements of Christian and traditional Indian beliefs and practices. One of the first revitalization movements adopted by Arkansas Indians was the Ghost Dance, originated by a Paiute visionary named Jack Wilson (also known as Wovoka). Performance of the Ghost Dance by Lakota Sioux Indians at Wounded Knee, South Dakota in 1890 provoked their infamous slaughter at the hands of the U. S. 7th Cavalry. The Ghost Dance was introduced to Caddos and their neighbors in 1891 by John "Moonhead" Wilson, who was a member of the Caddo-Delaware community. A few years later, Moonhead Wilson also introduced the peyote religion, which became very popular among Caddos, Osages, and Quapaws. Comanche elders had instructed Wilson in the peyote religion; then Wilson developed a modified version that went along with his "Big Moon" altar which incorporated Christian themes and symbols in its design. Wilson's brand of peyotism was especially attractive to Catholic-practicing Quapaws and Osages.
Several Cherokee communities in northeast Oklahoma maintained traditional ceremonial grounds where they held dances and religious celebrations—including the annual Green Corn ceremony. Many Cherokee traditionalists belonged to the Keetoowah Society, a religious organization founded in the 1850s as a spiritual refuge. With the Cherokee Nation in Oklahoma increasingly torn by the effects of allotment and other culturally erosive events, a revitalization movement occurred within the Keetoowah Society. At the beginning of the twentieth century, Redbird Smith organized the Nighthawk Keetoowahs, dedicated to a return to the beliefs and ceremonial practices of their eastern ancestors. To avoid discovery and federal government intervention, the Nighthawk Keetoowahs usually met and conducted their ceremonies in secret. The group gained a considerable following throughout the twentieth century.
In a remarkable twist of fate, good fortune showered the Quapaws and Osages with considerable wealth at the beginning of the twentieth century. Lead and zinc deposits discovered beneath Quapaw lands and oil under Osage lands produced an economic boom. The influx of money brought financial relief to a large number of families, along with some less favorable developments. With secure sources of income and a taste for its rewards, some Quapaws and Osages drifted away from their cultural roots. Others, less able to manage their wealth, became the target of unscrupulous swindlers. Corrupt influences were common enough to prod the U.S. government into action: it declared the Indians "wards of the state" and took over the management of tribal economic resources. One step forward and two steps back.
Government control over Indian lives was finally relinquished with passage of the Indian Reorganization Act of 1934. The IRA recognized the sovereignty of American Indian nations and conferred rights of self-determination. In response, the tribes wrote new constitutions and governing institutions. For the first time in more than a century, Indian nations could set their own agendas and follow their own paths. On the other hand, most of the newly formed tribal governments were modeled on United States institutions, which meant that erosion of traditional Indian social and political practices continued. As they had done innumerable times before, Indian communities found ways to combine the old with the new. Arkansas Indians asserted new ethnicities rooted in a durable heritage and steeped in cherished traditions, yet not the same as they once had been. New cultural identities emerged to face a twentieth century world.

Further Reading:

Carter, Cecile Elkins
1995 Caddo Indians: Where We Come From. Norman, University of Oklahoma Press.

King, Duane H.
1979 The Cherokee Indian Nation: A Troubled History. Knoxville, University of Tennessee Press.

Sabo III, George
2001 Paths of Our Children: Historic Indians of Arkansas. Fayetteville, Arkansas Archeological Survey Popular Series No. 3.

2007 Native Americans. The Encyclopedia of Arkansas History and Culture. Encyclopedia of Arkansas Link