Caddo Dance Performance as Public Education
George Sabo III, Mary Beth Trubitt, and Timothy Mulvihill
Arkansas Archeological Survey

Phil Cross and Stacey Halfmoon
Caddo Culture Club
At the conclusion of the 53rd Annual Caddo Conference, held March 25 – 26, 2011 on the University of Arkansas - Fort Smith campus, thirty-five members of the Caddo Culture Club performed eight traditional dances for an audience of approximately 120 people. Peak audience composition consisted of about 80 non-Caddos and 40 members of the Caddo community. There were 89 registered conference participants (which included the Caddo Conference Club members), but only half of that group attended the dance, so the Caddo dance performance drew a substantial number of observers (approximately 40) from the local community. Members of the audience who attended only the dance performances learned about the event through articles that appeared in local northwest Arkansas newspapers, radio announcements, and printed announcements distributed on the University of Arkansas - Fort Smith campus.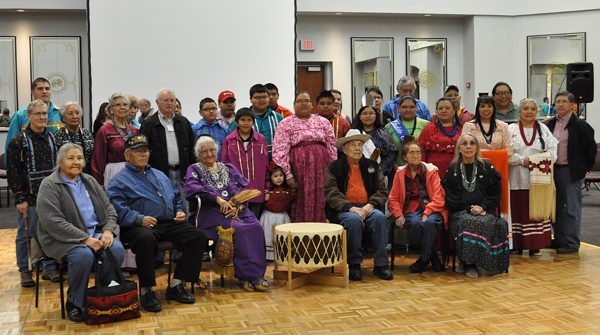 Members of the Caddo Culture Club at the 2011 Caddo Conference held at the University of Arkansas - Fort Smith.
The public venue for this event provided a valuable opportunity for evaluating the audience impact of modern American Indian cultural performances. Specifically, we were interested in gaining information on the education value of such performances: what is the nature of audience participation in these events, and what do they take away from their experience?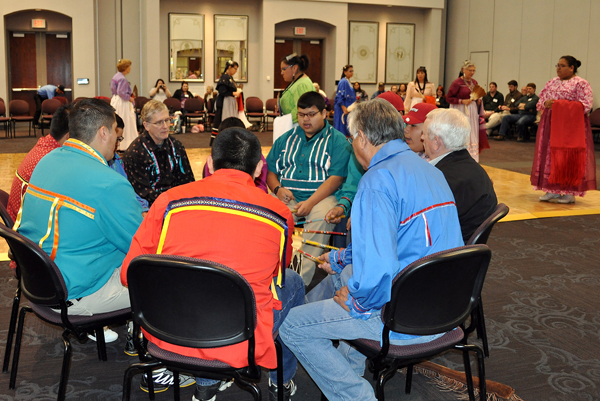 Caddo Culture Club drummers.
The performance began just before 4:00 PM in the indoor Reynolds Room of the Smith-Pendergraft Campus Center. Mr. Phil Cross, Caddo elder and former chairman of the Caddo Culture Club, served as the master of ceremonies, announcing each dance and explaining its history and cultural significance.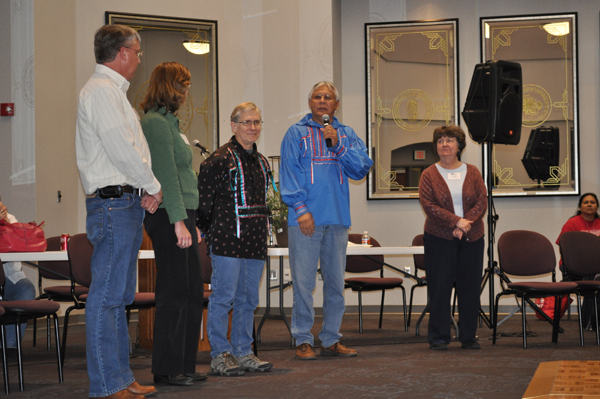 Phil Cross thanking conference organizers (from left to right) Tim Mulvihill, Mary Beth Trubitt, George Sabo, and Ann Early.
Following Caddo tradition, the Culture Club performers began with the Turkey Dance, a victory dance performed by women accompanied by songs (sung in various modern and older Caddo dialects) that relate important historic victories. Twenty-two Caddo women participated in this dance, which lasted about thirty minutes. In the final phase of the dance, some of the women choose male partners to complete the final circuits around the drum. Six non-Caddo males participated in this part of the dance.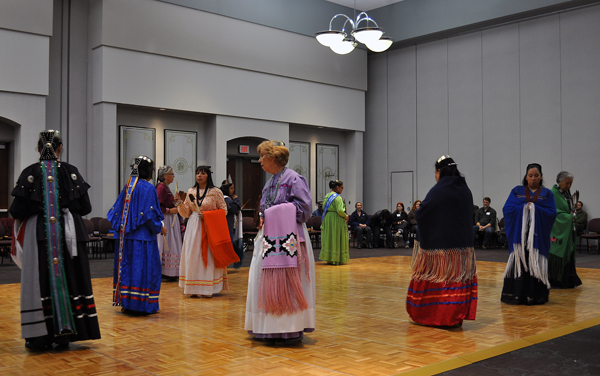 Caddo women performing the Turkey Dance.
Next, an honor dance was performed for Dr. Don G. Wyckoff, retiring Professor of Anthropology at the University of Oklahoma and Curator of Archaeology at the Sam Noble Oklahoma Museum of Natural History. Dr. Wyckoff's involvement with the Caddo Nation of Oklahoma reaches back a half-century, and on the occasion of his upcoming retirement the Caddo Nation and the Caddo Culture Club honored his long service with memorial presentations and a special honor dance. This dance was performed by 15 Caddos and 10 non-Caddos, including Dr. Wyckoff.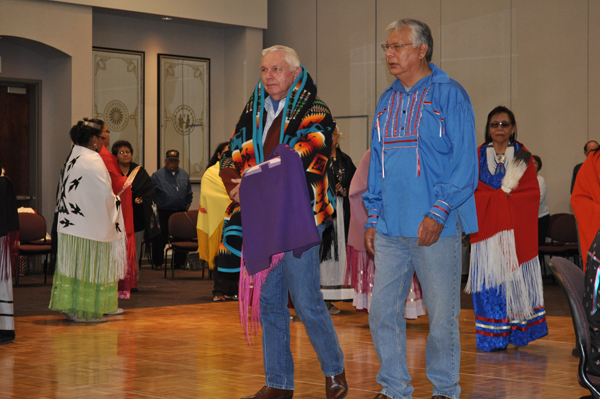 Honor Dance performed for Dr. Don G. Wyckoff.
The third dance was another honor dance for the younger members of the Caddo Culture Club who are learning all of the songs (approximately 200) that accompany the various traditional dances. This represents an enormous commitment on the part of these young men, who will inherit the primary responsibility for keeping alive these sacred traditions. The dance was performed by 30 Caddos, including the young initiates, along with two non-Caddos.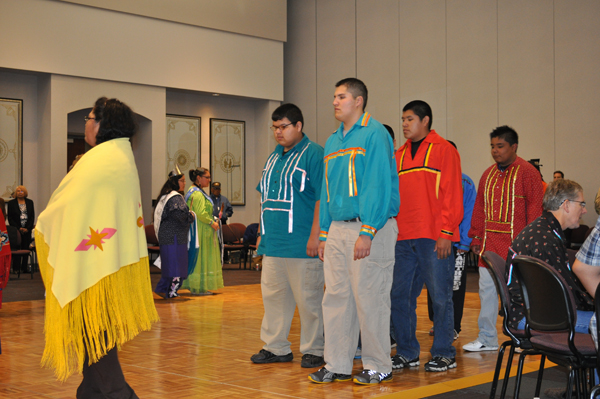 Honor Dance performed for young members of the Caddo Culture Club who are carrying on the traditions of their elders.
The Drum Dance was performed next. This is a sacred dance with songs that tell about the creation of the world and the origins of the Caddo people. Dancers follow a small drum, held by four singers, who complete circuits around the dance floor beginning at each of the four cardinal points (west, north, east, and south). Twenty-seven Caddos and two non-Caddos participated in this dance. A highlight of the dance was the participation of 95-year old Randlett Edmonds, esteemed Caddo elder and one of the few living native Caddo speakers. He was accompanied by his son and grandson, representing three generations in this performance.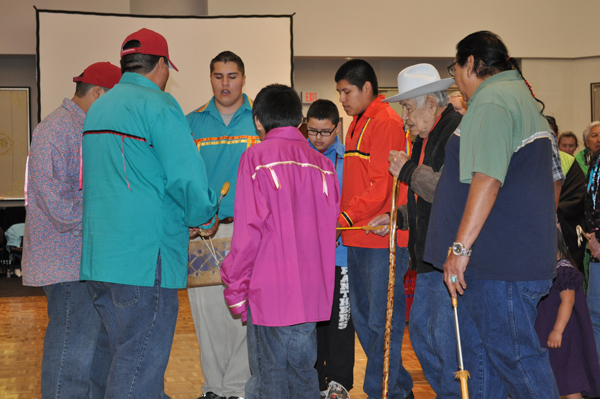 Randlett Edmonds (white hat) participating in the Drum Dance.
The fifth dance was a short dance performed to honor Indian Princesses who had traveled to this event with the Caddo Culture Club. Each year, Caddo social organizations bestow this honor on one young woman. It is a reward for dedication and accomplishment in learning and maintaining cultural traditions. This dance was performed by seven Caddos and two non-Caddos.
Honor Dance performed for Caddo princesses.
Next was the Fish Dance, a popular women's dance expressing the theme of propogation and growth. In this dance, women's dance steps and directions change in responses to changes in the tempo of the drumbeat. Twenty-two women performed this dance, including four non-Caddos.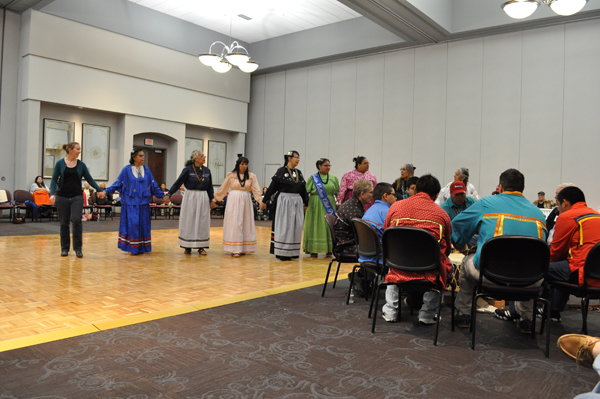 Fish dance.
The Cherokee or Vine dance is accompanied by songs emphasizing the theme of health. Caddos acquired this dance from nineteenth-century Cherokees living in Texas, so it is an example of tradition-building through the process of cultural exchange. The thirty-one participants in this dance were more-or-less equally divided: sixteen Caddos and fifteen non-Caddos.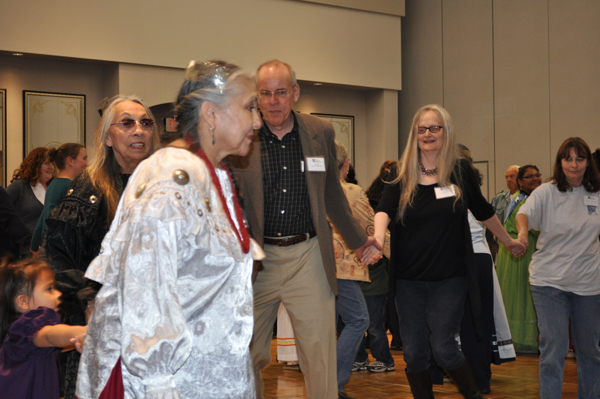 Arkansas Archeological Survey director Tom Green, along with Deborah Sabo and Dawn Novak, participating in the Cherokee Dance.
The evening's performance culminated with the Bell Dance, in which a pair of dance leaders with bells (or rattles) lead two lines of dancers in a pattern of interlocking spirals. There were thirty-two participants, including twenty-seven Caddos and five non-Caddos.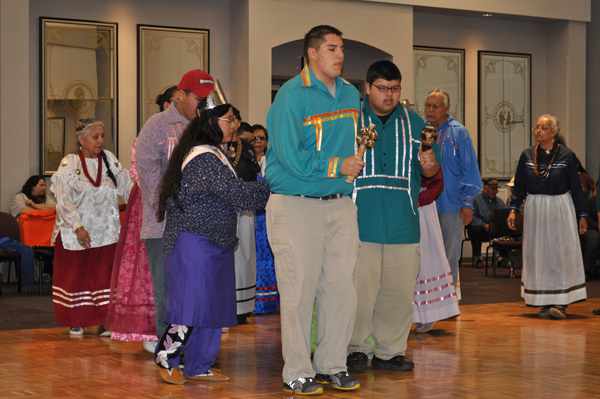 Travis Threlkeld and Michael Meeks leading the Bell Dance.
Three of our project evaluators (Halfmoon, Mulvihill, and Trubitt), while keeping track of audience and participant counts, also collected comments from people watching the dances. They collected more than two dozen comments, which reflect seven major themes recognized by the audience:
Gender roles associated with the dances, in which men perform as singers/drummers, and women are either the only dancers or the dance leaders when men join in on some of the dances.
The importance of dance regalia, including men's ribbon shirts, and women's specially-made dresses, shawls, feather fans, and long, streaming hair ornaments called dush-tohs.
The significance of dance as a cultural tradition and a means to preserve history and express cultural identity.
The use of dance to honor individuals and their achievements, both young and old.
The inclusion of several generations of Caddos in the performance.
The association of dance choreography and associated songs in expressing specific subject matter.
The use of dance to "bridge" cultures, bringing Caddos and non-Caddos together in a fun but educational event.
These are, indeed, all very important elements of Caddo dance performances. That audience members took interest and readily identified these elements is likely attributable to two circumstances. First, the audience was "self-selected" to include people who seek out opportunities for cultural enrichment, and these people are accordingly more likely to recognize and appreciate meanings associated with other peoples' traditions. Second, audience member experiences are undoubtedly elevated with the involvement of an experienced master of ceremonies (Phil Cross) who can effectively translate elements of cultural identity and tradition to a diverse, multicultural audience.
A short questionnaire was available at the performance, and announcers encouraged audience members to fill them out. We collected 40 completed questionnaires, representing a cross-section of participants with varying levels of previous attendance at events like this one. One set of questions asked how many Indian dances people had previously attended, and whether they had participated in any of the dances performed at this event.
| | | |
| --- | --- | --- |
| Previous Dance Attendance | Number | Number who danced |
| First time | 11 | 2 (18%) |
| 1-5 | 11 | 6 (56%) |
| 6-10 | 9 | 6 (67%) |
| more than 10 | 9 | 7 (78%) |
The table provided here, though based on a small sample of individuals, clearly illustrates that people are more likely to participate in American Indian dance performances as their experience (and comfort level) with this type of event increases.
The questionnaire also provided space for audience members to comment on what they learned about Caddo heritage from their participation in this event. People attending for the first time commented on the importance of dance for maintaining cultural traditions, the use of dance for passing cultural traditions on to the younger members of the community, and how performances like this one provide archaeologists with a living context for understanding the function and meaning of artifacts. Audience members who had previously attended 1-5 American Indian dance performances added comments on the importance of women in Caddo society, community respect for elders and the traditions they help to maintain, dance as history, the use of dance to honor and celebrate individual achievement, and links to ancient mound sites where earlier versions of these dances were undoubtedly performed. Those who had witnessed or participated in 6-10 dance performances also commented on the willingness of Caddo community members to travel long distances to share their cultural traditions, and the importance of language represented in the accompanying songs. Finally, "old hands" who had participated in ten or more dance performances commented on the durability of cultural traditions in modern Indian communities, and dance as a record of history and tradition.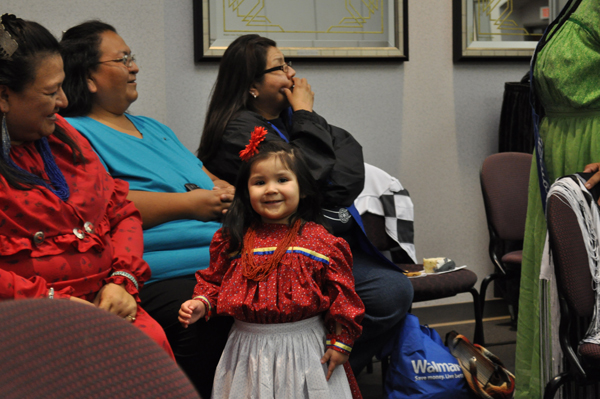 A young Caddo dancer.
All in all, we conclude from the information summarized here that the Caddo Culture Club performance on the University of Arkansas - Fort Smith campus succeeded admirably in 1) attracting a good number of local audience participants, in addition to conference attendees; 2) engaging the audience in cultural activities reflecting the heritage of the Caddo Indian Nation; and 3) providing a valuable educational experience for audience members, introducing them to the social and cultural content of American Indian dance performances.
We close with a heart-felt "thank you" to the Arkansas Humanities Council for providing funds for honoraria that made it possible for Caddo Culture Club members to travel from Binger, Oklahoma to Fort Smith, Arkansas for this event. Thanks also to Leslie Walker (Arkansas Archeological Survey), who took all of the photographs that illustrate this report.
Project Evaluators:Phil Cross (Caddo Culture Club), Stacey Halfmoon (Caddo Culture Club, American Indian Cultural Center and Museum), Timothy Mulvihill (Arkansas Archeological Survey, University of Arkansas - Fort Smith), Dr. Mary Beth Trubitt (Arkansas Archeological Survey, Henderson State University; Caddo Conference organizer)
This project is supported in part by a grant from the Arkansas Humanities Council and the Department of Arkansas Heritage.