Learning Exercises
This website serves as an educational resource to broadcast information about novaculite and its historic uses. Novaculite was an important raw material that was quarried from outcrops across the Ouachita Mountains by American Indians as early as 10,000 B.C. It is still used today for manufacturing whetstones and has other commercial uses. A key part of this website is the map showing source counties where quarries have been recorded as archeological sites in western Arkansas, and the distribution counties where novaculite artifacts have been found in and beyond the state's boundaries.
This website can serve as an educational resource for teachers, park interpreters, and museum personnel in Arkansas. Visit the "References and Links" page to find other Arkansas Archeological Survey websites and educational materials about Arkansas archeology.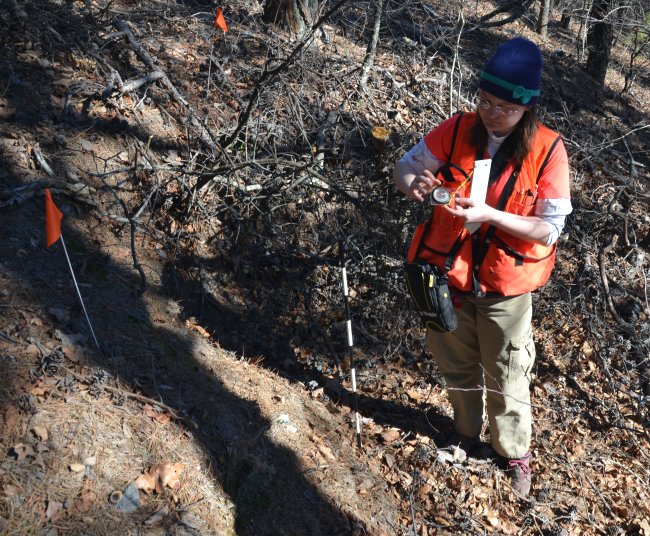 Vanessa Hanvey reads compass direction in a quarry pit at 3GA565.
Learning Exercises for Teachers and Students
This section of the website features suggested learning exercises that science, math, and social studies teachers and students can use.
Exercises: What is novaculite?
Exercises: How was novaculite used?
Exercises: What happens when novaculite is heated?
Exercises: Where are novaculite sources and distribution areas?
Exercises: What can we learn from novaculite quarry sites?
Exercises: Can you identify novaculite?
Resources for Teachers, Educators, and Interpreters:
As part of this website project, an educational flyer on Arkansas Novaculite has been created by the Arkansas Archeological Survey. It can be downloaded here and printed/distributed as needed. A three-fold color brochure is also available.
Tyler Stumpf and Mary Beth Trubitt created a "portable educational mural" about Arkansas Novaculite. This is a self-standing banner (8' tall, 3' wide, 1' deep) that can be set up in schools, libraries, museums, visitor centers, or other public venues. To arrange for a loan of this educational display, contact Dr. Trubitt at mtrubit@uark.edu or telephone 870-230-5463.
The Arkansas Archeological Survey maintains several websites that explain and explore Arkansas history and archeology. Visit the "Indians of Arkansas" website and the "Rock Art in Arkansas" website.
The Survey's education program has created lots of flyers and brochures about Arkansas archeology. A lesson plan written by Julie Hill, "Arkansas Novaculite: More than a Whetstone," is available from Butler Center for Arkansas Studies, Little Rock.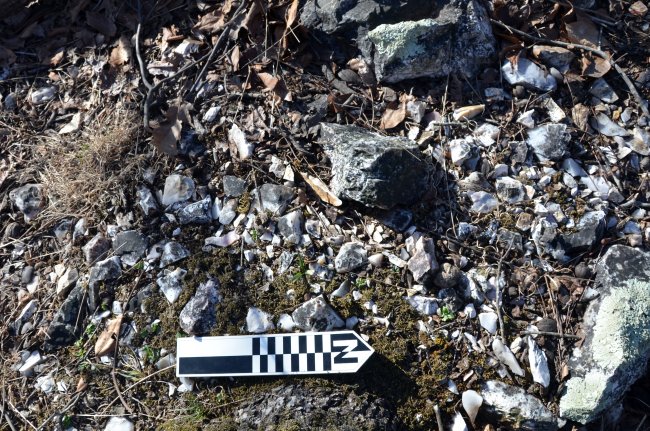 Novaculite debris at quarry 3GA587.
Suggested citation format for this website:
Arkansas Archeological Survey 2016 "Arkansas Novaculite: A Virtual Comparative Collection."
http://archeology.uark.edu/novaculite/index.html (accessed January 15, 2016).
We welcome comments and feedback from you! For further information on this website, please contact Mary Beth Trubitt, Arkansas Archeological Survey, mtrubit@uark.edu.
This project is supported in part by a grant from the Arkansas Humanities Council and the National Endowment for the Humanities.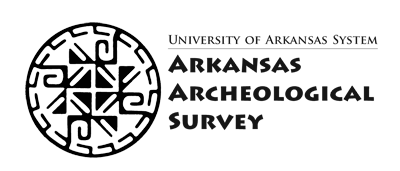 Copyright 2012, 2013, 2014, 2015, 2016 Arkansas Archeological Survey
A Division of the University of Arkansas System
2475 North Hatch Avenue
Fayetteville, AR 72704
479-575-3556
arkarch@uark.edu