What Other Stones Were Used?
Novaculite was the dominant rock that Indians quarried and flaked into stone tools in the Ouachita Mountains region. But what other stones were used in the past? Native Americans used local sources of quartz crystal, silicified sandstone, and chert – as well as other types of rock – for tools and ornaments.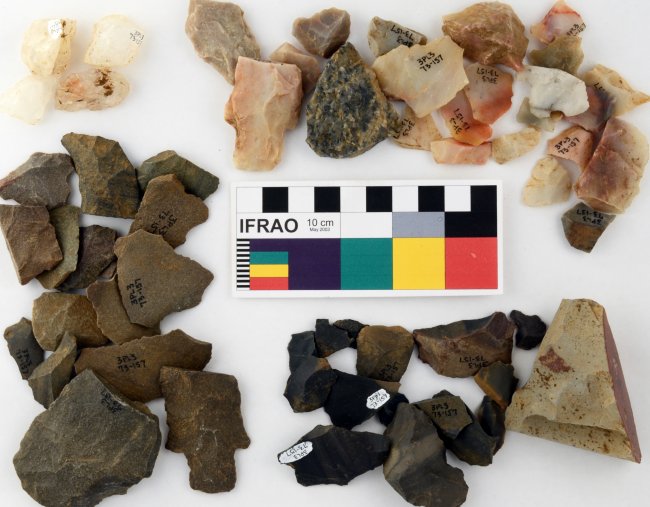 A variety of stone was flaked into tools on this Polk County site: clockwise from upper left is quartz crystal, novaculite, chert, and silicified sandstone (3PL3, 1973-157).
Quartz Crystal
Arkansas is well-known for its clear quartz crystals, still mined and sold in rock shops across Montgomery and Garland counties. Visitors can dig for crystals, and the town of Mount Ida holds an annual quartz crystal festival. Geologically, quartz crystals occur in the Ordovician age Crystal Mountain Sandstone and Blakely Sandstone formations.
Quartz crystal tools, and more commonly the flakes that are byproducts of tool manufacture, are found on archeological sites across the Ouachita Mountains. A fluted Clovis point made from clear quartz crystal found at a site in Garland County shows that Indians were interested in this resource as early as the Paleoindian period (11,500 – 10,500 B.C.).
Quartz crystal from the Ouachita Mountains was favored as a raw material during the Late Woodland period by Indians at Plum Bayou culture sites such as Toltec Mounds in the Arkansas River Valley outside present-day Little Rock. Arrow points and crystals with tips damaged from use as engraving tools are occasionally seen in excavated assemblages from Toltec, and Martha Rolingson (2012) reported that quartz crystal contributes as much as 12 percent of the chipping debris from excavated contexts at the site.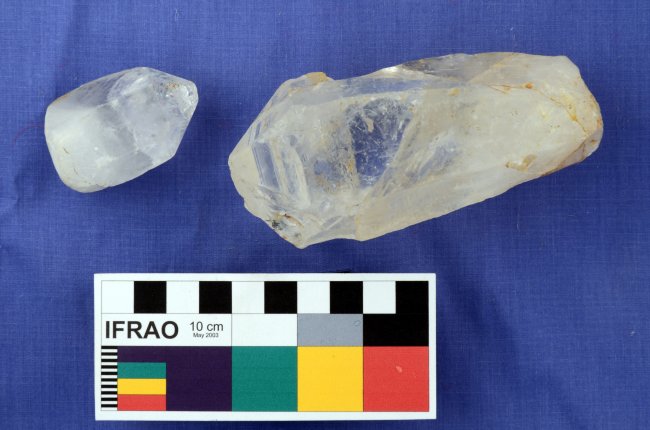 Large quartz crystals from burned Caddo structure excavated in Clark County (3CL593, 2006-301-118).
Large quartz crystals were used by Caddo Indians in southwest Arkansas during the Caddo or Mississippian period (A.D. 900-1700). Quartz crystals have been found in important buildings that were burned and buried in or under mounds. They were also sometimes included in graves with the dead. While the meanings and uses of these large crystals is not known, they may have been used in rituals by shamans or priests.
Silicified Sandstone and Chert
Silicified sandstone is a fine-grained hard rock with a distinctive sparkle that breaks with a conchoidal fracture. Indians used it for manufacturing chipped stone tools, especially in the western Ouachita Mountains in Arkansas and Oklahoma. This may have been preferred as a raw material during certain time periods as well. Recent excavations at a Montgomery County site by archeologists from the Arkansas Archeological Society, Arkansas Archeological Survey, and Ouachita National Forest found higher proportions of silicified sandstone chipping debris in the area of the site with features dating to the Late Archaic and Early Woodland periods. Many of the dart points found in this area of 3MN298 were made on this raw material. Double- and single-bitted axes/hoe blades were sometimes made from silicified sandstone as well.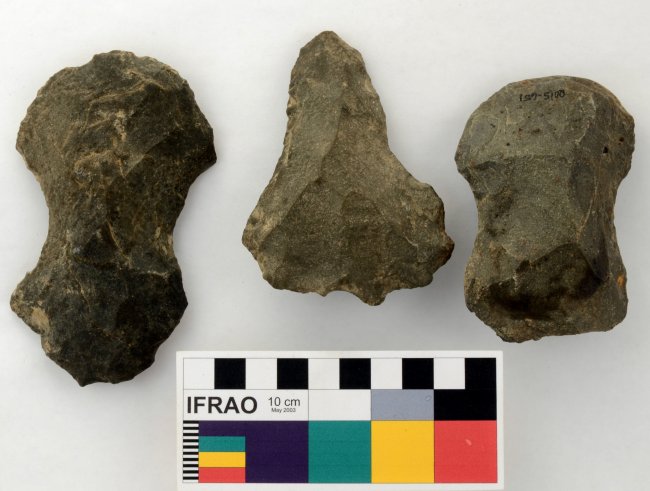 Axe/hoe blades chipped from silicified sandstone (2015-651).
Few silicified sandstone or chert quarries have been identified in the Ouachita Mountains in Arkansas. In 2013, archeologists from the Ouachita National Forest and Arkansas Archeological Survey recorded a new Montgomery County quarry/workshop with silicified sandstone boulder outcrops and large flakes of the stone (3MN2854).
Chert occurs in the Ouachita Mountains in the Johns Valley Shale, Jackfork Sandstone, and Bigfork Chert formations. Many of these cherts are dark gray or black in color. Since some novaculite is also black, it can be difficult to differentiate these sources, but chert is typically opaque, ranges from coarse-grained to glossy in texture, and often shows banding.
As pointed out by Etchieson, Hughes, and Dowd (2016), silicified sandstone and chert make up the majority of stone in chipped stone assemblages at archeological sites located in the western and northern Ouachita Mountains, with novaculite used in much lower proportions. This contrasts with the predominance of novaculite use in the eastern Ouachitas.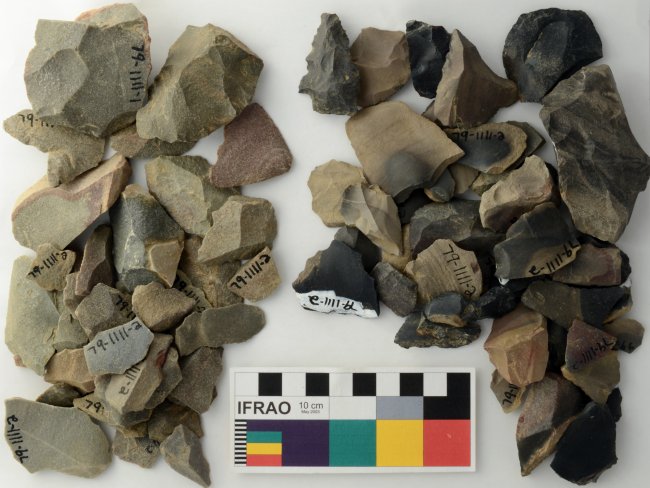 Silicified sandstone (on left) and chert (on right) tools and chipping debris from a site in Polk County (3PL28, 1979-1111).
Other Raw Materials
Native Americans living in the Ouachita Mountains in the past made woodworking tools such as axes and celts from several kinds of hard igneous rock. These tools were pecked to shape, finished by grinding and polishing, and hafted onto wooden handles. Igneous rocks such as nepheline syenite and trachyte occur in several locations in central Arkansas, including near Magnet Cove (Hot Spring County) in the eastern Ouachita Mountains. Quantities of several varieties of local igneous rocks were found in Archaic period deposits at the Jones Mill site during 2007-2008 excavations.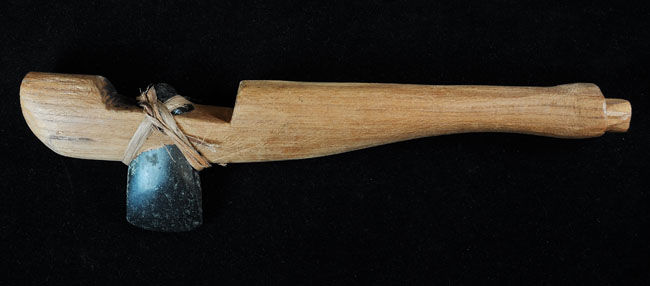 Hafted celt (reproduction and photo by Jared Pebworth).
Objects such as atl atl weights ("boatstones") or net weights ("plummets") were also fashioned of igneous rock. Examples have been found at Toltec Mounds and other Woodland period Plum Bayou sites in central Arkansas.
Some varieties of igneous rock were also shaped into beads and other ornaments, either locally or by people living far away from Ouachita Mountains sources. A turtle effigy bead from the Middle Archaic period Denton site in Mississippi was carved from trachyte that was likely carried from Arkansas.
Other types of rock found in the Ouachita Mountains, such as slate (metamorphosed shale), as well as minerals such as magnetite, were shaped into tools and ornaments by Indians. Exchange of a variety of raw materials linked people in Arkansas with Indians at distant locations like Poverty Point in Louisiana in regional interaction networks in the past.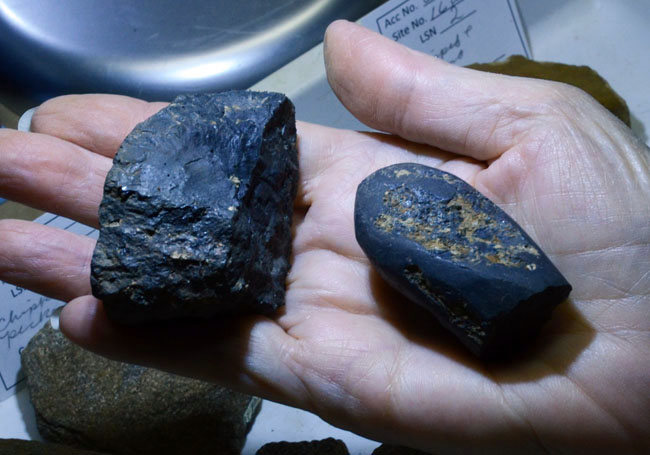 Comparison of raw magnetite on the left and a partly-finished magnetite plummet from the Poverty Point site on the right (3HS28, 2007-322; 16WC5, 1967-302).
Read more about non-novaculite stone resources in the Ouachita Mountains:
Banks, Larry D. (1984) Lithic Resources and Quarries. In Prehistory of Oklahoma, edited by Robert E. Bell, pp. 65-95. Academic Press, Orlando.
Dowd, Elsbeth Linn (2011) Sourcing Red River Jasper: An Archaeological and Geological Investigation of a Gravel Chert in the Red River Drainage. Caddo Archeology Journal 21:89-106.
Etchieson, Meeks, Richard E. Hughes, and Anne S. Dowd (2016) Lithic Raw Material Choices. In Research, Preservation, Communication: Honoring Thomas J. Green on his Retirement from the Arkansas Archeological Survey, edited by Mary Beth Trubitt, pp. 66-86. Research Series No. 67, Arkansas Archeological Survey, Fayetteville.
Jeter, Marvin D., and Robert J. Scott, Jr. (2008) Keo, Quartz Crystals, Carets, Et Cetera: Southerly Plum Bayou vs. Northerly Coles Creek Cultural Elements. The Arkansas Archeologist (Bulletin of the Arkansas Archeological Society) 47:43-82.
Morrow, Julie (2002) A Quartz Crystal Clovis Point from Garland County, Arkansas. Field Notes (Arkansas Archeological Society Newsletter) 308:14-15.
Rolingson, Martha Ann (2012) Toltec Mounds: Archeology of the Mound-and-Plaza Complex. Research Series No. 65, Arkansas Archeological Survey, Fayetteville.
Rolingson, Martha Ann and J. Michael Howard (1997) Igneous Lithics of Central Arkansas: Identification, Sources, and Artifact Distribution. Southeastern Archaeology 16(1):33-50.
Wyckoff, Don G. (2005) Recent Lithic Technological Studies on the Southern Plains and Adjacent Regions, Part I: Identifying and Sourcing Raw Materials. Lithic Technology 30(2):89-105.
Suggested citation format for this website:
Arkansas Archeological Survey 2016 "Arkansas Novaculite: A Virtual Comparative Collection."
http://archeology.uark.edu/novaculite/index.html (accessed January 15, 2016).
We welcome comments and feedback from you! For further information on this website, please contact Mary Beth Trubitt, Arkansas Archeological Survey, mtrubit@uark.edu.
This project is supported in part by a grant from the Arkansas Humanities Council and the National Endowment for the Humanities.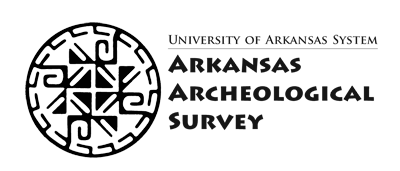 Copyright 2012, 2013, 2014, 2015, 2016 Arkansas Archeological Survey
A Division of the University of Arkansas System
2475 North Hatch Avenue
Fayetteville, AR 72704
479-575-3556
arkarch@uark.edu