What is novaculite?
Arkansas Novaculite is a rock that has been used by residents of Arkansas for thousands of years. It is a microcrystalline sedimentary rock. Like other cherts and flints, novaculite is primarily composed of silica.
Novaculite is a unique rock found only in the Ouachita Mountains of Arkansas and Oklahoma. For American Indians living in this region in the past, novaculite was an essential raw material for manufacturing sharp-edged durable tools. Novaculite was quarried from outcrops on mountain ridges. The large pits and piles of debris left behind by that quarrying created some of the largest archeological sites in Arkansas and across the United States.
As archeologists, we want to be able to identify novaculite in artifact assemblages from sites. Identifying and differentiating artifacts made from novaculite from other toolstones – especially from other Ouachita Mountains cherts – is the first step in reconstructing the ancient tool production and exchange systems in this region. Since people made novaculite into tools that were sometimes used in places far from the Ouachita Mountains, archeologists can use these artifacts to learn about interactions between communities of American Indians living in and around Arkansas in the past.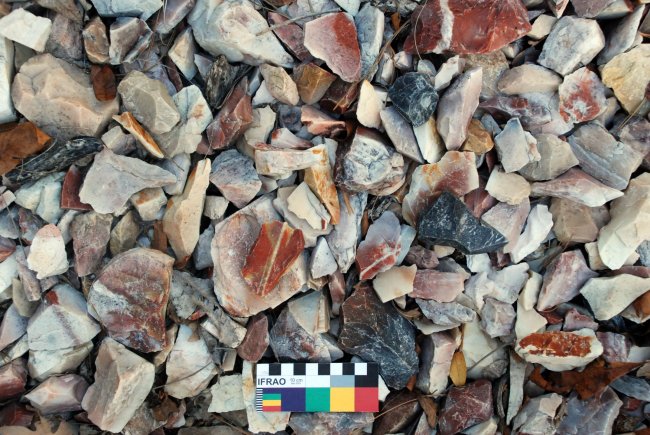 There can be color variation even at the same source, as seen from chipping debris at a novaculite quarry in Garland County, Arkansas.
Characteristics of Novaculite
Novaculite varies in color (white, light to dark gray, pink, red, tan, black) but light colors are most common. It is characteristically translucent, so light can be seen through thin edges of a piece of the stone. Fossils are rare in novaculite, although some geologists report conodonts, sponge spicules, radiolaria, and spores. Although it is typically described as having a grittier texture than chert, novaculite is variable in texture, from the fine-grained "Arkansas stone" to the coarse-grained and more porous "Ouachita stone." There is also variation in hardness and density of the stone, important for its use as whetstones. Luster varies from waxy to dull (with more glossy luster artificially produced by heat treatment).
Novaculite Geology
Geologists map the Arkansas Novaculite formation along the Benton-Broken Bow Uplift of the Ouachita Mountains between Little Rock, Arkansas, and Broken Bow, Oklahoma. The formation comes to the surface again in western Texas as the Caballos Novaculite.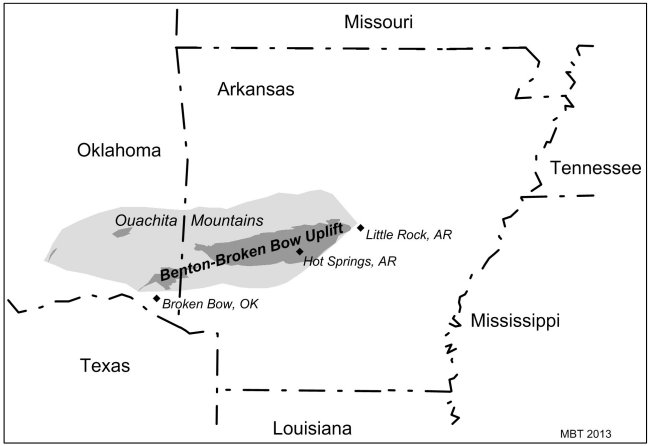 Novaculite rocks can be seen on mountain ridges in western Arkansas and eastern Oklahoma.
According to geologists, the Arkansas Novaculite formation is made up of massive novaculite and interbedded chert and shale, deposited during the Devonian to Mississippian geological periods, between about 318 and 416 million years ago. Novaculite comes from silica, possibly from volcanic sediments, which precipitated or separated out of seawater and later solidified and changed through diagenesis as the Ouachita Mountains were formed. Metamorphosis has thermally altered and recrystallized novaculite in some locations, giving it distinctive textures visible through scanning electron microscopy, according to Walter Keller and colleagues. Folding, faulting, and tilting of rock layers exposed the harder beds of novaculite on ridges of mountains, while softer rock eroded away.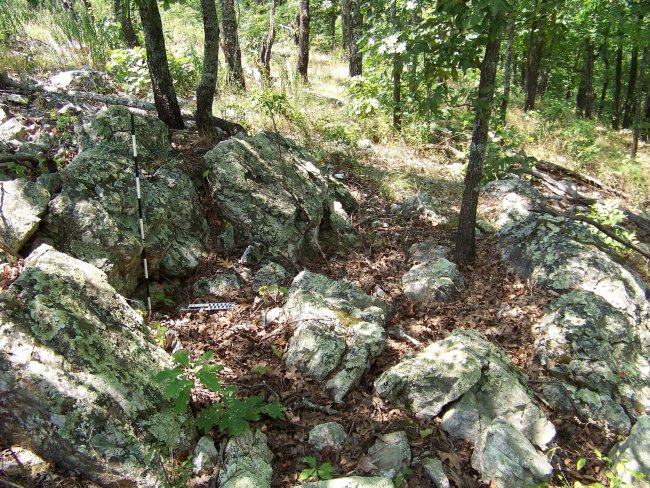 Novaculite outcrops visible on mountain ridge in Polk County, Arkansas.
For further information on novaculite geology, visit the Arkansas Geological Survey website.
Novaculite Description
We have developed a coding system to describe samples of novaculite curated at the Arkansas Archeological Survey's Henderson State University Research Station and observed at novaculite quarries in the Ouachita Mountains. The main attributes we describe with macroscopic analysis are color, cortex, texture, luster, and translucency.
For further information, download the documentation procedures: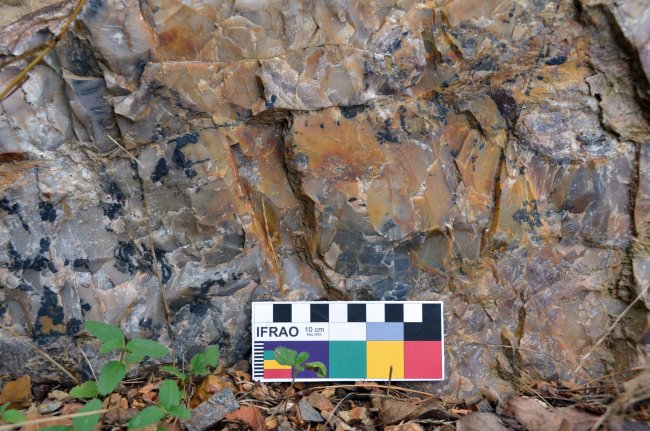 A variety of colors can be seen even in the same novaculite outcrop.
Color variations are described using color chips in a Munsell Rock Color Book. Massive beds of novaculite at outcrop sources show little cortex, although a stained weathering rind, or a rough, chalky white exterior, may be seen on some pieces. Pieces of novaculite that are incorporated into river gravels develop cobble cortex.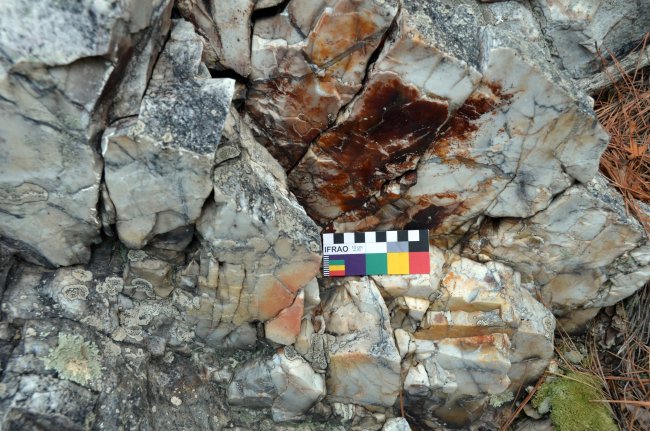 A rust-colored stain can be seen on this novaculite exposed at a Hot Spring County quarry.
Texture is recorded as fine, medium or coarse. Following John Rick, we judge the amount of drag or scratch when rubbing thumb and fingernail across the surface of the sample.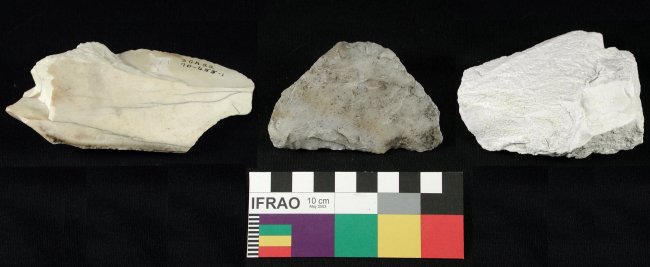 These pieces of novaculite were coded as fine, medium, and coarse for texture. All have a matte luster.
Luster is related to texture but specifically refers to the light reflected from the surface of a sample, as described by Barbara Luedtke. To put it simply, does the sample reflect light or not? We differentiate between matte or dull and shiny or lustrous in our samples. Heat treatment is known to increase glossiness or luster of some novaculites, but luster is variable in raw novaculite as well. Quarry samples illustrated on this website are un-heated pieces, but many of the artifact photographs show pieces that were heat treated.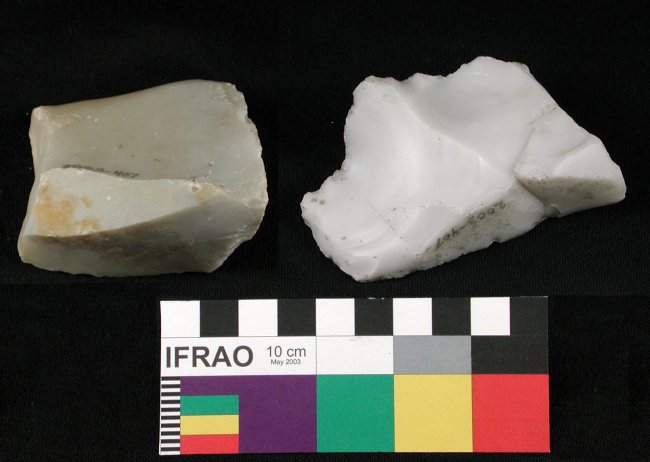 Luster on the sample on the left was coded as matte/dull while the one on the right is shiny/lustrous. Both are fine textured.
Translucency is the ability to see light through a piece of the rock, and is a distinctive characteristic of novaculite.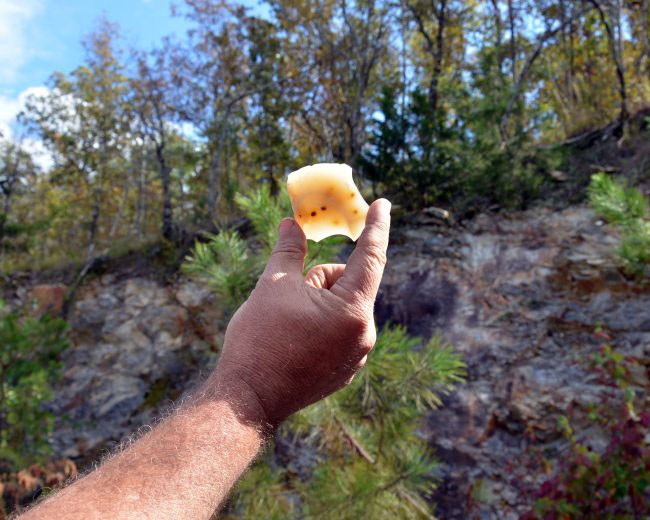 Thin flakes of novaculite are often translucent.
We have adapted Stanley Ahler's method of holding a sample at a standard (8 cm) distance from a light bulb (we use a 20 watt compact fluorescent bulb) and measuring the thickness (in mm) at which the translucency decreases and the sample becomes opaque.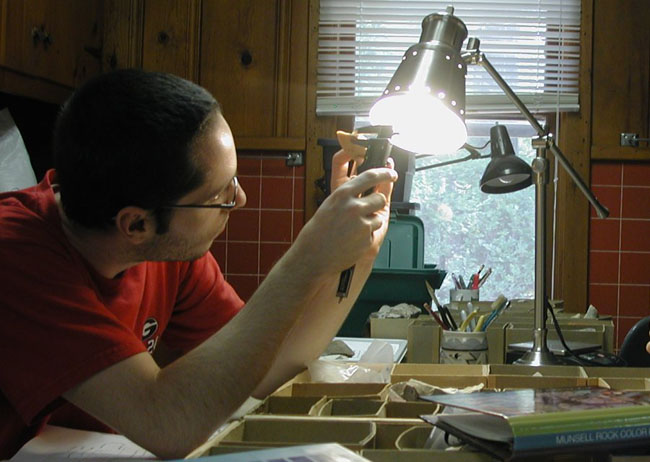 Tyler Stumpf measures translucency of a novaculite sample in the Archeology Lab.
Various chemical analyses have described novaculite as over 99% silica, with trace amounts of elements such as aluminum, iron, manganese, titanium, calcium, magnesium, sodium, and potassium. Neutron activation analysis (NAA), a chemical characterization technique used for trace element identification and sourcing, has been used on novaculite in three studies to date. David Ives showed that Arkansas novaculite could be distinguished from other chert sources, and Barbara Luedtke's results suggest that NAA can be used to differentiate within the Arkansas novaculite formation. More recently, Kristin Scarr, working with Matthew Boulanger and Michael Glascock from the University of Missouri Research Reactor, used instrumental neutron activation analysis (INAA) in a sourcing study of Arkansas novaculite. Scarr found that novaculite from Arkansas and Oklahoma was distinct from samples of cherts from Oklahoma and Texas. Furthermore, some clustering of novaculite samples was seen. The INAA technique has good potential for differentiating between rock within the Arkansas novaculite formation, and good potential for sourcing novaculite to quarries of origin. This would increase our ability to trace toolstone from archeological sites where people used it in the past, to the quarries where they mined it.
Read more about chert description and novaculite geology in these references:
Ahler, Stanley A. (1983) Heat Treatment of Knife River Flint. Lithic Technology 12:1-8.
Akridge, D. Glen and Paul H. Benoit (2001) Luminescence Properties of Chert and Some Archaeological Applications. Journal of Archaeological Science 28:143-151.
Flenniken, J. Jeffrey and Ervan G. Garrison (1975) Thermally Altered Novaculite and Stone Tool Manufacturing Techniques. Journal of Field Archaeology 2:125-131.
Griswold, Leon S. (1892) Whetstones and the Novaculites of Arkansas. In Annual Report of the Geological Survey of Arkansas for 1890, Volume III. Press Printing Company, Little Rock, Arkansas.
Holbrook, Drew F. and Charles G. Stone (1979) Arkansas Novaculite – A Silica Resource. Reprinted from Thirteenth Annual Forum on the Geology of Industrial Minerals, Oklahoma Geological Survey Circular 79, by the Arkansas Geological Commission, Little Rock, Arkansas.
Ives, David J. (1984) Neutron Activation Analysis Characterization of Selected Prehistoric Chert Quarrying Areas. Ph.D. dissertation, Department of Anthropology, University of Missouri-Columbia.
Keller, Walter D., Charles G. Stone, and Alice L. Hoersch (1985) Textures of Paleozoic Chert and Novaculite in the Ouachita Mountains of Arkansas and Oklahoma and their Geological Significance. Geological Society of America Bulletin 96:1353-1363.
Luedtke, Barbara E. (1992) An Archaeologist's Guide to Chert and Flint. Archaeological Research Tools 7. Institute of Archaeology, University of California, Los Angeles.
Munsell Color (2009) Munsell Rock Color Book. Munsell Color, Grand Rapids, Michigan.
Pennington, Helen (2013) Novaculite. The Encyclopedia of Arkansas History & Culture. http://www.encyclopediaofarkansas.net/encyclopedia/entry-detail.aspx?entryID=2220.
Ray, Jack H. (2007) Ozarks Chipped-Stone Resources: A Guide to the Identification, Distribution, and Prehistoric Use of Cherts and Other Siliceous Raw Materials. Special Publications No. 8, Missouri Archaeological Society, Springfield.
Rick, John Winfield (1978) Heat-Altered Cherts of the Lower Illinois Valley: An Experimental Study in Prehistoric Technology. Prehistoric Records No. 2, Northwestern University Archeological Program, Evanston, Illinois.
Scarr, Kristin D. (2008) Trace Element Studies of the Arkansas Novaculite. M.A. Thesis, Department of Anthropology, University of Arkansas, Fayetteville.
Steuart, Charles T., Drew F. Holbrook, and Charles G. Stone (1982) Arkansas Novaculite: Indians, Whetstones, Plastics and Beyond. Arkansas Geological Commission Miscellaneous Publication 18:119-134.
Trubitt, Mary Beth, Thomas Green, and Ann Early (2004) A Research Design for Investigating Novaculite Quarry Sites in the Ouachita Mountains. The Arkansas Archeologist 43:17-62.
Suggested citation format for this website:
Arkansas Archeological Survey 2016 "Arkansas Novaculite: A Virtual Comparative Collection."
http://archeology.uark.edu/novaculite/index.html (accessed January 15, 2016).
We welcome comments and feedback from you! For further information on this website, please contact Mary Beth Trubitt, Arkansas Archeological Survey, mtrubit@uark.edu.
This project is supported in part by a grant from the Arkansas Humanities Council and the National Endowment for the Humanities.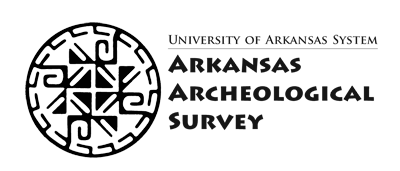 Copyright 2012, 2013, 2014, 2015, 2016 Arkansas Archeological Survey
A Division of the University of Arkansas System
2475 North Hatch Avenue
Fayetteville, AR 72704
479-575-3556
arkarch@uark.edu