Rock Art in Context:
Cultural Landscapes
By George Sabo III
Arkansas Archeological Survey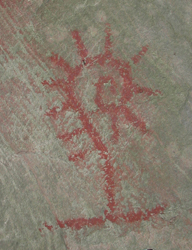 Fiddlehead fern pictograph.
Southeastern Indian communities based their understandings of the world on close observations of nature. Astronomical cycles, seasonal changes, and the stages of plant growth, for example, gave rise to cultural concepts of an ongoing cycle of life divided into stages of birth, growth, maturation, decline, and rebirth. Even "static" images can convey this dynamic meaning. The fiddlehead fern illustrates the emergence of new plant life in early spring. Some ferns are edible, but only in this early spring growth stage, as fiddleheads, and poisonous when mature. Thus, the fiddlehead also conveys the idea of change with the stages of life.
Similarly, the hellgrammite image discussed elsewhere on this website, shows how Indians could interpret a natural process to represent the idea of a three-layer cosmos consisting of an Above World, a Middle World, and a Below World.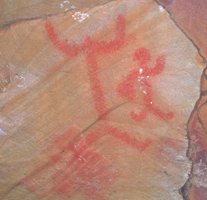 Head taker pictograph.
These examples show how Indians used single images to convey fundamental ideas. Another way to express meaning is through a panel, consisting of multiple images related or interacting in some way. This "head-taker" panel, for example, represents an ancient version of a historic creation story involving a culture hero's adventures in the spirit realm.
Indians also used artworks to convey ideas at a third level of spatial resolution represented by the distribution of images across wider landscapes. Recent research in the central Arkansas River Valley revealed a possibly significant pattern in the kinds of rock art motifs north and south of the river. The west-to-east course of the river provides a natural dividing line. Rock art south of the river is dominated by images representing the Middle World: plants, animals, people, and manufactured objects. Rock art north of the river depicts Above World imagery: composite human/animal figures, mythic story panels, and our cosmological hellgrammite.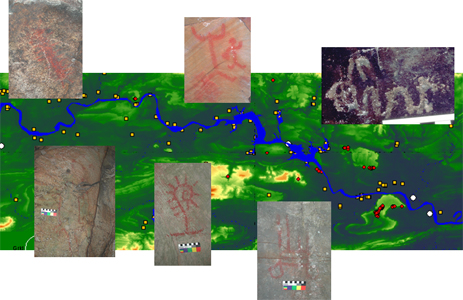 Composite image illustrating the distribution of rock art north and south of the Arkansas River. Background map shows rock art sites (red), residential sites (yellow), and ceremonial centers (white).
This pattern is reminiscent of village layouts in Osage and Quapaw communities, where an east-west road separates families belonging to Sky People clans, who live on the north side of the village, from families belonging to the Earth People clans, who live on the south side of the road. Like this village plan, our rock art distribution provides a cosmogram—a map of the cosmos—that uses the entire landscape as a storyboard to depict a key element of ancient Indian belief.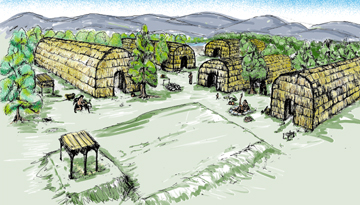 Artistic concept of an Osage village. Sky People clan residences are on the upper (right hand) side of the main road while the Earth People clan residences are on the lower (left hand) side.