The Hellgrammite Pictograph
By Deborah Sabo
Arkansas Archeological Survey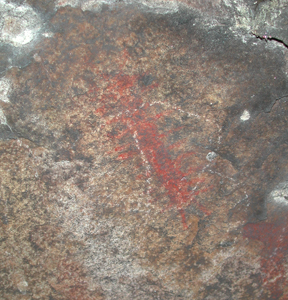 Hellgrammite pictograph.
This pictograph from a site on Manitou Mountain near Ozark depicts the larvae stage of a dobsonfly, called a hellgrammite. The hellgrammite insect has three pairs of legs up front and eight pairs of lateral appendages on the lower body. It has pincer mouthparts on the head and a forked tail. The pictograph shows the same morphology with 10-12 appendages along the sides of the body (the artist did not take care to match the pairs exactly), and a pair projecting forward from both the "head" (mouthparts) and "tail." The pictograph measures 5 inches, making it a life-sized portrait of a hellgrammite, which can grow up to 5 inches long.
This image illustrates how the Indians' close observations of nature provided useful metaphors to represent their cosmologies and beliefs in art and symbolism. Dobsonflies lay their eggs on branches hanging over rocky streams. When the eggs hatch, hellgrammites fall into the streams and collect on the undersides of rocks where they grow to mature size. Following this underwater phase of life, hellgrammites then crawl out of the streams and move to higher ground. On land, they transform into winged flies and spend the remainder of their lives as airborne insects. Thus, the creature's life cycle spans three domains: water, air, and land. This remarkable sequence reflects the three-layer Southeastern Indian cosmology of a watery Below World, an Above World in the sky, and a terrestrial Middle World. Beings that can transform themselves to transcend the boundaries of these worlds have power. The lowly dobsonfly is a suitable metaphor for some of the most fundamental concepts in this belief system.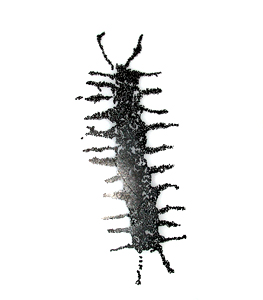 Hellgrammite tracing.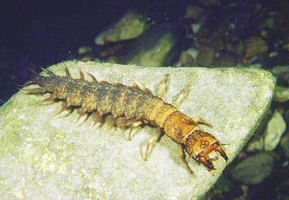 Hellgrammite photo.