What can I do at a rock art site?
The main thing to remember when visiting rock art sites in Arkansas is "look but don't touch." Some images are very faded; you will have to get up close and be very observant to make them out, but your efforts will be rewarded by a glimpse of something left by human hands many hundreds of years ago. A small hand mirror, plain aluminum cup, or other object to reflect light might help you see a faded rock art image inside a dim rock shelter. Try to imagine what the artist wanted to depict. Make your own sketches or take pictures if you like. But don't touch the rock surface and don't try to "enhance" the image with chalk or any other substance; this will only cause harm. Don't clear vegetation around the site to let in more light: prolonged exposure to sunlight may accelerate fading of the ancient pigments and you might also damage archeological deposits in the ground. Needless to say, you should never dig at these sites. It is unlawful to disturb an archeological site on public lands, or on private land without permission. Don't build campfires nearby: billowing smoke may deposit ash on rock art images that can become incorporated into the rock through time. And remember that writing graffiti or otherwise defacing the rock art is unethical and may be criminal.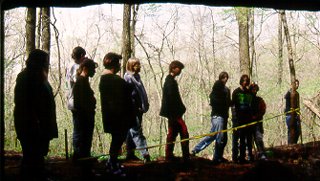 Rock art site visitors.
Rock art is a fragile cultural resource that will not last forever. Let's try to preserve it for as long as we can. Treat it gently and with care to show respect for the cultures that created it, and do your part to ensure it will remain to inspire future generations. You can visit the Eastern States Rock Art Research Association's Web site for further information on the ethical treatment of rock art.
Please notify the Arkansas Archeological Survey if you find rock art sites that we may not know about. You can contribute to our knowledge and help preserve Arkansas's rich archeological heritage.