What is Rock Art?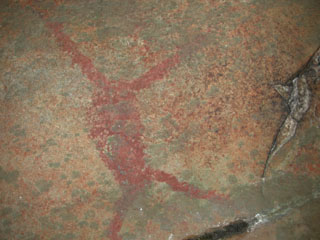 Pictograph from Petit Jean State Park.

Anthropologists and archeologists define rock art as images carved, drawn, or painted onto immovable rock surfaces.

Images that are carved or engraved into rock are called petroglyphs.

Images made with paint or other pigment are called pictographs.

Some rock art images, like painted petroglyphs, were created using a combination of techniques.

Rock art is one of the oldest material forms of human expression and is found throughout the world. Ancient people created many different kinds of images, some simple and some complex. It can be easy to identify rock art images of humans, animals, or natural objects such as the sun. Geometric and abstract images are also common in rock art. What these images were meant to depict and why they were made are interesting questions that anthropologists and archeologists try to answer by studying how the images were made, where they are located, and which images occur together, and by trying to identify which groups produced them. Sometimes we can trace a relationship between geometric or abstract designs and other more naturalistic motifs that are easier to identify, but many rock art images remain enigmatic and difficult to interpret.