Lesson Three – First Gardens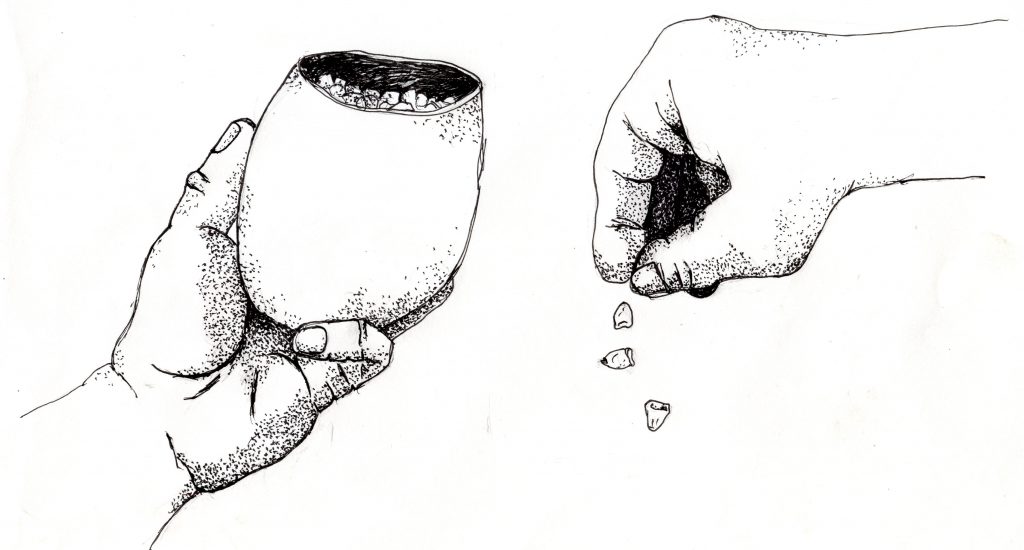 Sowing seeds. Unlike Arkansas Indians in earlier periods, the Woodland people actively planted seeds in gardens near their houses. Drawing by Larry Porter.
An internet search for Native American gardens results in a number of hits for the three sisters garden — corn, beans, and squash. But the first gardens in the southeastern United States did not look like this. Archeologists who specialize in the study of plants and seeds have shown that by 3000 years ago, Native American communities domesticated and cultivated local crop plants and were increasingly relying on gardening as a critical part of their foodways. The first domesticated and cultivated crops were derived from locally available wild plants. During the Woodland Period (600 BC – 900 AD), the Indians who lived at Toltec Mounds and throughout the Central Arkansas River Valley cultivated these crops in addition to using wild plants. In this lesson, students learn about Arkansas's first gardeners, while continuing to develop the conceptual tools of archeology. They examine stratigraphy, identify seed samples, and infer ancient plant use by interpreting the samples.
The educator and student materials from the Gathering, Gardening, and Agriculture curriculum are included here to help make teaching easier. The activity sheets can be easily downloaded and photocopied. The PowerPoint includes all of the materials that may need to be projected while teaching this lesson. To request a hard copy of the curriculum, contact Nancy Smith at nms011@uark.edu or (479) 575-3556.
Educator Materials
Seasonal Plant Use in the Woodland Period Table
Seed Change at Toltec – Answer Key
Woodland Period Timeline: Answer Key
Student Materials
Toltec Mounds, 650-1050 AD: A Case Study
Dinner at AD 700: The Plum Bayou Casserole
Save
Save
Save
Save
Save
Save
Save