Novaculite Quarries: Montgomery County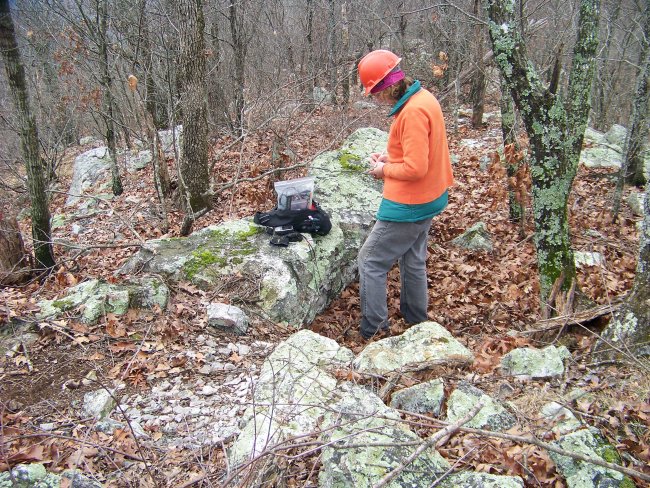 Archeologist Mary Beth Trubitt documents a trench at quarry 3MN327 in Montgomery County.
Over 45 novaculite quarries have been recorded as archeological sites in Montgomery County. Many are on lands managed by the U.S.D.A. Forest Service.
Indians looking for suitable toolstone in the Ouachita Mountains would find novaculite bedrock outcrops on ridges in the Benton-Broken Bow Uplift. They also dug pits and trenches to reach fresh rock that was suitable for chipping into tools.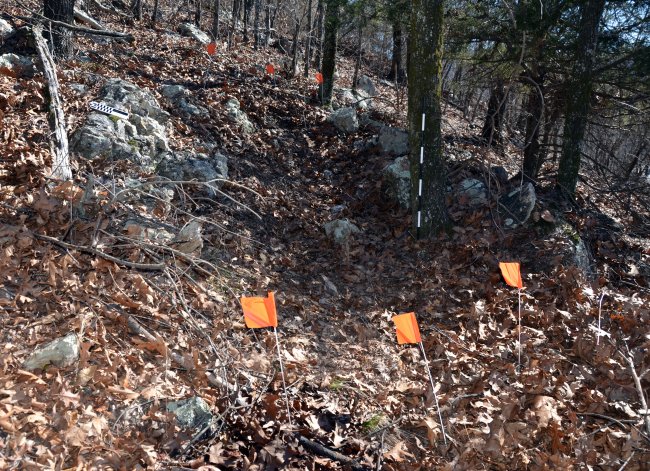 A small novaculite quarry pit is outlined with flags for photography at quarry 3MN328.
Quarry Features, Quarrying Tools
Ouachita National Forest archeologist Meeks Etchieson has identified several types of characteristic features at novaculite quarries in the Ouachita Mountains. Circular or oval pits were dug into bedrock novaculite or into accumulated quarry waste. Trenches result from mining high-quality seams or strata of novaculite. Battered boulders, vertical bedrock outcrops, or undercuts, shelters, and caves were left after the desired stone was dug and broken out.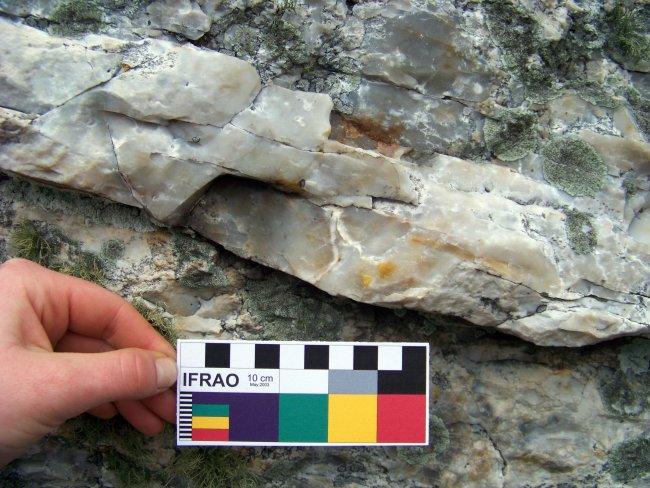 Battered novaculite boulder at a Montgomery County quarry site.
Miners stripped surfaces to expose novaculite bedrock. Piles or debris fields of novaculite quarry waste, sometimes with hammers and other mining tools, mark these locations. Several different kinds of quarry features may remain on a single mountain ridge.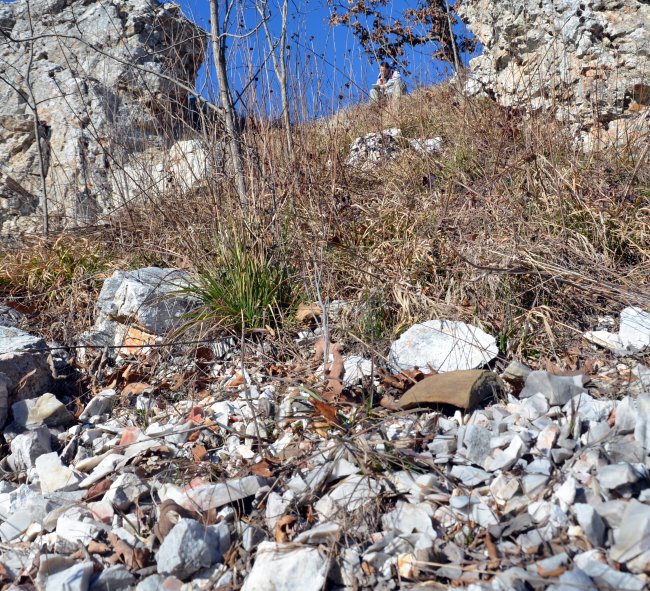 Chipping debris and a broken hammerstone litter the ground near quarried novaculite outcrops.
Trails have been documented on mountains in the Ouachita Mountains that may be ancient paths connecting novaculite quarries with workshop or residential sites in the valleys below. With hand-held global positioning system (GPS) recorders, archeologists can record precise locations of features at sites, adding to the database that can be used by researchers, state and federal agencies, and Indian Tribes.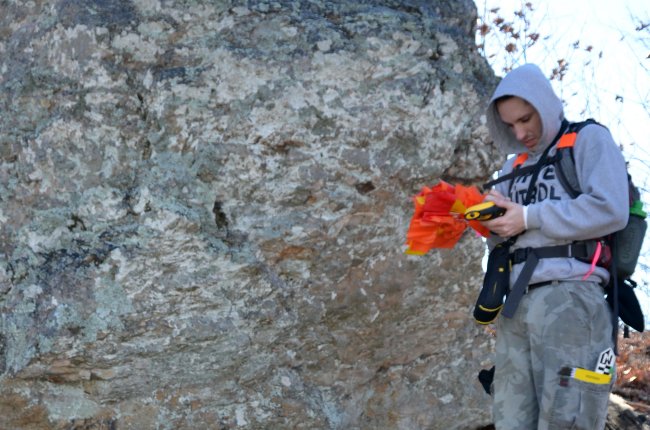 Tyler Stumpf records GPS coordinates at a novaculite quarry feature.
Researching Ancient Novaculite Quarrying in Montgomery County
Studying novaculite use was part of the research strategy on the Arkansas Archeological Survey's Fancy Hill project, as described by William Martin. Indians living in this area may have obtained their toolstone from quarries on mountain ridges but also found abundant novaculite cobbles in riverbed gravels. Archeologists look for remnants of the original weathered surface or "cortex" of the raw material. Stone tools and flakes may still have areas of cortex if knapping did not remove it. Identifying cobble cortex as opposed to a stained weathering rind typical of exposed bedrock is one way archeologists can differentiate gravel sources from outcrop sources of novaculite.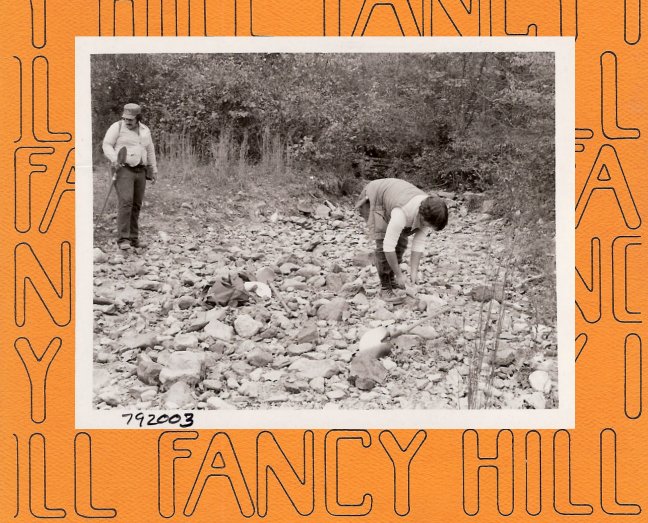 Archeologists examine novaculite cobbles in stream bed at 3MN207 (Martin 1982:Fig.33).
Several archeological projects in the Ouachita Mountains have studied how toolstone was acquired and used by researching different kinds of sites, such as quarries, workshops, and campsites. Ouachita National Forest archeologist Roger Coleman reported on a testing project at one Montgomery County site where these different activities – getting the novaculite, making and using tools, and camping for a short time – all took place. The Indians at site 3MN2075 used some novaculite from nearby outcrops, used some novaculite cobbles, and brought in some novaculite from elsewhere. They began chipping (early stage reduction to form thick bifaces), and perhaps heat treated the stone here as well. Archaic period foragers also used and re-sharpened chipped stone tools during their stay at this place.
Archeologists surveying in the Ouachita National Forest have found more archeological sites in and near the Benton-Broken Bow Uplift than further from novaculite bedrock sources. Clearly, access to toolstone was an important factor in where people lived in the past.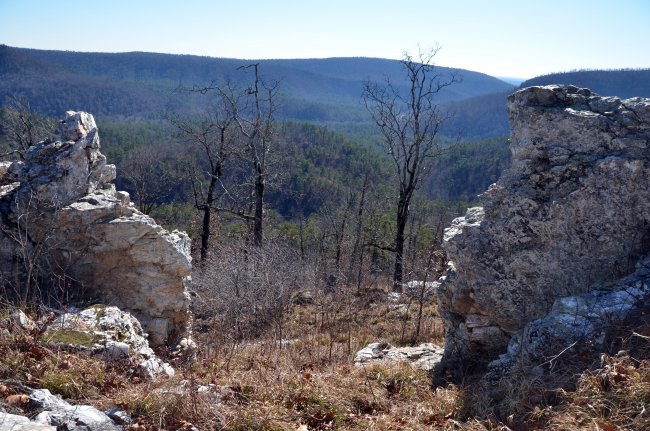 Novaculite outcrops and a view of the Ouachita Mountains.
Protecting Significant Historic Places
Archeological sites on federal and Indian lands are protected by federal laws. The Archaeological Resources Protection Act sets penalties for unauthorized digging at or damaging sites on public lands or removing artifacts from these historic places. It also sets up procedures for permitting qualified professional archeologists to conduct research at sites on public lands. State laws protect archeological sites on state-owned lands in Arkansas as well.
Please help to preserve these large and significant archeological sites. The novaculite quarry pits and tools left behind can tell us the unwritten history of this ancient industry. These sites are part of America's heritage!
Site visits to photograph novaculite quarries as part of this website project have been made with permission from the Ouachita National Forest, Hot Springs National Park, Arkansas State Parks, and individual property owners.
Comparative Collection
For photographs and descriptions of raw material samples from Montgomery County, select a site below or go to the Comparative Collection page.
Read more about archeological research on Montgomery County quarries and stone tool workshop sites:
Coleman, Roger E. (2003) Novaculite Acquisition and Use at Little Missouri Falls: An Early Middle Archaic Site in Montgomery County, Arkansas. The Arkansas Archeologist 41:15-43.
Early, Ann M., editor (2000) Forest Farmsteads: A Millennium of Human Occupation at Winding Stair in the Ouachita Mountains. Research Series 57, Arkansas Archeological Survey, Fayetteville.
Etchieson, Meeks and Mary Beth Trubitt (2013) Taking it to the River: Arkansas Novaculite Quarrying and Archaic Period Tool Production. North American Archaeologist 34(4):387-407.
Martin, William A. (1982) An Intensive Archeological Survey of a Barite Mining District in Montgomery County, Arkansas. In Fancy Hill: Archeological Studies in the Southern Ouachita Mountains, edited by Ann M. Early and W. Fredrick Limp, pp. 1-182. Research Series 16, Arkansas Archeological Survey, Fayetteville.
Perttula, Timothy K. and Bo Nelson (2004) Certain Caddo Sites in the Ouachita Mountains of Southwestern Arkansas. Caddoan Archeology Journal 13(3&4):21-56.
Trubitt, Mary Beth D., Anne S. Dowd, and Meeks Etchieson (2013) Multiscalar Analysis of Quarries. The Quarry (e-newsletter of the Society for American Archaeology's Prehistoric Quarries & Early Mines Interest Group) 10:30-43.
Trubitt, Mary Beth, Thomas Green, and Ann Early (2004) A Research Design for Investigating Novaculite Quarry Sites in the Ouachita Mountains. The Arkansas Archeologist 43:17-62.
Suggested citation format for this website:
Arkansas Archeological Survey 2016 "Arkansas Novaculite: A Virtual Comparative Collection."
http://archeology.uark.edu/novaculite/index.html (accessed January 15, 2016).
We welcome comments and feedback from you! For further information on this website, please contact Mary Beth Trubitt, Arkansas Archeological Survey, mtrubit@uark.edu.
This project is supported in part by a grant from the Arkansas Humanities Council and the National Endowment for the Humanities.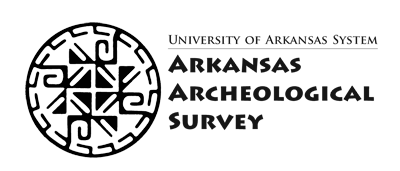 Copyright 2012, 2013, 2014, 2015, 2016 Arkansas Archeological Survey
A Division of the University of Arkansas System
2475 North Hatch Avenue
Fayetteville, AR 72704
479-575-3556
arkarch@uark.edu