References and Links
This website showcases the variability in Arkansas Novaculite and its use for stone tools by Native Americans in the past. Here we highlight novaculite quarries as significant archeological sites. The website gathers together data on the distribution of novaculite from the Ouachita Mountains to archeological sites in and beyond Arkansas. We hope to spur new research on ancient trade networks and on chemical characterization and sourcing of novaculite and other toolstone. Follow these links for more information on these topics. A list of major references is provided at the bottom of the page.
Arkansas Archeology
The Arkansas Archeological Survey is part of the University of Arkansas System, and is charged with preserving Arkansas's cultural resources and communicating information about Arkansas's history, archeology, and heritage to the public. We have professional archeologists stationed across the state who serve as researchers, professors, and resource people. If you are interested in learning more about the history and archeology of our state, contact your local research station.
The Survey also maintains an education program with lots of flyers and brochures about Arkansas archeology, including one on Arkansas Novaculite. A lesson plan written by Julie Hill, "Arkansas Novaculite: More than a Whetstone," is available from Butler Center for Arkansas Studies, Little Rock.
Arkansas Indians
The Survey's "Indians of Arkansas" website is a valuable resource for learning more about the Indians who lived here in the past and who are still here today.
Indian tribes such as the Quapaw Tribe of Oklahoma, the Osage Nation, the Caddo Nation, and the Tunica-Biloxi Tribe of Louisiana maintain official websites. Explore their sites to learn more about history, culture, and current issues.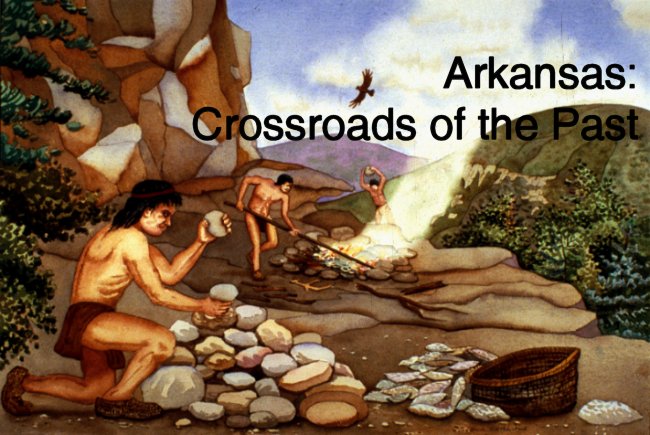 Artist's view of American Indians quarrying novaculite in the Ouachita Mountains (from "Arkansas: Crossroads of the Past" slide set, Arkansas Archeological Survey and Arkansas Humanities Council).
Preserving History
Archeological sites on federal and Indian lands are protected by federal laws, such as the Archaeological Resources Protection Act. Arkansas also has state laws to protect archeological sites on state-owned lands as well. Federal agencies like the U.S.D.A. Forest Service and the U.S.D.I. National Park Service have information about protecting and preserving history on public lands. The Forest Service's Passport in Time program offers a way for people to help with historic preservation by volunteering time on projects across the country. Visit our local public lands on the Ouachita National Forest, Hot Springs National Park, and at Arkansas State Parks.
How can you get involved in archeology? The Arkansas Archeological Society is an organization of people interested in archeology, in learning about Arkansas's history, and about preserving and protecting archeological sites in the state. There are local chapters that meet regularly for talks and activities. The Society now has a facebook page to communicate with members.
Other Lithic Comparative Collections on the Web
Descriptions and illustrations of novaculite are intended for use as a "virtual" lithic comparative collection by researchers who want to be able to identify novaculite artifacts.
There are several other internet-based raw material comparative collections that focus on stone from across North America. One, by Mark L. Anderson and Daniel G. Horgen, includes some Arkansas Novaculite, and is maintained by the Office of the State Archaeologist, University of Iowa: "Lithic Raw Material Assemblage at the OSA." Douglas W. Haywick and Philip J. Carr's "Geoarchaeology at South Alabama," maintained at the University of South Alabama, served as one model for our website. A comparative collection developed by Lenville J. Stelle and Thomas P. Duggan (Center for Social Research, Parkland College) has a key to help with identifying cherts: "An Archaeological Guide to Chert Types of East-Central Illinois." 
The Virginia Department of Historic Resources, Division of State Archaeology, maintains "Native American Comparative Collections," written by Mary Beth Browne and Keith Egloff. The Glenn A. Black Laboratory of Archaeology at Indiana University is developing a Raw Materials Lithic Collection Database. A useful lithics bibliography compiled by Edward Herrmann and Timothy Baumann is linked to that website.
Several other websites include discussion of toolstone and its uses. The "Texas Beyond History" website features a page on "Alibates Flint Quarries and Ruins."
A website that highlights obsidian sourcing and chemical characterization results is the Northwest Research Obsidian Studies Laboratory's "United States and Canada Obsidian Source Catalog."
There are a few websites that cover toolstone from European sources as well. One that served as a model for our work is Rengert Elburg and Paul van der Kroft's "FlintSource.net." Another example is "Lithotheca," maintained by the Hungarian National Museum. The same organization maintains a "Raw Material Atlas" website as well.
The Arkansas Archeological Survey's "Rock Art in Arkansas" website includes a searchable database of rock art images and motifs.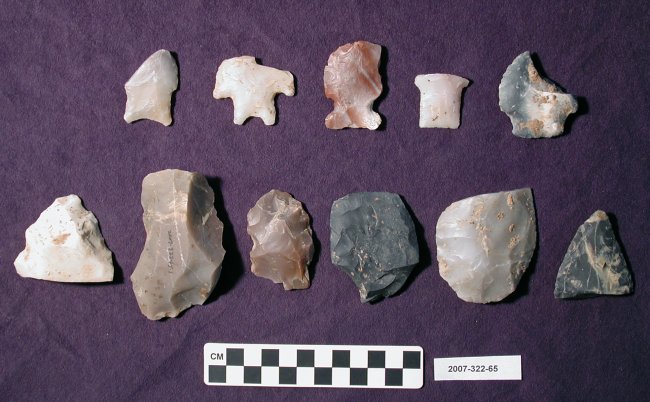 For thousands of years, people living in the Ouachita Mountains chose novaculite for making their tools.
Novaculite Geology
Explore the Arkansas Geological Survey's website for information about geology, about the Arkansas Novaculite Formation, and about novaculite as an industrial mineral. The Geologic Map of Arkansas can be viewed here. The AGS also maintains an on-line set of geologic quadrangle maps.
Hot Springs National Park has an educational brochure, "Follow the Water," that includes description of the radiolarian and graptolite fossils sometimes found in novaculite.
Current Commercial Uses for Novaculite
Novaculite is still mined for whetstones today. Companies such as Norton Saint-Gobain, Smith Abrasives, and Dan's Whetstone Company market whetstones. Novaculite is manufactured into industrial coatings by Malvern Minerals Company.
Some archeologists have become interested in experimental replication and learning how ancient flintknappers chipped stone into tools. Other people have become interested in flintknapping as a hobby. Several companies market novaculite to modern-day flintknappers, including Dan's Whetstone Company and Magnet Cove Stone Company.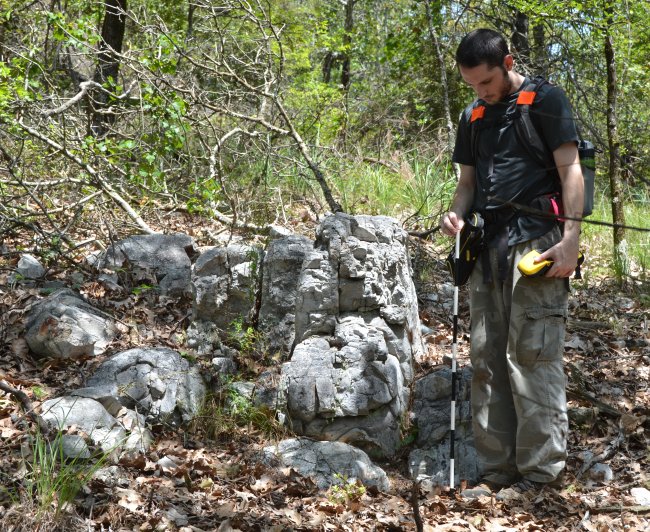 Documenting novaculite quarries and other archeological sites in Arkansas is part of the Arkansas Archeological Survey's mission.
Selected references on Arkansas Novaculite:
Akridge, D. Glen and Paul H. Benoit  (2001)  Luminescence Properties of Chert and Some Archaeological Applications.  Journal of Archaeological Science 28:143-151.
Baker, Charles M. (1982) A Brief Study of the Arkansas Novaculite Quarries. In Fancy Hill: Archeological Studies in the Southern Ouachita Mountains, edited by Ann M. Early and W. Fredrick Limp, pp. 307-334. Research Series No. 16, Arkansas Archeological Survey, Fayetteville.
Coleman, Roger E.  (2002)  Novaculite Acquisition and Use at Little Missouri Falls: An Early Middle Archaic Site in Montgomery County, Arkansas.  The Arkansas Archeologist 42:15-43.
Etchieson, Meeks and Mary Beth Trubitt (2013) Taking it to the River: Arkansas Novaculite Quarrying and Archaic Period Tool Production. North American Archaeologist 34(4):387-407.
Flenniken, J. Jeffrey and Ervan G. Garrison (1975) Thermally Altered Novaculite and Stone Tool Manufacturing Techniques. Journal of Field Archaeology 2:125-131.
Gibson, Jon L.  (1994)  Empirical Characterization of Exchange Systems in Lower Mississippi Valley Prehistory.  In Prehistoric Exchange Systems in North America, edited by Timothy G. Baugh and Jonathon E. Ericson, pp. 127-175.  Plenum Press, New York.
Griswold, Leon S.  (1892)  Whetstones and the Novaculites of Arkansas.  In Annual Report of the Geological Survey of Arkansas for 1890, Volume III.  Press Printing Company, Little Rock, Arkansas.
Holbrook, Drew F. and Charles G. Stone  (1979)  Arkansas Novaculite – A Silica Resource. Reprinted from Thirteenth Annual Forum on the Geology of Industrial Minerals, Oklahoma Geological Survey Circular 79, by the Arkansas Geological Commission, Little Rock, Arkansas.
Holmes, William Henry (1891) Aboriginal Novaculite Quarries in Garland County, Arkansas. American Anthropologist 4:313-316.
Holmes, William Henry (1919) Handbook of Aboriginal American Antiquities, Part I, Introductory, The Lithic Industries. Bulletin 60, Bureau of American Ethnology, Smithsonian Institution, Washington, D.C.
Jeter, Marvin D. and H. Edwin Jackson  (1994)  Poverty Point Extraction and Exchange: The Arkansas Lithic Connections.  In Exchange in the Lower Mississippi Valley and Contiguous Areas at 1100 B.C., edited by Jon L. Gibson.  Louisiana Archaeology 17(1990):133-206.
Keller, Walter D., Charles G. Stone, and Alice L. Hoersch  (1985)  Textures of Paleozoic Chert and Novaculite in the Ouachita Mountains of Arkansas and Oklahoma and their Geological Significance.  Geological Society of America Bulletin  96:1353-1363.
Luedtke, Barbara E.  (1992)  An Archaeologist's Guide to Chert and Flint. Archaeological Research Tools 7. Institute of Archaeology, University of California, Los Angeles.
Peacock, Evan and Samuel O. Brookes, editors  (1999)  Raw Materials and Exchange in the Mid-South. Archaeological Report No. 29, Mississippi Department of Archives and History, Jackson.
Pennington, Helen  (2013)  Novaculite. The Encyclopedia of Arkansas History & Culture. http://www.encyclopediaofarkansas.net/encyclopedia/entry-detail.aspx?entryID=2220. 
Ray, Jack H.  (2007)  Ozarks Chipped-Stone Resources: A Guide to the Identification, Distribution, and Prehistoric Use of Cherts and Other Siliceous Raw Materials. Special Publications No. 8, Missouri Archaeological Society, Springfield.
Scarr, Kristin D. (2008) Trace Element Studies of the Arkansas Novaculite. M.A. thesis, Department of Anthropology, University of Arkansas, Fayetteville.
Schambach, Frank F.  (1998)  Pre-Caddoan Cultures in the Trans-Mississippi South.  Arkansas Archeological Survey Research Series No. 53, Fayetteville.
Steuart, Charles T., Drew F. Holbrook, and Charles G. Stone  (1982)  Arkansas Novaculite: Indians, Whetstones, Plastics and Beyond.  Arkansas Geological Commission Miscellaneous Publication 18:119-134.
Trubitt, Mary Beth (2005) Mapping a Novaculite Quarry. Caddoan Archeology Journal 14:17-33.
Trubitt, Mary Beth, Thomas Green, and Ann Early  (2004)  A Research Design for Investigating Novaculite Quarry Sites in the Ouachita Mountains. The Arkansas Archeologist 43:17-62.
Trubitt, Mary Beth D., Anne S. Dowd, and Meeks Etchieson (2013) Multiscalar Analysis of Quarries.  The Quarry (e-newsletter of the Society for American Archaeology's Prehistoric Quarries & Early Mines Interest Group) 10:30-43.
Whittington, David B.  (1969)  Arkansas' Oldest Industry.  Arkansas Historical Quarterly 28(3):223-230.
Wyckoff, Don G.  (2005)  Recent Lithic Technological Studies on the Southern Plains and Adjacent Regions, Part I: Identifying and Sourcing Raw Materials.  Lithic Technology 30(2):89-105.
Suggested citation format for this website:
Arkansas Archeological Survey 2016 "Arkansas Novaculite: A Virtual Comparative Collection."
http://archeology.uark.edu/novaculite/index.html (accessed January 15, 2016).
We welcome comments and feedback from you! For further information on this website, please contact Mary Beth Trubitt, Arkansas Archeological Survey, mtrubit@uark.edu.
This project is supported in part by a grant from the Arkansas Humanities Council and the National Endowment for the Humanities.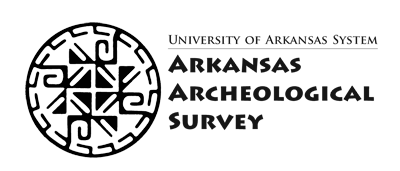 Copyright 2012, 2013, 2014, 2015, 2016 Arkansas Archeological Survey
A Division of the University of Arkansas System
2475 North Hatch Avenue
Fayetteville, AR 72704
479-575-3556
arkarch@uark.edu