Novaculite Quarries: Hot Spring County
Novaculite quarries – and sites where Indians worked novaculite into chipped stone tools and used those tools in daily tasks – are found across Hot Spring County, Arkansas. Since the Arkansas Novaculite formation outcrops in part of the county, people living here in the past found plentiful raw materials to flake into tools. Archeologists can learn more about ancient tool manufacture and use by studying residues of activities at quarries, at workshops, and at camps or villages.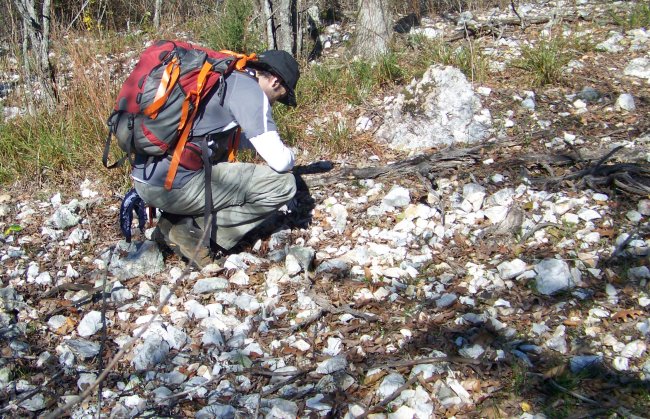 Tyler Stumpf examines novaculite at quarry site 3HS603.
Quarry sites show evidence of the mining and extraction of stone from the ground. Even after thousands of years, the circular or oval quarry pits are visible. These are often partly filled with broken pieces of novaculite. Tools, like sandstone cobbles used as hammers, may still be seen near novaculite quarry pits. Archeologists can estimate the volume of rock mined from these sites, the dates and duration of their use, and the tools and techniques for quarrying novaculite by studying these sites.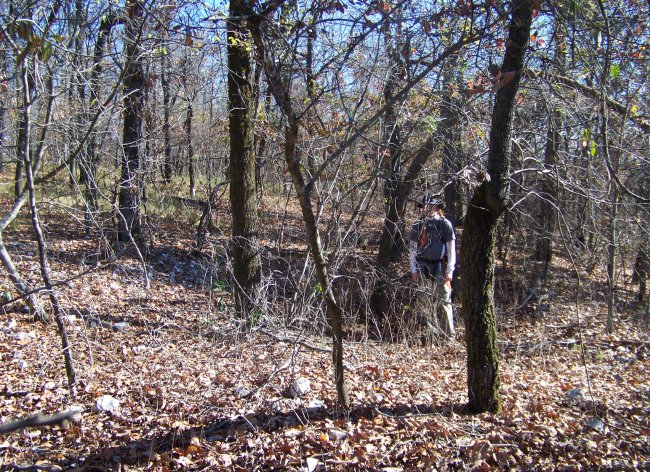 This quarry pit, visible as a large depression, is one of several documented at site 3HS603.
Novaculite Tool Production and Craft Specialization
In 2007-2008, an archeological project investigated several sites in Hot Spring County. Excavations directed by Dr. Mary Beth Trubitt were part of the annual Training Program in Archeology, a cooperative program between the Arkansas Archeological Society and the Arkansas Archeological Survey, and included students enrolled in archeological field school courses through Henderson State University and the University of Arkansas. By documenting the by-products of stone tool manufacturing at different sites, the archeologists were able to interpret activities that were done here in the past. The stages of stone tool production – quarrying novaculite, initial chipping and transporting raw material, heat treatment, further thinning and reduction into finished tools – took place at different locations on the landscape.
A new novaculite quarry (3HS659) was recorded on a mountain ridge in Hot Spring County in 2007. Novaculite in a variety of colors and textures was seen at the quarry, including dark gray translucent stone.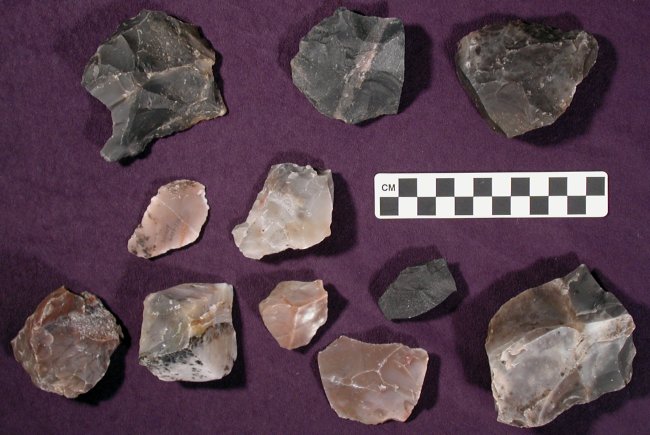 Novaculite biface fragments, flakes, and angular debris from quarry 3HS659.
At the base of the ridge below the quarry, a novaculite workshop (3HS397) was briefly investigated by "shovel testing." Artifacts included hammerstones, thick and thinned novaculite bifaces, and some finished or broken tools including several dart points. Dark gray translucent novaculite, similar to that seen at the quarry, was the preferred raw material.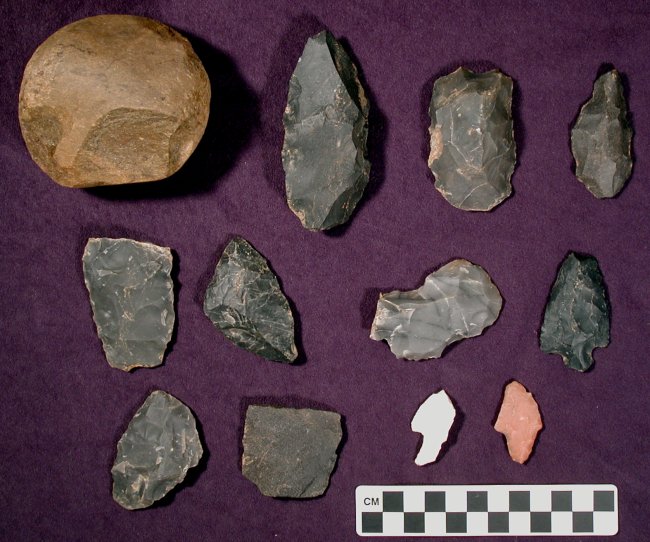 Hammerstone, novaculite bifaces, and novaculite tools from workshop 3HS397.
Excavations at two sites near the Ouachita River (3HS28 and 3HS195) in 2007-2008 were designed to investigate Archaic period novaculite tool production and exchange. Did Native Americans come to the Ouachita Mountains quarries to obtain their own toolstone, or did local residents produce more partly-finished or finished stone tools than they needed, trading the excess with people living further away? If local residents used sites like 3HS28 or 3HS195 as base camps to make novaculite tools for exchange, how can archeologists recognize this craft specialization from archeological residues? On-going research at the Arkansas Archeological Survey's Henderson State University Research Station is addressing these questions.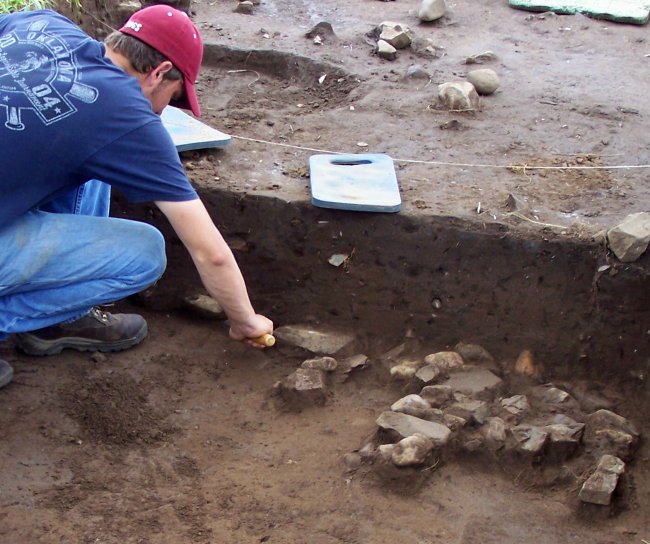 Excavating a fire-cracked rock feature at 3HS28, 2007 HSU/UA Archeological Field School.
The Jones Mill Archeological Project includes novaculite tool and chipping debris analysis, dating and interpretation of cooking facilities and other site features, and identification of food remains. Residents brought novaculite into the site as roughly shaped pieces (stage 2 cores and bifaces), heat treated the stone to make it easier to flake, and manufactured it into tools. Many of the projectile points documented from the Jones Mill site were broken through use (impact fractures). Indians lived here as well as made stone tools. There is evidence for hunting, fishing, and preparing foods like hickory nuts. This was a "base camp" or home base where Archaic period Indians lived through multiple seasons of the year. Later in time, ancestors of the Caddo Indians farmed here and lived in permanent communities along the Ouachita River.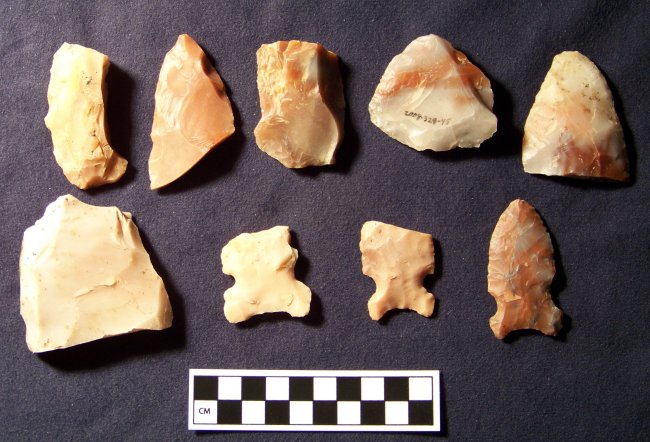 Sample of pink-red novaculite artifacts excavated from 3HS28.
Sourcing Novaculite
Can we identify the source of a novaculite artifact found at a site far from quarry outcrops? Sourcing studies allow archeologists to interpret mobility patterns, social organization, craft production and specialization, and mechanisms for exchange. Tracking the movement of novaculite from quarry to workshop to use location requires accurate sourcing of raw materials. Archeologists have used instrumental neutron activation analysis (INAA) as a chemical characterization technique to differentiate cherts. The technique is highly sensitive, so trace elements can be detected in very small amounts. Preliminary results indicate that INAA can be used to differentiate novaculite from other cherts. This technique may show measurable differences in trace elements in novaculite from different locations across the Arkansas Novaculite formation.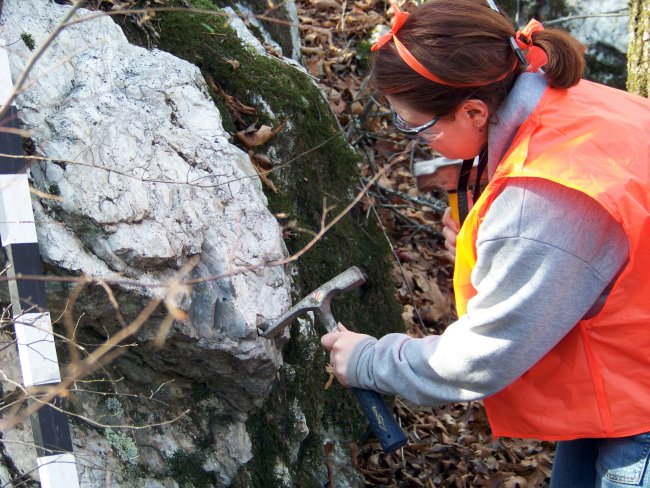 Kristin Scarr collects novaculite sample for INAA study from quarry 3HS603.
As part of her 2008 thesis research, Kristin Scarr used INAA as well as scanning electron microscopy-energy dispersive x-ray spectrometry (SEM-EDS) to analyze 20 novaculite samples collected from across the Arkansas Novaculite formation. With permission, Scarr collected small samples from quarries and outcrops in Hot Spring, Garland, and Montgomery counties in Arkansas, and in McCurtain County in Oklahoma. Samples were analyzed by staff from the University of Missouri Research Reactor (MURR). Scarr found that the novaculite samples were distinct from other cherts previously analyzed by MURR from Oklahoma and Texas.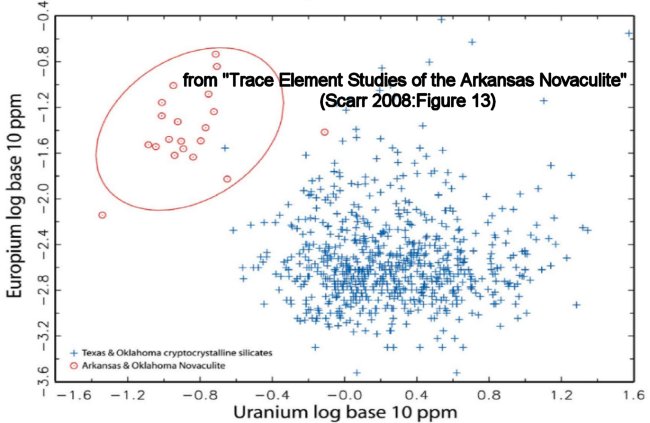 Plot showing uranium and europium values from novaculite (in red) and other cherts analyzed by MURR from Texas and Oklahoma (in blue), from Scarr's 2008 thesis, "Trace Element Studies of the Arkansas Novaculite."
Using MURR's analysis, Scarr found that the novaculite samples from Arkansas and Oklahoma were chemically heterogeneous, both within sources and between sources. However, some groupings of samples could be seen that corresponded to geographical location. Based on her pilot study, Scarr concluded that there is potential for differentiating within the Arkansas Novaculite formation, and a larger study should be done.
A National Register Quarry
One of the novaculite quarries in Hot Spring County, Arkansas, has been listed on the National Register of Historic Places. The National Register highlights the most significant historical and archeological sites across the country as worthy of preservation. Additional novaculite quarries in the Ouachita Mountains have been identified as eligible for listing, but have not been formally nominated.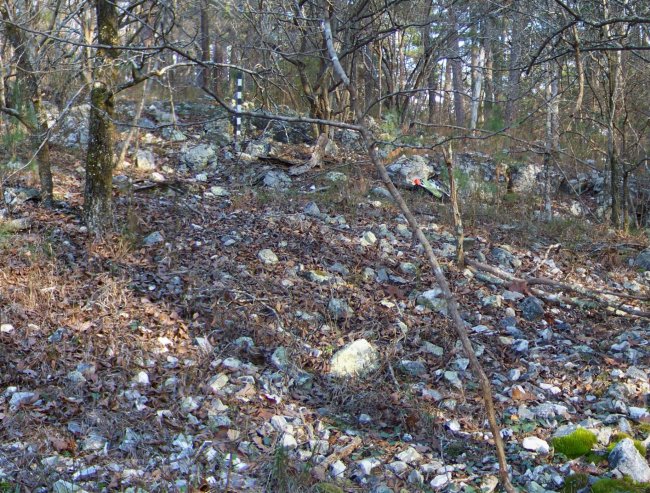 Novaculite debris and outcrops at quarry 3HS69.
What should you do if you find a site?
What should you do if you find an archeological site? Learning about these historic places is important, but digging into sites and taking away artifacts is destructive. The Arkansas Archeological Survey collects and maintains information about archeological sites across the state, but keeps site locations confidential to protect sites from vandalism and private property from trespass. Archeologists working at each of the research stations can be helpful local resource people. To contact Dr. Trubitt at the Survey's Henderson State University Research Station, email mtrubit@uark.edu or telephone 870-230-5463. For more information, visit the Survey's educational pages or read more about reporting archeological sites.
People interested in archeology and history can join the Arkansas Archeological Society or attend a meeting of one of the local chapters. Society and chapter members get together to learn more about Arkansas's history, and volunteer on field or lab projects with local professional archeologists. Many Society members attend the annual Training Program for amateur archeologists, a cooperative program between the Arkansas Archeological Society and the Arkansas Archeological Survey. This program provides opportunities for Society members (age 8 and older) to learn techniques of scientific archeology and contribute to archeological research here in Arkansas.
Protecting Significant Historic Places
Archeological sites on federal and Indian lands are protected by federal laws. The Archaeological Resources Protection Act sets penalties for unauthorized digging at or damaging sites on public lands or removing artifacts from these historic places. It also sets up procedures for permitting qualified professional archeologists to conduct research at sites on public lands. State laws protect archeological sites on state-owned lands in Arkansas as well.
Please help to preserve these large and significant archeological sites. The novaculite quarry pits and tools left behind can tell us the unwritten history of this ancient industry. These sites are part of America's heritage!
Site visits to photograph novaculite quarries as part of this website project have been made with permission from the Ouachita National Forest, Hot Springs National Park, Arkansas State Parks, and individual property owners.
Comparative Collection
For photographs and descriptions of raw material samples from Hot Spring County, select a site below or go to the Comparative Collection page.
Read more about archeological research on Hot Spring County quarries, workshops, and residential sites:
Baker, Charles M. (1982) A Brief Study of the Arkansas Novaculite Quarries. In Fancy Hill: Archeological Studies in the Southern Ouachita Mountains, edited by Ann M. Early and W. Fredrick Limp, pp. 307-334. Research Series No. 16, Arkansas Archeological Survey, Fayetteville.
Etchieson, Meeks and Mary Beth Trubitt (2013) Taking it to the River: Arkansas Novaculite Quarrying and Archaic Period Tool Production. North American Archaeologist 34(4):387-407.
Hoard, R. J., J. R. Bozell, S. R. Holen, M. D. Glascock, H. Neff, and J. M. Elam (1993) Source Determination of White River Group Silicates from Two Archaeological Sites in the Great Plains. American Antiquity 58(4):698-710.
Ives, David J. (1984) Neutron Activation Analysis Characterization of Selected Prehistoric Chert Quarrying Areas. Ph.D. dissertation, Department of Anthropology, University of Missouri-Columbia.
Jarvis, Hugh W. (1988) INAA Characterization of Onondaga Chert: A Preliminary Study in Western New York. M.A. thesis, Anthropology Department, State University of New York at Buffalo.
Luedtke, Barbara E. (1992) An Archaeologist's Guide to Chert and Flint. Archaeological Research Tools 7. Institute of Archaeology, University of California, Los Angeles.
Scarr, Kristin D. (2008) Trace Element Studies of the Arkansas Novaculite. M.A. thesis, Department of Anthropology, University of Arkansas, Fayetteville.
Trubitt, Mary Beth (2009) Communication: Investigating Middle Archaic at the Jones Mill Site. The Arkansas Archeologist 48:71-84.
Trubitt, Mary Beth (2011) Ancient Indian Foodways: A View from the Jones Mill Archeological Site. The Record (Garland County Historical Society) 52:127-137.
Trubitt, Mary Beth and Vanessa N. Hanvey (2011) Reconstructing the Novaculite Reduction Sequence at Jones Mill, Arkansas. Poster presented at the 68th Annual Southeastern Archaeological Conference, November 3, 2011, Jacksonville, Florida.
Trubitt, Mary Beth D., Anne S. Dowd, and Meeks Etchieson (2013) Multiscalar Analysis of Quarries. The Quarry (e-newsletter of the Society for American Archaeology's Prehistoric Quarries & Early Mines Interest Group) 10:30-43.
Trubitt, Mary Beth, Thomas Green, and Ann Early (2004) A Research Design for Investigating Novaculite Quarry Sites in the Ouachita Mountains. The Arkansas Archeologist 43:17-62.
Trubitt, Mary Beth, Kathryn Parker, and Lucretia Kelly (2011) Reconstructing Ancient Foodways at the Jones Mill Site (3HS28), Hot Spring County, Arkansas. Caddo Archeology Journal 21:43-70.
Suggested citation format for this website:
Arkansas Archeological Survey 2016 "Arkansas Novaculite: A Virtual Comparative Collection."
http://archeology.uark.edu/novaculite/index.html (accessed January 15, 2016).
We welcome comments and feedback from you! For further information on this website, please contact Mary Beth Trubitt, Arkansas Archeological Survey, mtrubit@uark.edu.
This project is supported in part by a grant from the Arkansas Humanities Council and the National Endowment for the Humanities.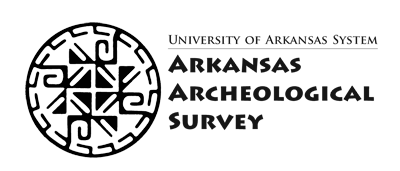 Copyright 2012, 2013, 2014, 2015, 2016 Arkansas Archeological Survey
A Division of the University of Arkansas System
2475 North Hatch Avenue
Fayetteville, AR 72704
479-575-3556
arkarch@uark.edu