Rock House Cave in Petit Jean State Park is located near Morrilton, Arkansas. The park is located atop beautiful Petit Jean Mountain which rises from the Arkansas River Valley and affords visitors spectacular views.
The bluff shelter is located at the end of a short, .25 mile hike over somewhat uneven ground.  Note the geological features commonly referred to as "turtle rocks" on your way to the shelter. The shelter itself is large and was probably used by native Americans starting about 8,000 years ago.  The evidence of this use can be seen in the many rock art images that appear on the walls and ceiling of the shelter. The shelter contains at least 105 rock art images.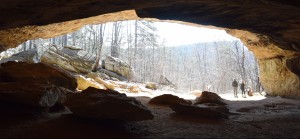 One of the more interesting examples of rock art in Rock House Cave shows a very distinctive looking fish found in the nearby Arkansas River. The pictograph painted in red pigment on the ceiling of the shelter shows of a paddlefish.  It can be hard to see, but the distinctive elongated head is present and the fins are in the right position. It has been suggested that the image shows the fish as it would look to someone seeing it from above as you would from the river bank or from a boat. The image near the fish appears to represent a basketry fish trap. Fish traps of this sort were used by used by Native Americans.