What Are Bluff Shelters?
Bluff shelters, also called rock shelters, are rock overhangs that were used by peoples in prehistoric and historic times. Because of the geology of the region, the Arkansas Ozarks is home to both bluff shelters and caves—both of which were used by past peoples. The interbedded sedimentary rock strata and the limestone that predominate in some ranges of the Ozarks make both shelters and caves common. The often dry environment made these locations attractive to people in the past. The shelters and caves of the region have been used by residents for at least 10,000 years—first, as campsites and storage, later as burial grounds and sacred spaces, and in historic times as barns, activity areas for stills, and occasionally even houses.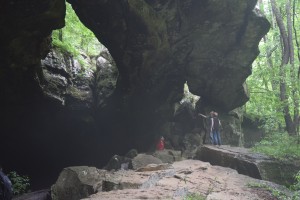 Why Are Arkansas Ozark Bluff Shelters Important?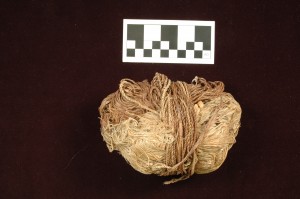 Bluff shelters also sometimes occur in other regions of the country but are very plentiful in the Ozarks. Archeologists are especially interested in them because of the dry conditions found in many shelters and caves. The dryness created an ideal environment for storage of food and other items in the past. It also led to the preservation of artifacts that usually do not survive on other types of archeological sites—especially in relatively wet climates such as the southeastern United States. Things like baskets and clothing used by Native Americans are not often found on "open" archeological sites because the damp soil causes quick decay. Most artifacts that are not made of durable materials such as stone or ceramic are lost. The class of artifacts made of easily decaying material is known to archeologists as perishables. The preservation of perishables made Arkansas bluff shelters a popular destination for early archeologists to collect artifacts. These early collections are still being studied and new research is ongoing but these sites are increasingly endangered by looting and development.
Additionally, for modern Native American tribes, such as the Osage and Caddo Nations, bluff shelters are sacred spaces. These spaces were used as burial places of the ancestors and as places to perform rituals. These tribes feel a responsibility for the protection and maintenance of these sacred spaces, and bluff shelters should thus be treated with the proper reverence and respect.
What Can Archeology Tell Us About Bluff Shelters & the People Who Used Them?
Although there are many popular myths and misconceptions about Ozark bluff shelters, archeologists have been working to understand the true prehistory of the Arkansas Ozarks for almost 100 years. We have moved beyond early archeologists' concept of the "bluff-dweller" culture and have made strides toward understanding who used the bluff shelters and when. Deeply stratified deposits in the Arkansas Ozark bluff shelters help archeologists untangle the timeline of Ozark prehistory. They help us date prehistoric occupation, understand seasonal occupation, uncover the origins of the domestication of plants and the creation of musical instruments. Important region-wide studies have examined rock art in the Ozarks and the rare perishable materials that make these sites so unique. But we still have a long way to go. Generations of archeologists will continue to work with the important materials curated in the University of Arkansas Museum Collections and the Arkansas Archeological Survey to answer more questions about our region's past.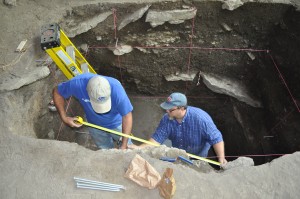 How Can I Learn More About Bluff Shelters?
Have we piqued your interest in Arkansas Ozark bluff shelters? If so, you can check out the rest of the website, read more, keep up with current research, or even visit a bluff shelter. If you want to get even more involved, you can contact your regional archeologist, or join the Arkansas Archeological Society.