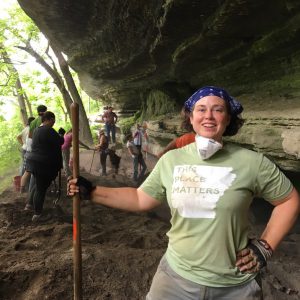 Join us Oct. 7 starting at 2pm for a hike and program about Ozark bluff shelters along the Back 40 trail system in Bella Vista.
Jamie Brandon and Lydia Rees will lead a hike along the Back 40 trail to Walker Shelter, a site we have recently recorded while conducting salvage excavations on looter disturbances there. Upon arrival at the shelter, they will provide an overview of past and more recent archeological work that complicates the picture of the prehistoric Arkansas Ozarks and offers possible future directions for research that can further refine our understanding of Ozark bluff shelters.
The hike will take place on the Back 40 Loop trail south of Lake Ann, starting at the Buckingham trailhead heading east to the bluffs and back, approximately 2 miles. Expect intermediate terrain. Please wear appropriate shoes and clothing, and bring water and insect repellent. This family friendly hike is also open to friendly dogs on a leash.
Limited parking is available at the trailhead. You may park in the right of way along Buckingham Drive, as long as emergency vehicles can still get through. Please DO NOT park in the right of way along Trafalgar Road.