Regional Archeologists Across the State
There are ten AAS research stations in Arkansas, eight of which are university-based, and two which are associated with state archeological parks operated by the Arkansas Department of Parks and Tourism.
All station archeologists provide a variety of services to the general public, educational institutions, and state and federal agencies. This often involves working with amateur archeologists, identifying artifacts, helping landowners identify archeological remains, providing public lectures, and writing popular books and flyers about Arkansas archeology.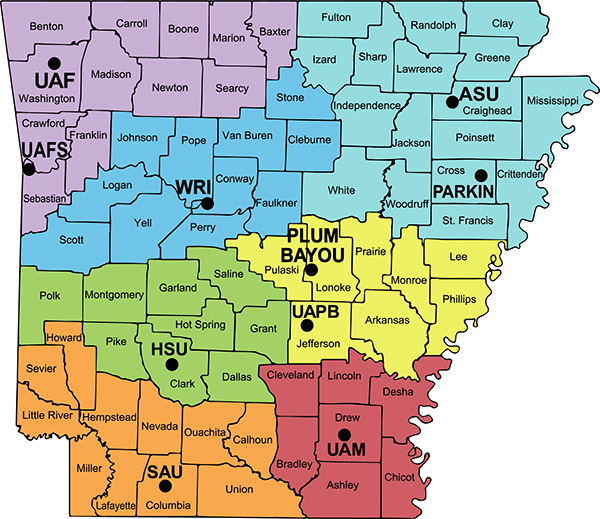 Dr. Jessica Kowalski, Station Archeologist
Email: jkowalsk@uark.edu
(479) 575-6554
Jared Pebworth, Station Assistant
Email: jaredp@uark.edu
Mike Evans, Station Assistant
Email: mmevans@uark.edu 2475 N. Hatch, Fayetteville, AR 72704
(479) 575-3556
---
Tim Mulvihill, MA, Station Archeologist
(479) 788-7812
Email: Tim.Mulvihill@uark.edu
Arkansas Archeological Survey - UAFS Station
Flanders 102
5210 Grand Ave; PO Box 3649
Fort Smith, AR 72913-3649
---
Dr. Emily Beahm, Station Archeologist (501) 727-6250
Email: beahm@uark.edu
Rachel Jones, MA, Station Assistant
(501) 727-6284
Email: rej05@uark.edu
Arkansas Archeological Survey, WRI
1 Rockefeller Drive
Morrilton, AR 72110
Dr. Mary Beth Trubitt, Station Archeologist
(870) 230-5510
Email: trubitm@hsu.edu
Jason Wilhelmi, MA, Station Assistant
(870) 230-5463
Email: jw160@uark.edu
P.O. Box H-7841
Henderson State University
Arkadelphia, AR 71999-0001
---
Dr. Andrew Beaupré, Station Archeologist
(870) 535-4509
Email: abeaupre@uark.edu
Dr. Bob Scott, Station Assistant
Email: rscottjr@uark.edu
P.O. Box 4814, UAPB
Pine Bluff, AR 71601
---
Dr. Matthew P. Rooney, Station Archeologist
(870) 460-1290
Email: mr096@uark.edu
Kourtney A. Lee, Station Assistant
(870) 460-1090
Email: kl068@uark.edu
UAM, Box 3087
Monticello, AR 71656
---
Dr. Carl Drexler, Station Archeologist
(870) 235-4230
Email: cdrexler@uark.edu
Taylor Greene, MA, Station Assistant
Email: taylorg@uark.edu
100 East University, MSC 9381
Magnolia, AR 71753
Dr. Juliet Morrow, Station Archeologist
Email: jemorro@uark.edu
(870) 972-2071
Sarah Stuckey, Archeological Assistant
Email: sdstucke@uark.edu
ASU-Jonesboro, P.O. Box 820
State University, AR 72467
---
Station Archeologist
(870) 755-2119
Email: arkarch@uark.edu
P.O. Box 241, Parkin, AR 72373-0241
---
Dr. Paige Ford, Station Archeologist
Email: paigef@uark.edu
Katherine Gregory, MA, Station Assistant
Email: kwg001@uark.edu
Dr. Elizabeth Horton, Research Affiliate
Email: ethorton@uark.edu
Direct Station Phone: (501) 961-2420
State Park Phone: (501) 961-9442
490 Toltec Mounds Road
Scott, AR 72142-9212