Container
Engraved container (effigy?), pottery
Caddo (historic), 1350-1500
W.I.#3/Crowe/Cook site (3HS105)
V. Means Field
Hodges 77-1 / 10-3
This unusual vessel has been interpreted as a canteen-like container, a turtle effigy, or a musical instrument. With a large opening on the top and two smaller holes underneath, it may have been used as a small canteen for water. The engraved lines and cross-hatched arches on top of the "shell" are similar to designs seen on turtle effigy bottles from other Caddo sites, although these often feature long necks, small tails, and legs.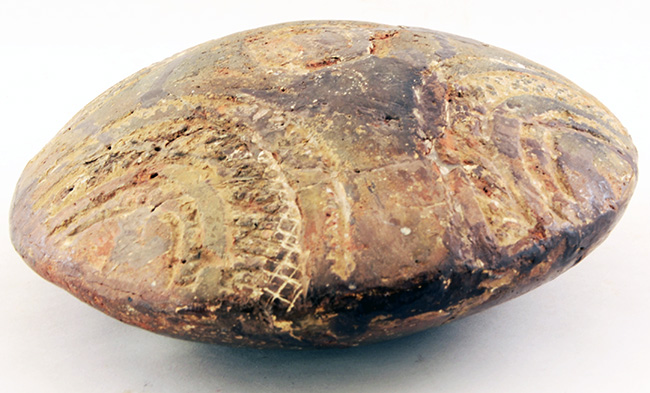 The most interesting interpretation of this vessel is as a wind instrument or "sound maker." Music was, and still is, very important to Native cultures. Music has been used to honor people, tell stories and histories, and send out prayers and thanks. With string laced through the two smaller holes, the piece may have hung from someone's neck. The person would then blow air across the larger hole to create sound like a whistle. Listen to Jim Rees (Arkansas Archeological Society) play a replica of a similar artifact.
Archeologists use location – where at the site an artifact was found – and associations – what was found with it – to decipher how people used objects in their daily activities in the past. In this case, the site was named but other details were not recorded, limiting our interpretations.
Learn more about Caddo music traditions and other early music in Arkansas with AETN's "Music in Arkansas: Origins" series, especially Part 2, "Wind and Percussion".
3D model created by Teka McGlothlin and Sarah Shepard, text and photographs by DeLainey Brown and Mary Beth Trubitt; video courtesy of Jim Rees.