"Tail-rider" Effigy Bowl
Engraved/appliqued bowl, pottery
Caddo (historic), 1200-1500
Henry Means II (3HS104))
Hodges 77-1 / 9-24
This pottery bowl once had figures appliqued on each of its wide flat handles. One has broken off. The other is a four-legged animal with long tail. Its head is broken. The bowl was reassembled but there are missing pieces. Four horizontal engraved lines decorate the rim of this bowl.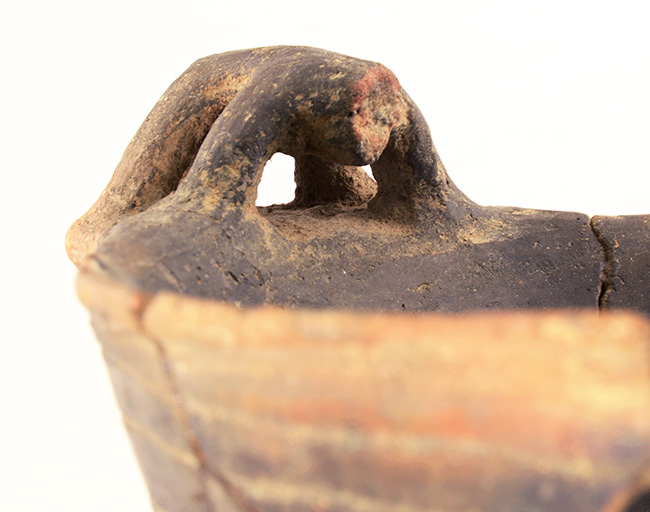 The term "tail-rider" or "tail-riding" was coined for effigy bowls with figures on both the "tail" and "head" handles. Archeologists make comparisons between known examples of effigy pots from a region to study their iconography, or the meanings of their designs. Similar examples of Hood Engraved bowls from Caddo sites in East Texas had animal figures – interpreted as bears or dogs from variations in body shape – on the "tail" handles, with stylized bird heads on the opposite handles. Examples from East Arkansas have various figures on the handles interpreted as animals, humans, or supernatural beings. So much of this Hodges Collection bowl is missing that all we can say is there was a quadrupedal animal on one handle.
To read about iconography and interpretation of symbols on Caddo pottery, visit the Texas Beyond History website. Learn more about Caddo archeology and history from the Caddo Conference Organization website.
3D model created by Teka McGlothlin and Sarah Shepard, text and photographs by DeLainey Brown and Mary Beth Trubitt.