Triangular Bowl
Engraved/appliqued bowl, grog-tempered pottery
Caddo (historic) AD 1350-1500
Means site (3HS3)
Hodges 77-1/23-13
This bowl is made from clay tempered with grog, which is pulverized pottery sherds mixed with the clay when forming the pot. The Caddo potter would do this so there would be less shrinkage and to help with drying. Grog temper was common before 1500; after that, Caddo potters in this area often added crushed mussel shell as temper.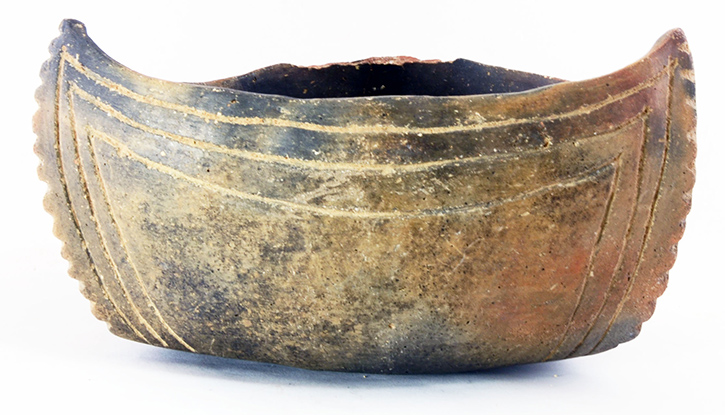 The bowl has a triangular shape. It has three corners with castellated ridges, referring to the square-shaped notches along those ridges. The ridges are outlined by three engraved lines.
There are several other bowls of this style in the Hodges Collection, but they have four corners rather than three. Why is this one different?
To learn more about Caddo pottery, visit "Texas Beyond History: Created in Clay". The Arkansas Archeological Survey has teacher resources that include "Made from Clay: Cooking and Craftsmanship," about Arkansas pottery.
3D model created by Teka McGlothlin and Sarah Shepard, text by Andrew Powell and Mary Beth Trubitt, photograph by DeLainey Brown and Mary Beth Trubitt.