COVID-19 UPDATE: The Arkansas Archeological Survey is following University of Arkansas System policies and procedures during the ongoing COVID-19 pandemic, guided by relevant federal and state guidelines and directives. Until further notice, the Coordinating Office remains closed to the public. Research stations also remain closed but are coordinating with host institution schedules. Please use email or telephone to contact our staff.
Dispatches from the Field
Arkansas Archeology in the News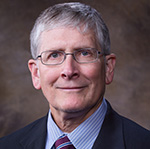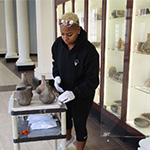 Viewing the University's Artifact Collections
The Arkansas Archeological Survey Headquarters building has an Open Curation area where visitors can see nearly 2000 objects from the University of Arkansas Collection Facility.  The area is open during regular business hours, 8AM to 5PM Monday through Friday. For information, call (479) 575-3556.
The University's secure Curation area where most artifacts are held is visible through the foyer of the Survey Headquarters.  Access to the University collections for research and other purposes can be arranged through Mary Suter, curator of collections.  For information about access to the secure area, call (479) 575-3456.