Dispatches from the Field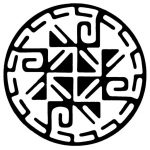 Final candidates for the Arkansas Archeological Survey's Director search have been chosen and they will be visiting Fayetteville soon. The public is invited to attend each of the candidates' presentations via Zoom.
Visit the ARAS announcement page for the schedule of presentations.
Arkansas Archeology in the News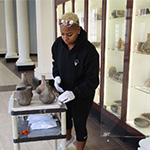 Viewing the University's Artifact Collections
The Arkansas Archeological Survey Headquarters building has an Open Curation area where visitors can see nearly 2000 objects from the University of Arkansas Collection Facility.  The area is open during regular business hours, 8AM to 5PM Monday through Friday. For information, call (479) 575-3556.
The University's secure Curation area where most artifacts are held is visible through the foyer of the Survey Headquarters.  Access to the University collections for research and other purposes can be arranged through Mary Suter, curator of collections.  For information about access to the secure area, call (479) 575-3456.