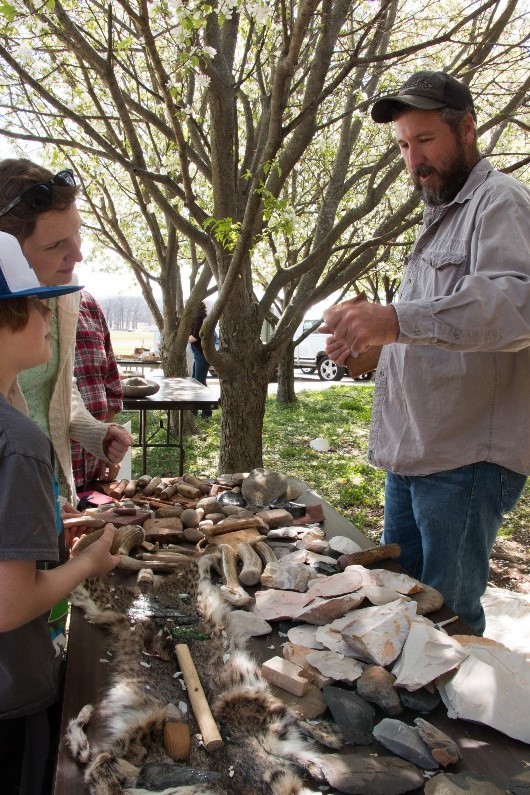 Arkansas Archeology Month 2023 is an annual event designed to broaden the public's interest and appreciation for Arkansas's archeological resources and to encourage the public's participation in conservation and preservation efforts. Archeology Month is cosponsored by the Arkansas Archeological Survey and the Arkansas Archeological Society and is made possible through the efforts of supporters throughout the state at parks, libraries, museums, and other agencies and organizations, providing a wide variety of programs, exhibits, hands-on activities, and tours. Please join this fun and educational month-long event by submitting a program for Archeology Month.
Archeology Month often lends itself to hands-on activities, in-person illustrated talks by expert speakers, craft demonstrations, exhibits and book displays, and large Open House type gatherings. By now, many venues have experience in planning an indoor event that conforms to today's precautions, by limiting group size to enable physical distancing. Alternative kinds of events include: a remote link to a guest speaker; online "virtual" exhibits; video-recorded readings and demonstrations. Outdoor activities like tours and hikes in the fresh air can be re-tooled with physical distancing in mind. But even guided tours can be turned into video presentations. With a little imagination, we hope that Archeology Month can be safely celebrated in 2023.
And that is our theme—Celebrate Archeology! Programs can be on any aspect of prehistoric or historic archeology, early Arkansas history, or Arkansas's Native Americans.
The deadline to get your event listed in the printed events brochure is Saturday, January 15. Submissions received after this date will be placed on the Events List on the Arkansas Archeological Survey website and added to the Survey's online Calendar.
For more information on Arkansas Archeology Month or for ideas from past years that can be retooled for 2023, please check the Arkansas Archeology Month web pages linked below.
We look forward to seeing your innovative ideas and please feel free to contact Michelle Rathgaber at 479-575-3961.
* * *
---
Learn about past Archeology Month events through the links below...