Madelyn Rose graduated from the University of Arkansas with a Bachelor's Degree in Art History and Cultural Anthropology in May of 2018. She started as a work study student with the University Museum in 2014 and moved to the Survey in 2015, working for various grants. For the past two years she has been working under an ANCRC grant helping to develop the computerized database system. In her new position as Collections Technician, Madelyn will be continuing work with collections care, preservation, and access to the Arkansas Archeological Survey Collections through various avenues.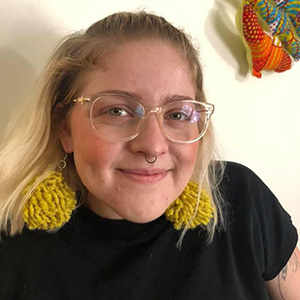 Michelle Rathgaber (PhD, University of Arkansas – Fayetteville, 2019) will start as the new Educational Outreach Coordinator for the Arkansas Archeological Survey on April 1. She will step in to continue programs started by Dr. Melissa Zabecki (now the Arkansas State Archeologist), and plans to branch out into new outreach and educational opportunities as well.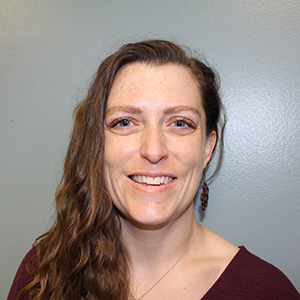 Melissa (Mel) Zabecki (PhD University of Arkansas, Fayetteville, 2009) will be the new State Archeologist starting in January 2021. She replaces Dr. Ann Early, who retired in June 2020.
Dr. Jodi Barnes  is starting the new year with a change in venue. She will be missed not only as a valuable colleague talented at interpretation of archeological data for the public and with fantastic grant writing skills, but also as a friend and mentor. We wish her all the best for her new endeavors in South Carolina.

Katy Gregory (M.A., Florida Atlantic University, 2006) has been appointed Interim Station Archeologist at the Toltec Mounds Research Stationin Scott, Arkansas, following the departure of Dr. Elizabeth Horton. Katy joined the Survey in 2014 as the ARAS-UAM research station assistant, having previously worked with the Seminole Tribe of Florida Tribal Historic Preservation Office. She transferred to Toltec Mounds in 2016. During the past few years, Katy played a key role in upgrading station curation practices, including expanding and refining collection inventories and reorganizing station records into a new digital archival storage and retrieval system. She has also been active in monitoring the site in support of park development activities, providing public programming, and assisting in the maintenance and study of the experimental Plum Bayou Garden. Katy contributes to a variety of other ARAS collaborative projects and regularly participates in our training program for members of the Arkansas Archeological Society.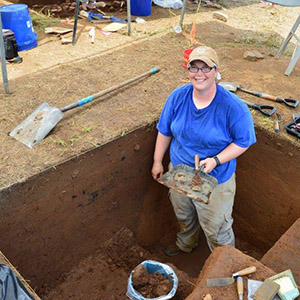 The Survey says farewell to Dr. Elizabeth Horton, Station Archeologist at the Toltec Mounds Research Station since 2011, as she moves on to a new stage in her career, developing a paleoethnobotanical and ethnobotanical services company, based out of Charlottesville, VA. Her cutting-edge research, exacting field methods, and clever wit make her a superb archeologist and a wonderful colleague. She will be greatly missed.

Arkansas State Archeologist Ann M. Early retired in June, 2020 after 48 years with the Arkansas Archeological Survey.
John Samuelsen, Survey Research Assistant in the Survey's Computer Services Program, successfully defended his PhD dissertation entitled An Isotopic Assessment of Late Prehistoric Interregional Warfare in the Southcentral US. The study, conducted in collaboration with the Caddo Nation of Oklahoma, employed strontium and lead isotope analysis to evaluate disarticulated burial remains at the Crenshaw site in southwest Arkansas. Previously interpreted as the remains of warfare victims, Samuelsen's new research suggests that Crenshaw served as a revered ceremonial center and repository for dispersed regional communities long associated with the site.
Congratulations, Dr. Samuelsen!