The Arkansas Archeological Survey supports graduate students working on internship, thesis, and dissertation projects both at the Coordinating Office and at our research stations. Support is provided for assistantships paid out of our base funding and through grants or other special project funds. We also work closely with the Anthropology Department and the J. William Fulbright College of Arts and Sciences at the University of Arkansas to host students who receive support through the Hester A. Davis Internship in Public Archeology and the Charles R. McGimsey III Endowment for Cultural Resource Management. Our graduate students work on a wide variety of research, preservation, and educational initiatives and thus provide valuable support for our efforts to fulfill our mission within the University of Arkansas system.
NOELLE KING

Noelle King is a graduate student in archeology and is researching and collaborating at the UA Fayetteville Research Station with Dr. Kowalski as her advisor. After completing her undergraduate degree in Jonesboro, King has spent the past two years working for the Arkansas Historic Preservation Program at the Jacob Wolf House Historic Site as a cultural and historic interpreter. With her background in regional history, Noelle plans to focus her research on historic Ozark archeology, including vernacular log structures and implementation of GIS techniques.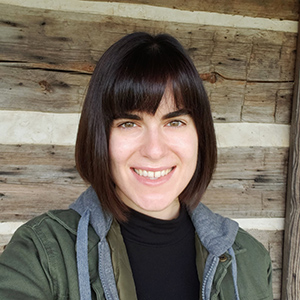 GILLIAN STEENO

Gillian Steeno is a current Master's student in Anthropology who has lived all over the Midwest but currently calls Detroit, Michigan home. She graduated from the University of Mississippi-Ole Miss with Honors in May 2021 with a Bachelor's Degree in Anthropology and Psychology. Her undergraduate thesis research focused on lithic analysis and domestic versus public space at a Late Mississippian/Early Contact site near Starkville, Mississippi. Her current research interests are in Contact and Historic Period Archaeology in the Southeast, but she doesn't have a specific focus just yet.