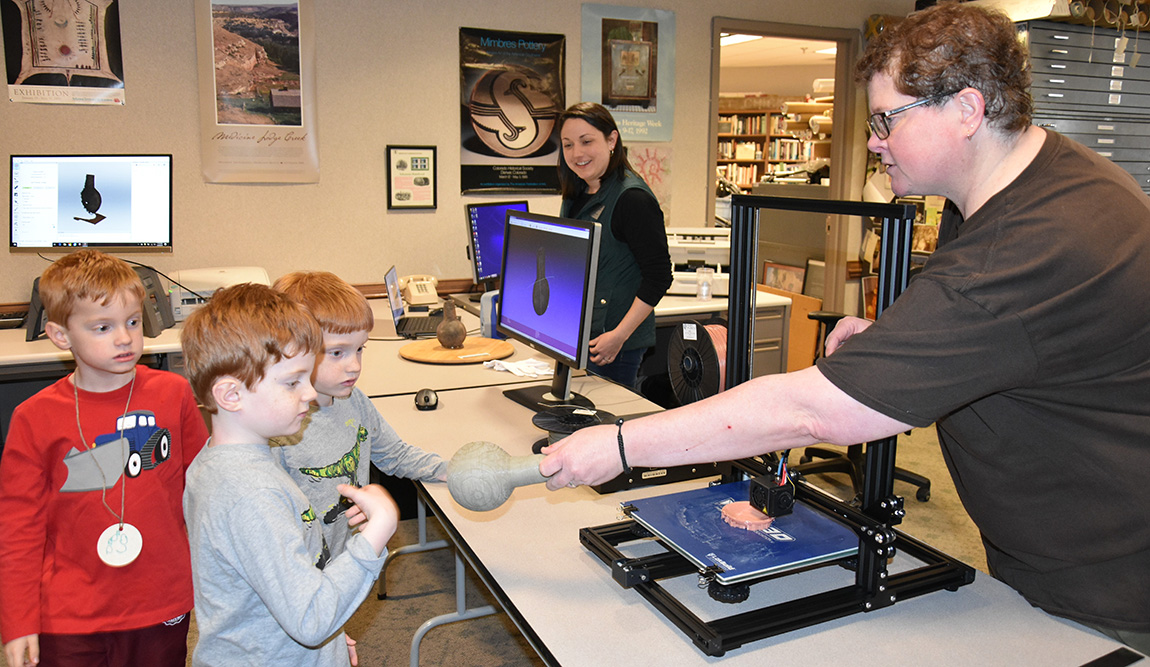 We celebrated Arkansas Archeology Month 2019 throughout the month of March with a wide variety of presentations, activities, demonstrations and displays. Programs included talks on the history and archeology of southeast Arkansas, the Edgemont Bluff Shelter, Davidsonville, Crenshaw Mounds, Paleoindians, early agriculture, foodways, and early pioneers.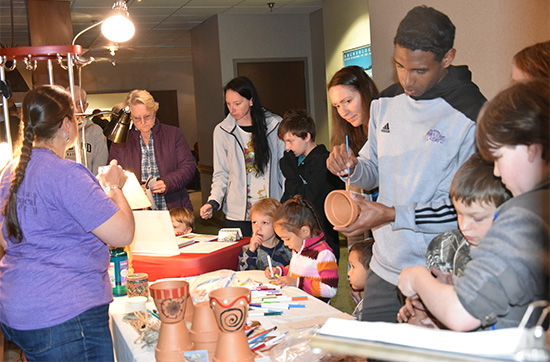 Outdoor adventures, workshops, and hands-on activities included canoeing, fishing, archery, bow making, trapping, stone tool making, living history re-creations, traditional games, lab days, artifact ID, use of maize, and making pinch pots. The University of Arkansas Museum Collections offered a special tour of their vast collections.
The Behind the Big House event explored extant slave dwellings and interpreted the experience of the enslaved people who inhabited them. It included live historical interpretations and lectures by historians and archeologists about the important contributions African Americans made to Arkansas's history and foodways.
At The Caddo Archeology Conference, Caddo artisans discussed their art as identity and heritage in a special symposium, and dancers and singers from the Caddo Nation shared traditional dances and songs.
Aspects of Arkansas historic and prehistoric archeology were shared with some 2,900 individuals through 57 programs held at 36 venues around the state. The Survey, Society, and Chapters used Facebook pages and other social media outlets to provide information on the activities, as well as photos. Newspapers, television, and radio also promoted and covered many of the programs. In addition, a Governor's Proclamation was received from Governor Asa Hutchinson declaring March 2019 Archeology Month!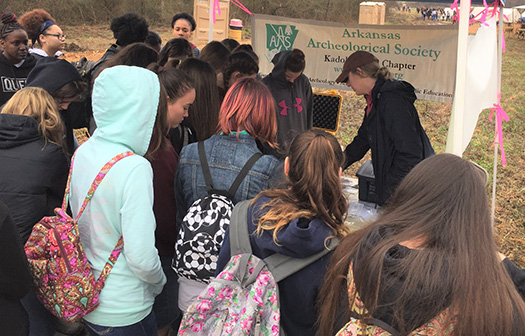 Participants included:
State Parks: Davidsonville Historic State Park, Hampson Archeological Museum State Park, Lake Catherine State Park, Lake Dardanelle State Park, Parkin Archeological State Park, and Plum Bayou (Toltec) Mounds Archeological State Park.

Museums: Arkansas State University Museum, Delta Gateway Museum, Faulkner County Museum, Old Independence Regional Museum, Old State House Museum, and University of Arkansas Museum Collections.

Libraries, Colleges & Others: Ark-Homa Chapter of the Arkansas Archeological Society, Arts and Science Center for Southeast Arkansas, Central Arkansas Chapter of the Arkansas Archeological Society, Central Mississippi Valley Chapter of the Arkansas Archeological Society, Delta Cultural Center, Delta Rivers Nature Center, Ester D. Nixon Public Library, Fairfield Bay Community Education Center, Ko-ko-ci Chapter of the Arkansas Archeological Society, McGehee Desha Alumni Community Center, Ouachita Chapter of the Arkansas Archeology Society, Philanthropic Education Organization, Prairie D'Ane Battlefiled, Preserve Arkansas, Red River Chapter of the Arkansas Archeological Society, Rick Evans Grandview Prairie Conservation Education Center, Searcy County Historical Society, Tunican Chapter of the Arkansas Archeological Society, University of Arkansas Press, and the University of Central Arkansas.

Special thanks go to the Arkansas Archeological Society's Bill Jordan Public Education Fund and Archeological & Environmental Consultants for funds offered in support of Archeology Month 2019.
The Arkansas Archeological Society sponsored the Archeology Month poster. It featured the 3D technology used by the Arkansas Archeological Survey and was included in the national display of Archeology Month Posters at the 2019 Society for American Archaeology meeting in Albuquerque, New Mexico. An accompanying article on the Survey's website explained how this technology is being used.
Many thanks to all those who provided programs, donations, volunteer hours, or who participated in some way to make Archeology Month 2019 another great success!
Marilyn Knapp
Archeology Month Coordinator
***************
---