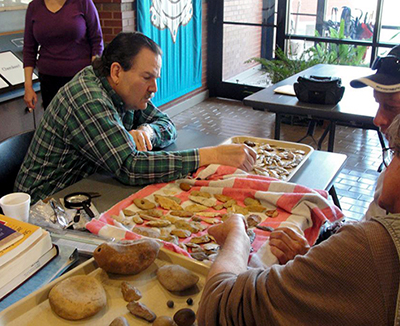 The Parkin research station was established in 1990 at Parkin Archeological State Park in Cross County. The station's primary mission is to study the Parkin site and related sites in the region and to aid State Parks staff in interpreting and presenting this research to the general public. The Parkin site is a 17-acre Mississippian period American Indian village located on the banks of the St. Francis River, and lies entirely within park boundaries. It has a large flat-topped earthen mound surrounded by hundreds of buried house remnants, and was enclosed by a log palisade and moat. Excavations in the 1990s showed that the site was settled as early as a.d. 1000 and was occupied at least until 1541, when the expedition of Hernando de Soto passed through the area. Parkin is believed to be the Indian village of Casqui that was visited by the Spaniards and described in the four written accounts left by survivors and chroniclers of the expedition.
Jeffrey M. Mitchem (Ph.D., University of Florida, 1989) is the Survey's Research Station Archeologist for Parkin Archeological State Park, and Research Associate Professor of Anthropology, University of Arkansas–Fayetteville. He joined the Survey in 1990 to establish the Parkin research station, following appointments at Florida State University and Louisiana State University. His specializations include late prehistoric and early historic archeology of the Southeast and the Mississippi Valley, early Spanish contact sites in the New World, ceramic technology, glass bead studies, beads of Jordan and the Levant, Florida archeology, and the history of archeology in the Southeast. He is past President and Secretary-Treasurer of the Society of Bead Researchers.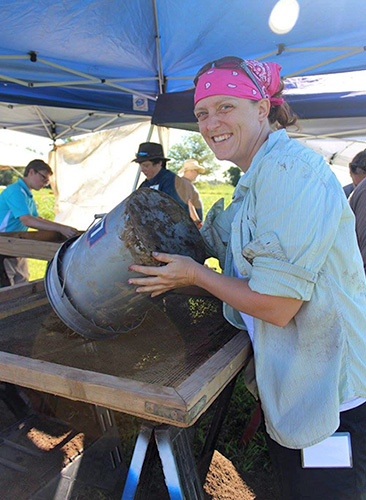 Michelle Rathgaber (Ph.D., University of Arkansas, 2019) is the Parkin Station Assistant. Her research focuses on vulnerability and resilience of the Late Mississippian people of the NE Arkansas and SE Missouri region to large scale earthquakes. She studies this using various methods from ceramic and faunal analysis to settlement pattern analysis and landscape use. Her master's degree (MSc, 2011) is from Bournemouth University in the UK where she studied osteoarchaeology and bone tools in SW Britain. She has worked in various regions of the southeastern US for 13 years doing CRM as well as working for the Survey at the Blytheville station for 4 years before leaving to earn her doctorate. She also spent two summers excavating and doing lab analysis in Tiwanaku, Bolivia in 2005 and 2006 to start off her career and love of archaeology.
E. Faye Futch earned an Associate of Arts degree in 2002 from Mid-South Community College and a B.A. in Interdisciplinary Studies with a Minor in African-American Studies from Arkansas State University in 2005. She joined the Survey staff in 1990. She helps process artifacts in the laboratory, greets visitors to the park and station, and is involved with the African American cemetery preservation initiative. Ms. Futch is working toward a Master's degree in History, with an emphasis in Public History, at Arkansas State University. She was promoted to Research Assistant in 2008, and now pursues local history research in northeast Arkansas.