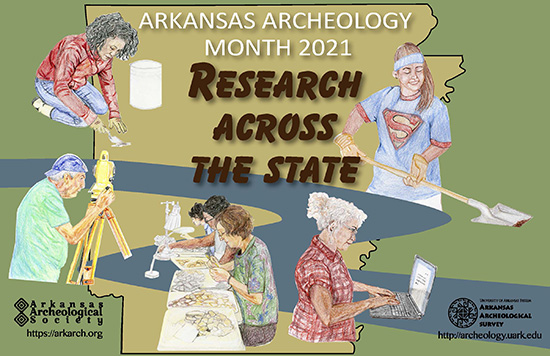 Arkansas Archeology Month is an annual event designed to broaden the public's interest and appreciation for Arkansas's archeological resources and to encourage the public's participation in conservation and preservation efforts. Archeology Month is cosponsored by the Arkansas Archeological Survey and the Arkansas Archeological Society and is made possible through the efforts of supporters throughout the state at park, libraries, museums, and other agencies and organizations, providing a wide variety of programs, exhibits, hands-on activities, and tours.
Archeology Month 2021 was a wonderful success, in spite of the challenges of doing public outreach in a continuing pandemic situation. Here are a few highlights, but many other events were held as well.
The Arkansas Archeological Survey held Facebook live segments every day at noon weekdays, with 7237 views and counting.

The Arkansas Archeological Society held a special statewide (and beyond) talk mid-March.

The Jamie C. Brandon Research Center gave three separate talks that focused on various aspects of archeology.
A fuller summary will be posted at a later date.
---
Learn about past Archeology Month events through the links below...