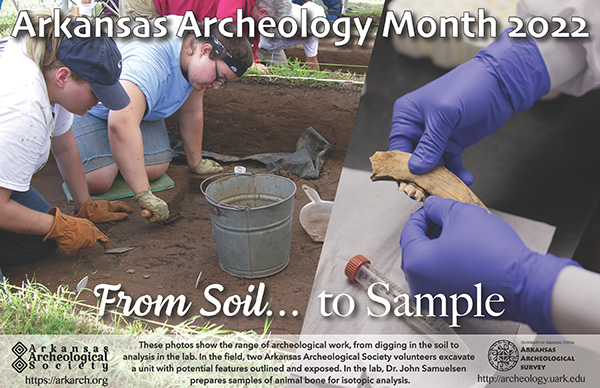 Arkansas Archeology Month 2022 is an annual event designed to broaden the public's interest and appreciation for Arkansas's archeological resources and to encourage the public's participation in conservation and preservation efforts. Archeology Month is cosponsored by the Arkansas Archeological Survey and the Arkansas Archeological Society and is made possible through the efforts of supporters throughout the state at parks, libraries, museums, and other agencies and organizations, providing a wide variety of programs, exhibits, hands-on activities, and tours.
This year, we have events taking place all over the state (both in person and virtual). You can check out our Calendar of Events for the full list and to get more details about each event. You can also check out our official Arkansas Archeology Month poster or pick up a copy at your local Survey Station.
Scavenger Hunt
We also want to encourage you to learn more about Arkansas Archeology this month, so we are hosting a scavenger hunt across our website. Each weekday in March, we will be posting a new image to a different webpage. If you find the image, copy the URL (in the address bar) and submit the location via this Google Form for an opportunity to win a prize! You can enter each weekday and there will be a daily winner. There will also be an overall winner at the end of the month, drawn from all the daily entries. We hope that you will play along with our scavenger hunt, attend some of our archeology events, and have fun learning more about Arkansas Archeology.
* * *
---
Learn about past Archeology Month events through the links below...