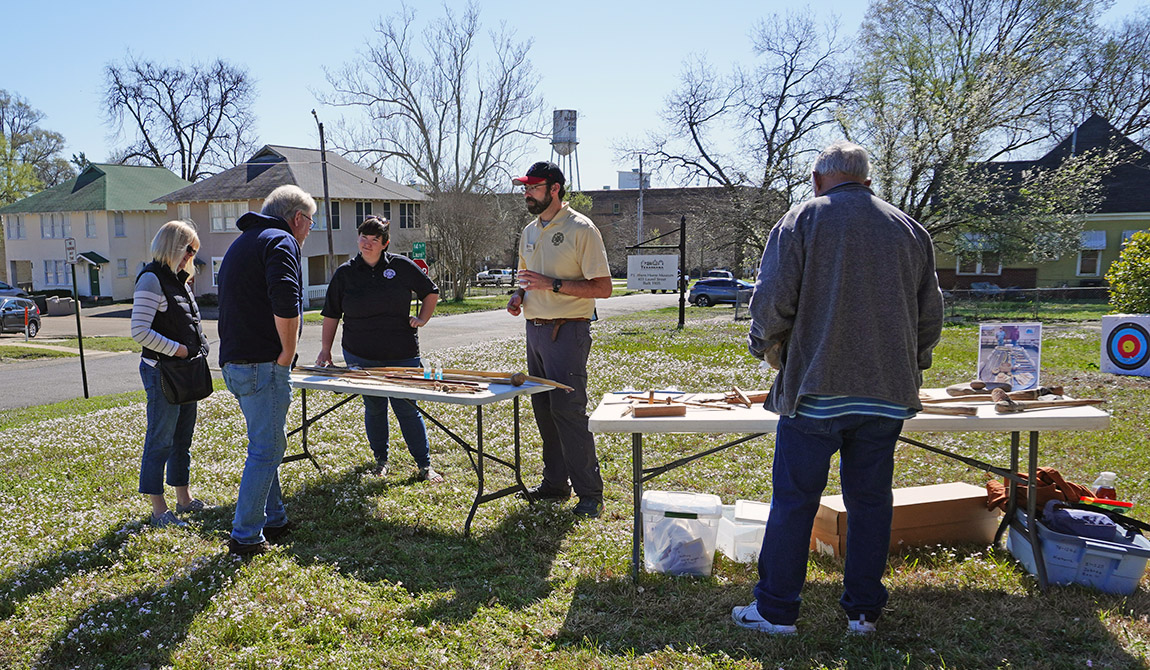 After a few years of mostly low-key or virtual events for Archeology Month, we were back to a full slate of programs this year. There were a variety of programs—tours, lectures, Celebrate Archeology Days, an Archeology Jobs Panel—and they took place throughout all regions of the state. Overall, there were 29 programs hosted by 19 organizations to celebrate Archeology Month 2023.
The Arkansas Archeological Survey sponsored two Celebrate Archeology Days, one in Texarkana in partnership with the Texarkana Museums System at the PJ Ahern Home, and one in Fayetteville at our Coordinating Office in partnership with the University of Arkansas Museum. At both events, Survey staff hosted booths for participants to engage with various aspects of the archeological record. We had pottery making, spear throwing, pump drills, animal bones, and artifact identification tables. Almost 200 people came to learn about archeology and see museum collections between the two events!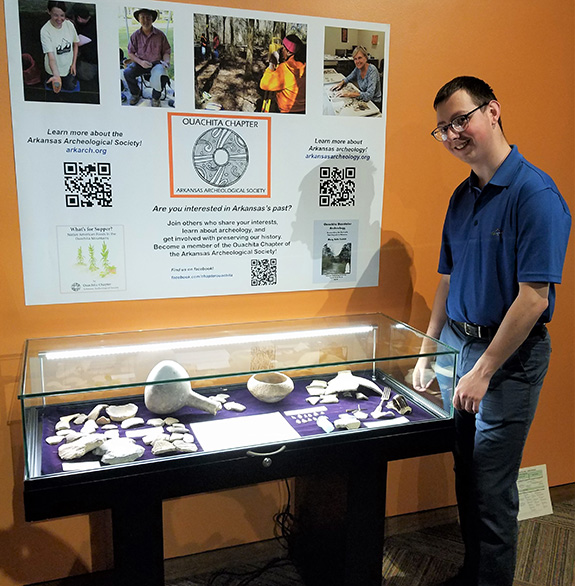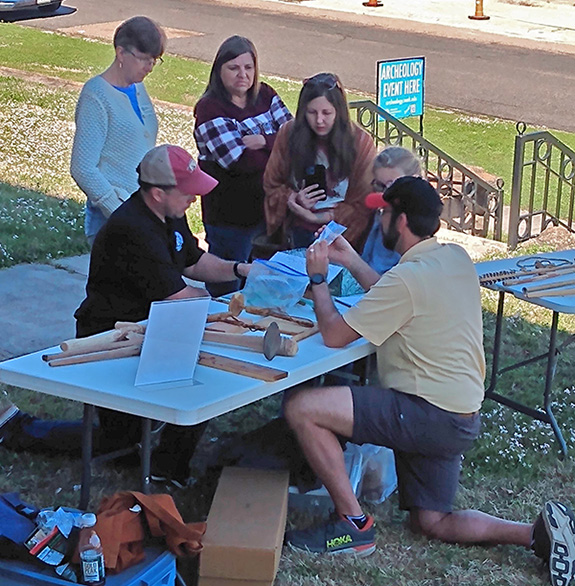 The ARAS also partnered with the Arkansas Historic Preservation Program to host an Archeology Jobs Panel in Little Rock. Four archeologists from the federal, state, and private sectors spoke to college students about their paths in archeology and how to get jobs in the field after college. You can watch the recording on our YouTube channel.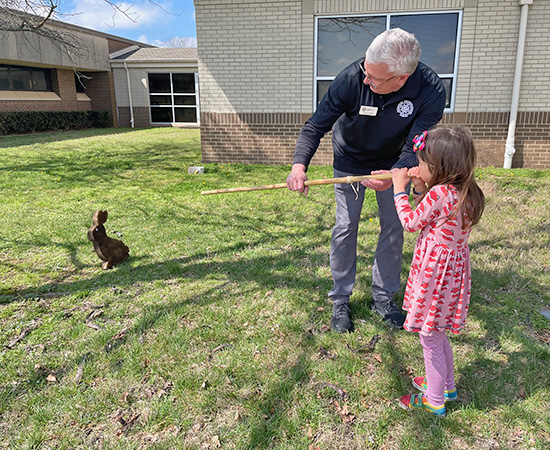 The JCB Center for Archeological Research at the University of Central Arkansas held a week-long archeological excavation at Powhatan Historic State Park that culminated in an Archeology Open House where the public could come to see the excavation and how archeology helps to uncover the history of the town.
Dr. Paige Ford (ARAS-PBRS) presented a talk in collaboration with Preserve Arkansas for their Women in Preservation series; you can watch it on their YouTube channel.
Hampson Archeological Museum State Park hosted a series of hands-on events for children to make crafts related to life in the past in northeast Arkansas.
And most excitingly, the co-sponsored Arkansas Archeological Survey and Arkansas Archeological Society Archeology Month Poster came in third place in the Society for American Archaeology's Archeology Month Poster Competition! As far as we know this is the first time that any Arkansas Archeology Month poster has placed in this contest. So, we'll be looking to move up the rankings next year.
These are just a few highlights of the many events that took place throughout the month. You can look back at the events calendar to see every event that took place in March.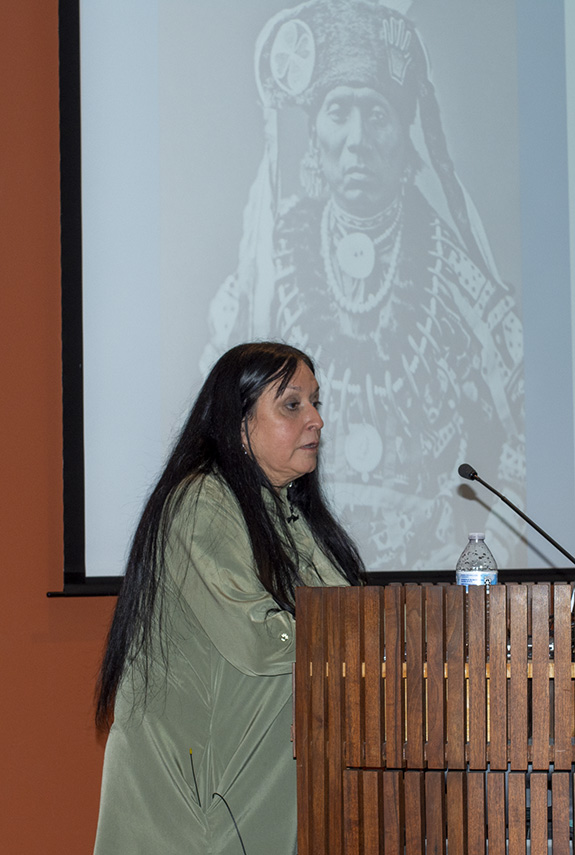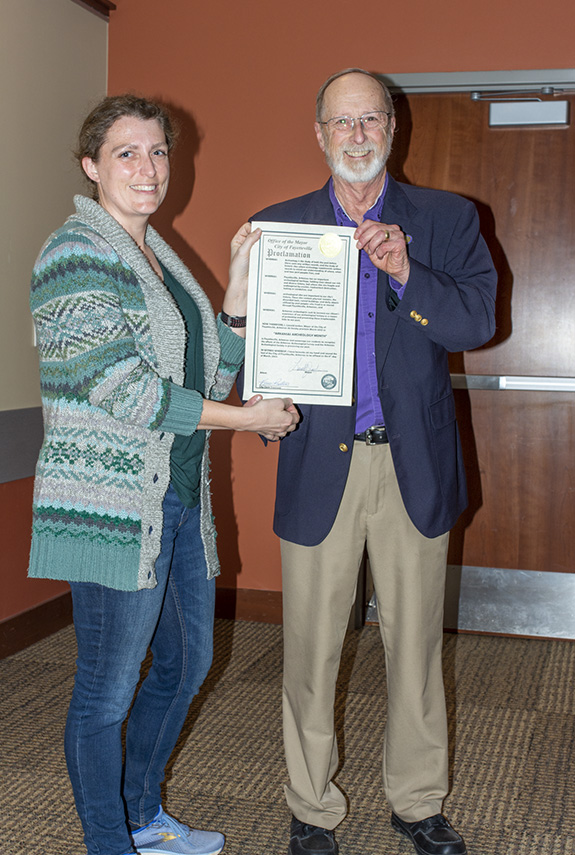 2023 Archeology Month Participants Included:
State Parks: Powhatan Historic State Park, Parkin Archeological State Park, Hampson Archeological Museum State Park, Prairie Grove Battlefield State Park, Mississippi River State Park, Delta Heritage Trail State Park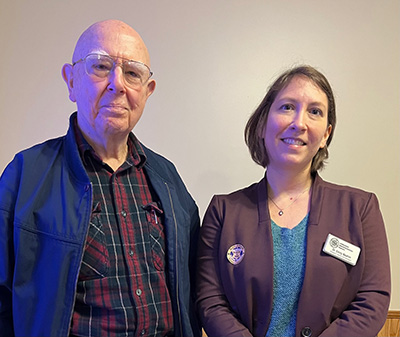 Museums: University of Arkansas Museum, Old State House Museum, Texarkana Museum System, Mid America Science Museum
Libraries, Colleges, and Others: Preserve Arkansas, Searcy County Historical Society, University of Arkansas 4-H, Ark-Homa Chapter – Arkansas Archeological Society, Ouachita Chapter of the Arkansas Archeological Society, Arkansas Tech University, Central Mississippi Valley Chapter of the Arkansas Archeological Society, JCB Center for Archeological Research, Northwest Arkansas Land Trust, Ko-ko-ci Chapter of the Arkansas Archeological Society, Archaeological Conservancy, Pryor Center, Fayetteville Public Library
The Arkansas Archeological Survey and Society sponsor Archeology Month each year. This year's poster was designed by ARAS Graphic Artist Rachel Tebbetts and features a Caddo saltmaking pan. This summer's Society Training Program will again be in DeQueen, AR at a precontact Caddo and postcontact settler saltmaking site.
Thank you to all of the great organizations and volunteers who made Arkansas Archeology Month 2023 a success and we look forward to working with everyone to keep making it bigger and better going forward.
***************
---