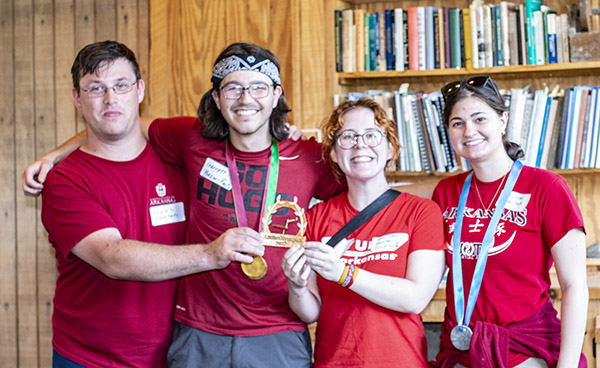 Another year of ArcheOlympics has come and gone. Each year we hold this contest in October in honor of International Archaeology Day. This year our WRI Station hosted the event on top of beautiful Petit Jean Mountain. The weather was sunny and it got hot despite the call for thunderstorms in the forecast earlier in the week. We had three events again this year: the Excavation to Report Obstacle Course, Spear throwing with an atlatl, and ArtiFACT or ArtiFALSE trivia.
The obstacle course simulates the stages of archeological work from the field to the final acceptance of the report. Archeoletes run from station to station "excavating", identifying artifacts, answering trivia questions about the artifacts, writing accession numbers, and filing a report. The spear-throwing competition consisted of both accuracy and distance challenges. Each participant got three throws to attempt to hit a target (only 7 archeoletes out of 30 did–start practicing now!), and three attempts to throw as far as they could; the winning distance was 73.14 m. ArtiFACT or ArtiFALSE was a True/False trivia game about Arkansas archeology and general archeological law and ethics.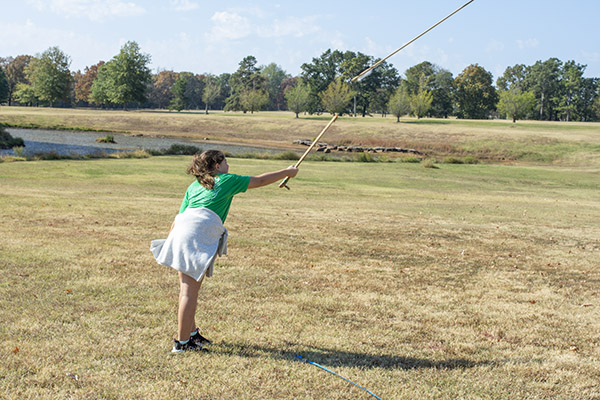 We had seven enthusiastic teams join us for the competition. Two of the teams had players who had participated last year, but the rest were new. Archeoletes ran the gamut from middle school students to adults. 4H fielded two teams: the Tunican Teens and the Monroe Archaeologists. Arkansas Tech brought 2 teams: Melissa and Company and Baby's First Dart. The University of Central Arkansas had the Museum Night Watch and the University of Arkansas–Fayetteville had the Razor-Facts. Professors from the University of Arkansas–Monticello rounded out the teams with the Weevil Expeditionary Force. All of the teams put on a good show and had a great time participating in all of the events throughout the day. We hope that they also learned a little bit about archeology in their preparation and throughout the day.
In addition to the archeoletes, we had a great team of staff and volunteers who helped the day run smoothly. A huge thanks to Dr. Emily Beahm and Dr. Angela Gore for hosting the event at their WRI Station and running the spear-throwing events, Dr. Melissa Zabecki and Collin Land for running the trivia game and getting everyone checked in at the start, Dr. Maureece Levin (UALR), Kristina Hill (Forest Service), Shannon Kardiak (UALR), and Tim Mulvihill for running the obstacle course. And a special thank you to Dr. Joshua Lynch (ATU) for providing the spears and Dr. Andrew Beaupré for designing the obstacle course.
Thank you to everyone who played, observed, and helped out to make ArcheOlympics 2022 another huge success!