Mary Beth Trubitt and Ann M. Early (Arkansas Archeological Survey)
Artifact of the Month - April 2019
In the Joint Educational Consortium's (JEC) Hodges Collection is a large, shallow, flat-bottomed pan with very thick walls (1.2 cm thick), made of clay tempered with coarse mussel shell. With about half the vessel reconstructed, we can see it has a straight, outslanted rim and a circular, flat base. Its opening is an estimated 50 cm in diameter, and it stands about 13.5 cm in height. While we have no locational information for this vessel (Accession 1977-1/X-473), it is the most complete salt pan known from southwest Arkansas. It represents an important Caddo period industry. Caddo Indians in southwest Arkansas used these large shallow pans to boil brine from local saline springs to make salt. They traded salt to other tribes beginning around AD 1100.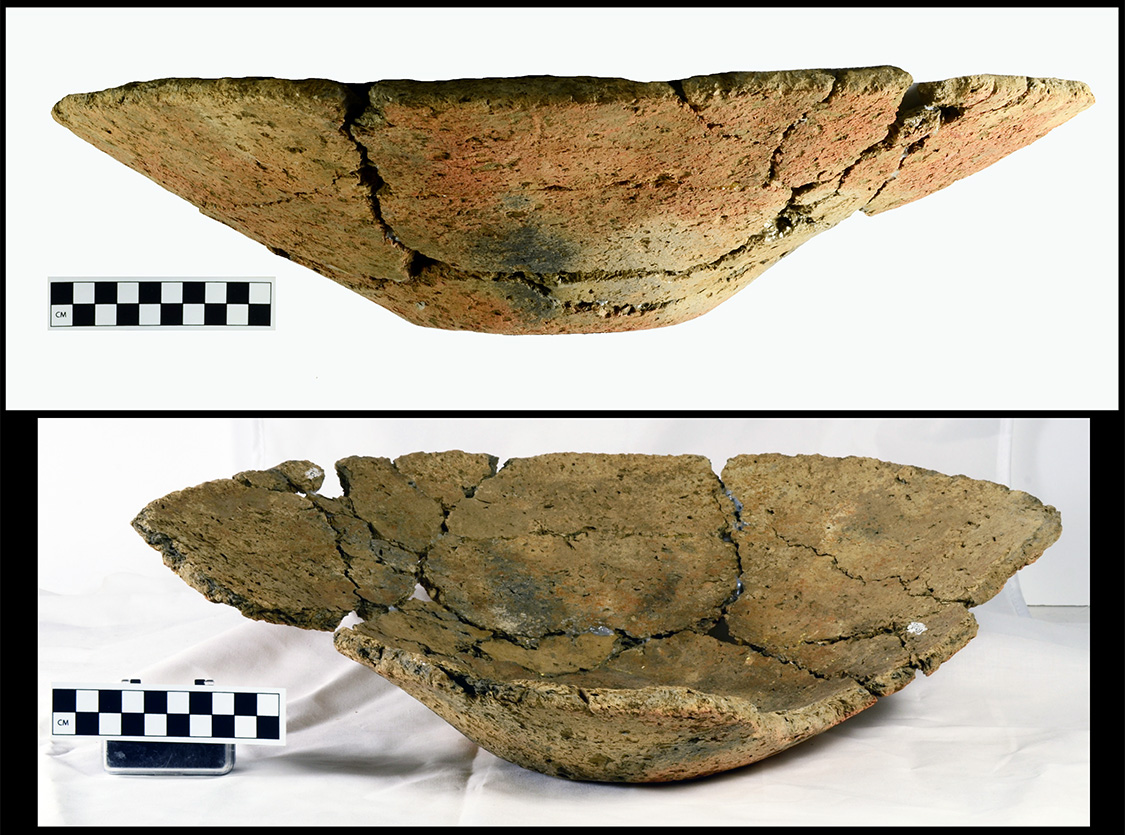 It is likely this artifact originally came from 3HS110, the Barkman Salt Works, named after Arkadelphia settler Jacob Barkman, who built a salt production furnace here around 1839. Also in the JEC Hodges Collection, curated by the Arkansas Archeological Survey's Henderson State University Research Station, are two large salt pan rim sherds provenienced to 3HS110. Arkadelphia amateur archeologist Vere Huddleston remarked on the quantities of salt pan sherds littering the surface at the time of his 1943 visit, and collected "a sack full of sherds." Dr. and Mrs. Hodges later purchased Huddleston's collection. During his 1939 Ouachita Valley Survey, Harvard University archeologist Philip Phillips' assistant visited the Barkman Salt Works, describing two brackish salt lakes.

Fragments of large, thick-walled, flat-bottomed shallow vessels with several shapes have been found at other saltmaking sites in southwest Arkansas. During salvage excavations at Hardman (3CL418) as part of highway construction near Arkadelphia, thousands of small fragments from broken saltpans were found mixed in with household debris. Caddo Indians living at Hardman were intensively processing salt during the Mid-Ouachita phase (ca. AD 1400–1500), and continued this activity into the Social Hill and Deceiper phases (AD 1500–1700) of the Mississippian period.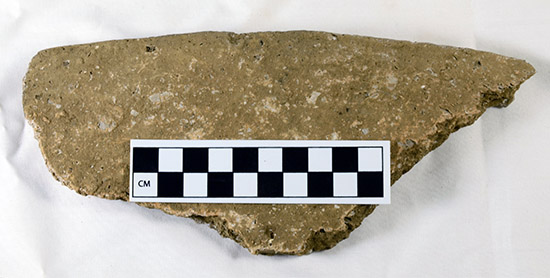 Philip Phillips conducted test excavations at Bayou Sel (3CL27) in 1939, some of the earliest excavations in the Ouachita River valley. Fragments of salt pans were found in the lowest stratum during this and later excavations, indicating that saltmaking began here as early as the East phase (ca. AD 1100–1400). Some of the earliest pottery in this region to be tempered with mussel shell, rather than grog (crushed bits of fired clay), were these salt pans. Using mussel shell to temper the clay produced a pot that would withstand heating over a fire. The Caddo were fortunate to live near brine seeps that were strong enough to make salt by open burning.
Salt was a desired ingredient for Mississippian period farmers. Most Indian tribes and nations could not make salt themselves and had to obtain it by trade. Saltmaking made the Caddo important partners with the French in the colonial period. In the late seventeenth century, the French built trading forts in the Red River valley to trade with the Caddos.
One emphasis for the upcoming 2019 Arkansas Archeological Society Training Program will be laboratory analysis of ceramics from Holman Springs (3SV29), a Caddo salt production site in Sevier County. This will provide us the opportunity to document salt production and pottery manufacturing practices in the Little River valley, and make comparisons with different regions of the Caddo area.
---
References:
Early, Ann M., editor (1993) Caddoan Saltmakers in the Ouachita Valley: The Hardman Site. Research Series No. 43. Arkansas Archeological Survey, Fayetteville.
Eubanks, Paul N. (2018) The Effects of Horses and Raiding on the Salt Industry in Northwest Louisiana. Caddo Archeology Journal 28:5–20.
Artifact of the Month Series
A first principle of archeology is that the significance of artifacts depends upon documented information about the context of their discovery. At what site was the artifact found? Can we figure out the age of the artifact? Where was it found in relation to site features (houses, trash deposits, activity areas, etc.) and the distribution of other artifacts? Only with knowledge of those facts can we assess further information about the manufacture and use of artifacts, and their role in other spheres of activity such as social organization, trade and exchange, and religious practice.
In this series

, we feature select artifacts that are extraordinary both for the context of their discovery and for their unique qualities that contribute exceptionally important information about Arkansas culture and history. New artifacts will be added monthly. Find the list of artifacts here.