Station Archeologists, Drs. Barnes, Brandon, and Drexler are working with Preserve Arkansas to host the Behind the Big House program at Historic Washington State Park on May 13-14. This two-day event is modeled after the Behind the Big House program in Holly Springs, Mississippi, which was selected as one of the National Humanities Alliance's "Engaged Humanities: Model Programs for Cultivating Vibrant Local Humanities Communities." It moves beyond the "Big Houses," or stately historic homes, to explore the extant slave dwellings and interpret the experiences of the enslaved people who inhabited them. It will highlight the history of Historic Washington and include live historical interpretations, tours, and lectures to provide guidance for interpreting African American structures and sites and increase African American attendance at these places.
Joseph McGill, from the South Carolina based Slave Dwelling project, has slept in slave cabins across the country. On May 13-14, he will be visiting Arkansas for the first time with interpreter, Jerome Bias from Stagville State Historic Site in North Carolina. Bias developed Stagville's Foodways Program, which has increased African American attendance at the site by 50 percent. On Friday, May 13, Preserve Arkansas will host its signature event Preservation Libations with a cooking demonstration by Bias and McGill's preparation to sleep in the Sanders Kitchen, a reconstruction of a former slave dwelling. On Saturday, May 14, participants will take part in a full day program featuring archeologists, historians, McGill, Bias, and Historic Washington staff. The program will offer a broad understanding of the importance of slave dwellings in the interpretation of the historic landscape and their role in heritage tourism. As Joseph McGill states, "Americans tend to focus on the 'big house,' the mansion and gardens, and neglect the buildings out back. If we lose slave dwellings, it's that much easier to forget the slaves themselves" (McGill quoted in Horowitz 2013).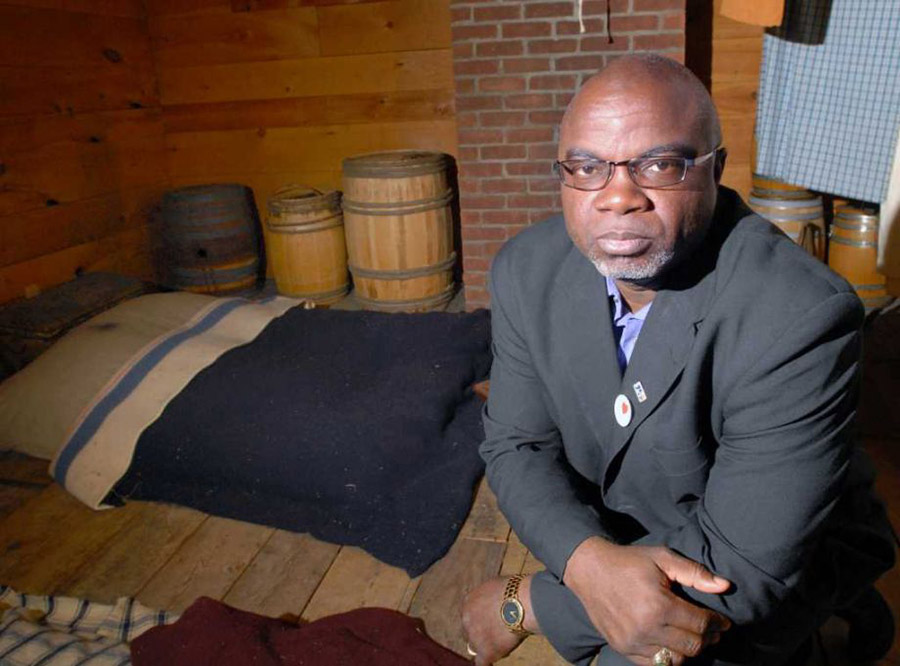 Teachers can receive three Arkansas Department of Education professional development credits for participating in this exciting program.
This event is sponsored by Preserve Arkansas, a statewide non-profit committed to building stronger communities by reconnecting Arkansans to our heritage, the Black History Commission of Arkansas, the Arkansas Archeological Survey, and Arkansas State Parks. This project is supported in part by the Arkansas Humanities Council and the National Endowment for the Humanities.
Space is limited. For more information or to register, preservearkansas.org