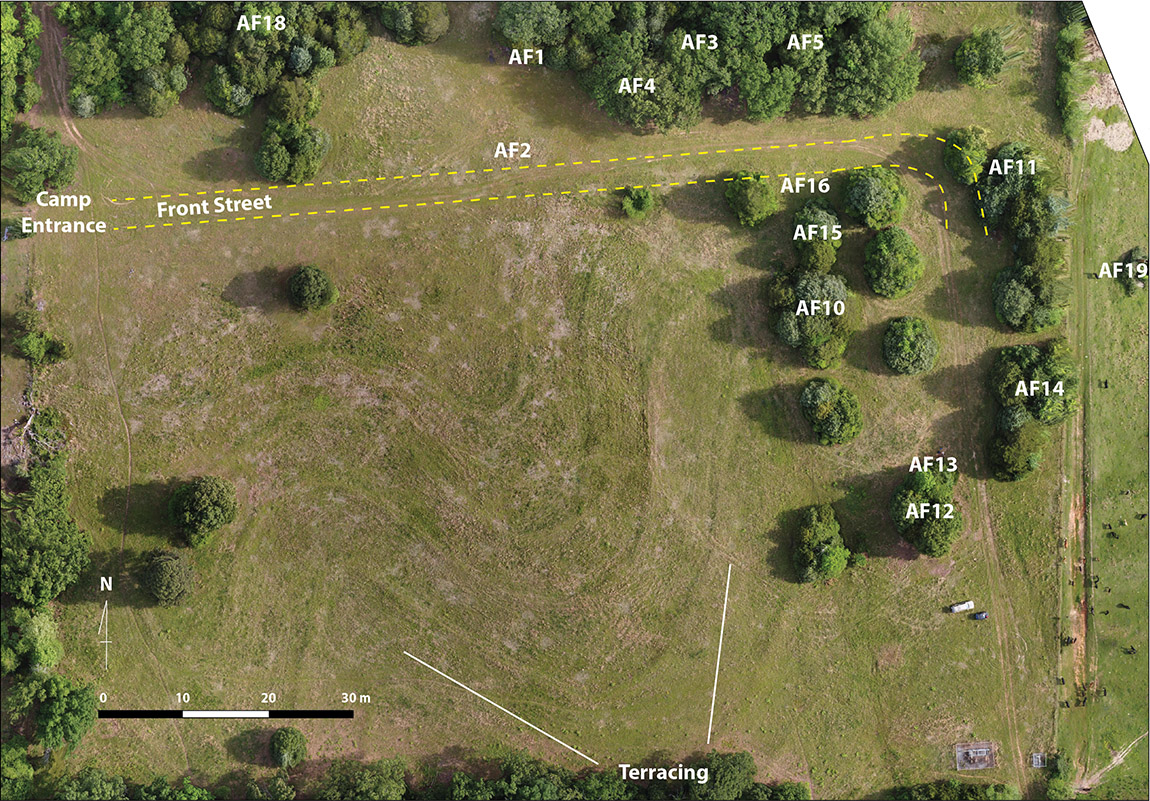 Duncan P. McKinnon, Associate Professor, University of Central Arkansas, Director, Jamie C. Brandon Center for Archaeological Research
Lynita Langley-Ware, Director, Faulkner County Museum
Feature of the Month - October 2023
Undeniably, water is fundamentally the most basic biological necessity of all life. Over time, humans have developed a vast range of adaptive strategies and technologies for managing and utilizing various sources of water. These strategies fulfill this biological need, and allow for survival in extreme and marginal environments (see Mithen 2012; Soloman 2010). The feature of the month for October (or rather, related features) is an example of a complex water management and usage system constructed 90 years ago at a Civilian Conservation Corps (CCC) camp in rural northern Faulkner County.
Between 1934 and 1935, and again between 1937 and 1939, 200 or so civilian enrollees aged between 18 to 25, ten Army supervisors and technicians, and a handful of local knowledge-bearers known as Local Experienced Men (LEM) lived at Camp Halsey (3FA313). The camp was constructed within a leased 10-acre pasture on the farm of Andrew F. "Andy" Halsey and was initially occupied by Soil Conservation Service (SCS-1) Company 1706 (1934-1935) and then later by Private Forest (P-75) Company 4748 (1937-1939). The lease expired in May 1939, and enrollees were transferred to Camp Peron in Saline County. Buildings were removed and the camp was permanently dismantled shortly thereafter (Log Cabin Democrat, 4/19/1939).
Today, evidence of the labor invested in landscape modification is most apparent as a series of meandering terraces built to manage water run-off and soil erosion (Figure 1). Generally, CCC camps were composed of approximately 25 buildings, including tents, modular barracks-type structures, and specialized buildings with poured foundations. At the Camp Halsey site, three standing stone features remain. These include the Recreation Hall chimney (AF1), the Message Board (AF2), and a LEM House chimney (AF19) in the adjoining pasture (see Figure 1). Largely, remains of the former buildings consist of numerous foundation or stone features hidden in the overgrowth and buried beneath leaf-litter and wind-blown soil. In fact, the 'rule of thumb' at the site is if there is an overgrown cluster of cedar-juniper, thorny greenbrier vine, and poison ivy, a feature is likely hidden within.
During the most recent UCA archeology field school seasons, Features AF15 and AF16 were excavated and recorded south of Front Street, and downslope from buildings and barracks to the north. Feature AF15 was first documented during the 2022 UCA field school by students Emilee Burroughs and Mendel Lagasse, with assistance from Lynita Langley-Ware. When they began, the feature was completely obscured by vegetation with only a small portion of a foundation exposed (Figure 2a). After a week of work among poison ivy, greenbrier vines, and cedar roots, the entire feature was exposed, cleaned, mapped, and documented (Figure 2b).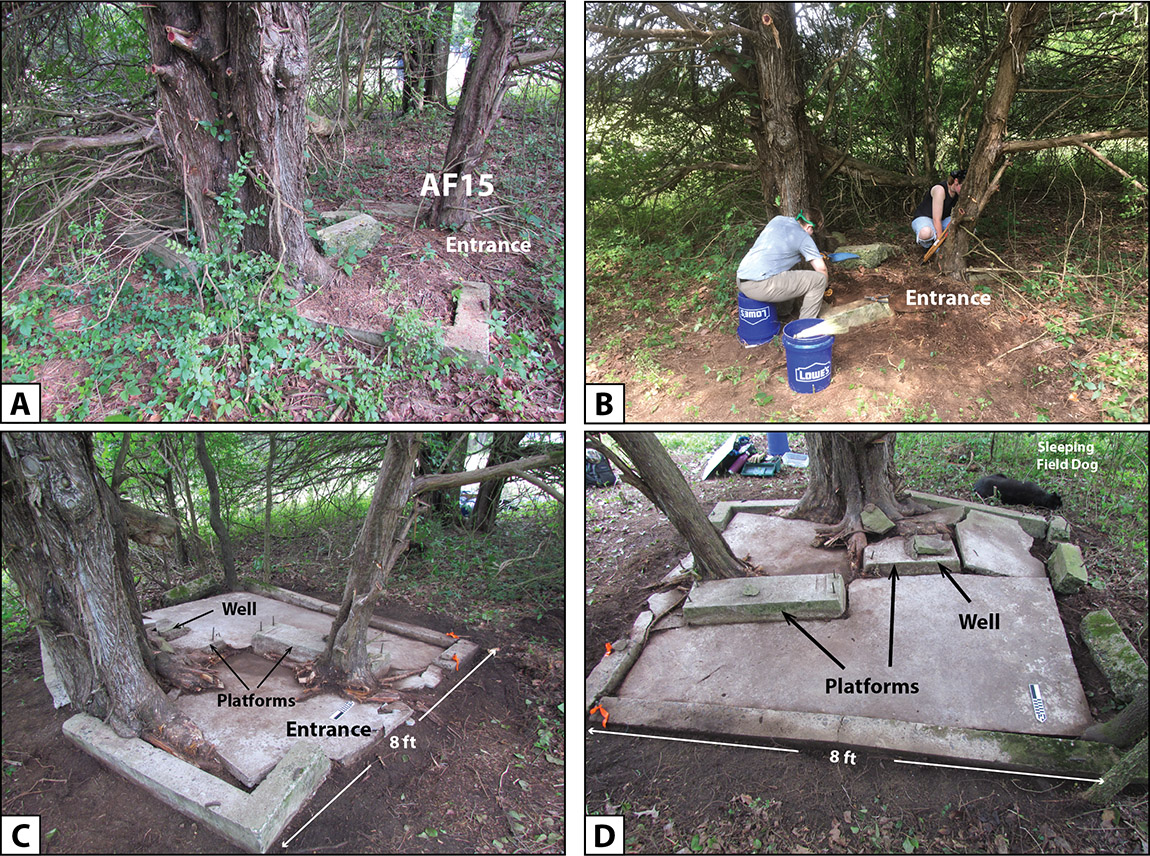 AF15 is a small poured foundation with low cement walls and a small entrance on the east side (Figure 2c, d). The foundation and walls are heavily damaged by root "uplift." Several threaded bolts are within the walls, which are the mounting bolts for a wood building frame that sat over the foundation. Two cement platforms also contain threaded bolts and likely secured machinery, such as a pump or generator. Numerous artifacts were recovered, such as gaskets, washers, nails, and wire. A small cache of broken window pane glass was found in the northeast corner next to the east-facing entrance.
AF15 likely represents the former location of Camp Building No. 20, Pump House #1, where it is noted on the 1934 Building Inventory as a single room, ridged (wood) framed 8 x 8 ft structure built for a cost of $64.00 (Figure 3).

Also, during the 2022 field school students Katie Hooten and Jessica Nichols opened a small 1 x 1 m unit (U11) to test a small, barely-exposed stone feature (AF16) hidden in the overgrowth. At the conclusion of the field school, all that could be said about AF16 was that it is the remains of a stone culvert on the north side of the former Front Street (Figure 4). At that time, its relationship to AF15 or any additional buried components was not known.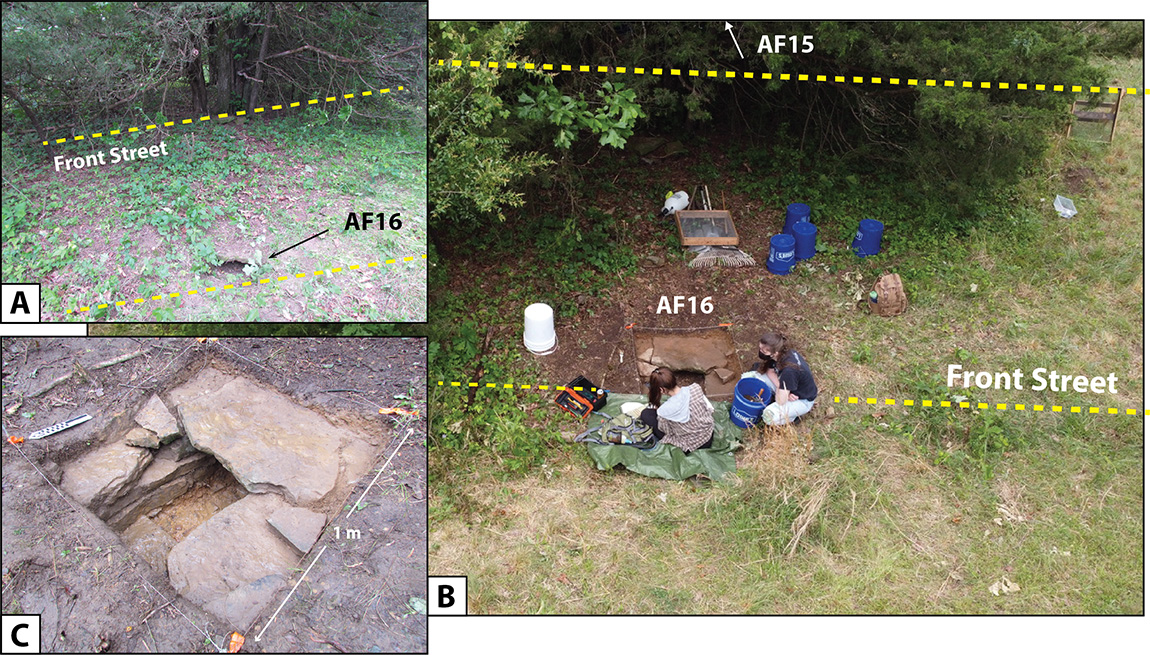 During the 2023 UCA field school, all hands were on deck to expand Unit 11 in order to better understand the extent of the AF16 culvert and its relationship to additional features. To achieve this goal, a 2 x 4 m unit (U12) was centered over the previous Unit 11. On the south end of U12 was established a 1 x 4 m trench (U13) that cross-cut Front Street in order to evaluate the road construction sequence (types of materials, etc.) and understand the extent of the tunnel opening leading south and toward AF15.
Excavations revealed, only a few centimeters below the shale road grade, a linear feature of oversized, flat local stones covering a tunnel approximately 2 feet tall (Figure 5a). A smaller row of worked stones had been placed along each side and wedged into cracks between the top stones (Figure 5b). The tunnel had been "sealed" by using small gravel and sediment to fill the smaller cracks instead of using mortar or cement. The stone cover and tunnel directly align with Pump House #1 (AF15) to the south.
While the feature today is the perfect habitat for field mice, its original purpose was to capture surface and roof runoff rainwater from the adjoining barracks along Front Street into a hand-laid stone tunnel. As the water moved through the tunnel, it percolated into the groundwater and into an 8-10 ft deep well. The two-foot stone tunnel begins with an open culvert at the north edge of Front Street (AF16), runs south under the shale-lined street, and likely continues beyond the area exposed during this season (Units 12 and 13) toward AF15.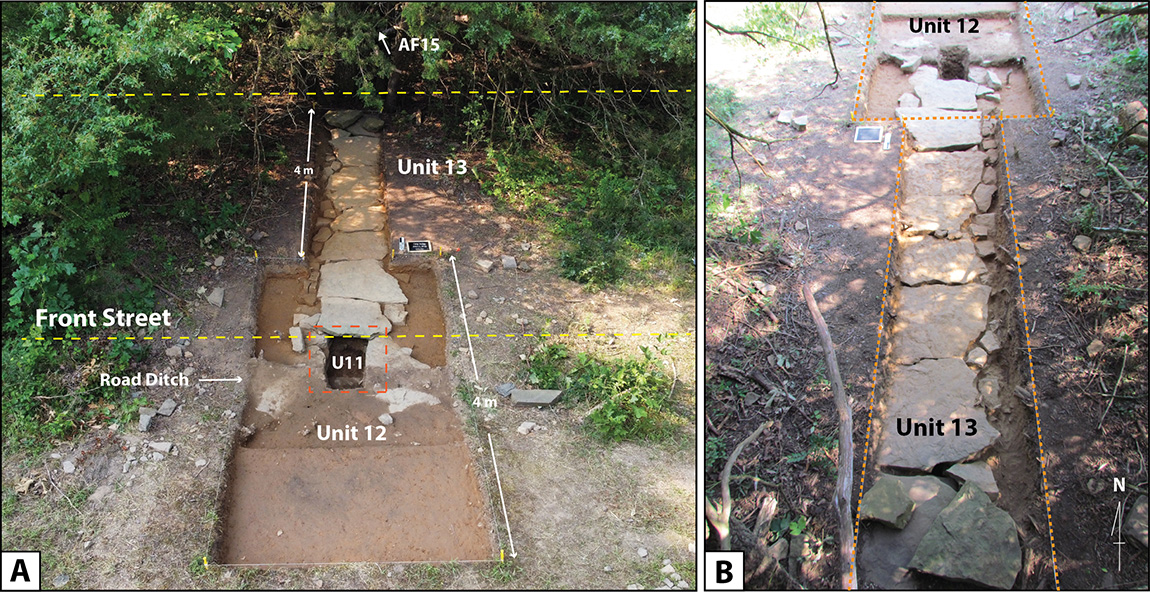 Together, Features AF15 and AF16 reveal a complex water management and usage system that was integrated into Front Street and built to capture and divert rainwater toward a shallow well and into the water table. Feature AF15 is the remains of a pump house building containing the well, whereas AF16 is a constructed stone culvert and water diversion system.
What began as small visible features hidden in overgrown clusters of cedar-juniper, thorny greenbrier vine, and covered in poison ivy, led us to consider the necessity of water management and usage at rural Camp Halsey. While unlikely an active part of the daily experiences and placemaking by the camp enrollees, these two features were a fundamental necessity that allowed the camp to be constructed, the landscape modified, and routine maintenance conducted.
Students at the 2022 and 2023 UCA field schools worked tirelessly in the hot Arkansas sun to evaluate archeological questions about past behavior and adaptation associated with a now-defunct water management system (apart from the field mice). The well and culvert features were constructed as a necessity, perhaps also in the hot sun, 90 years ago by camp enrollees aged between 18 and 25. Ironically, while working on Features AF15 and AF16 UCA students (who also ranged in age from 18 to 25) were able to consider the necessity of water management at Camp Halsey, all while keeping their water bottles within close reach and under watchful eye.
References
Log Cabin Democrat
1939 Camp Halsey Celebration on Sunday: To Observe Anniversary of CCC's Founding; Enrollees Move Soon. April 19, 1939.
Mithen, Steven
2012 Thirst: Water and Power in the Ancient World. Harvard University Press.
Soloman, Steven
2010    Water: The Epic Struggle for Wealth, Power, and Civilization. Harper Press.
Feature of the Month Series
Archeological features are elements or structures that are nonportable or cannot be easily removed from a site (such as a wall or a post hole). Archeologists document archeological features extensively in the field to record what will otherwise be destroyed in the process of excavation. The records of these features are often all that is left at the end of an excavation. Excellent record keeping is necessary for these features to provide insight into the archeological record and site formation.
In this series

, we present interesting and important archeological features that have helped archeologists to better or more fully understand the sites on which they were working. New features will be added monthly. Find the list of features here.