Lydia Rees, Survey Research Assistant
lrees@uark.edu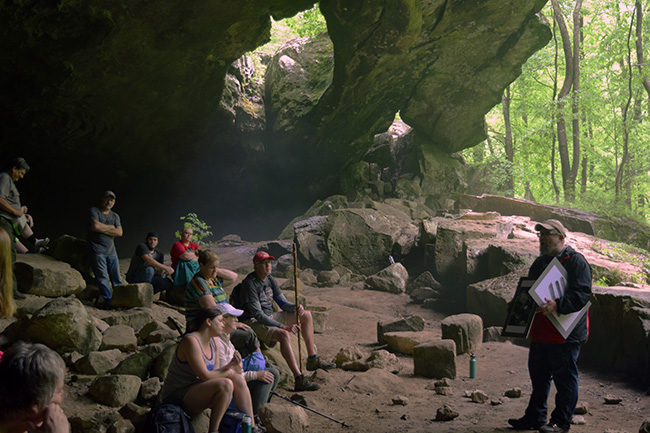 One of the most interesting aspects of archeology in the Arkansas Ozarks is many dry bluff shelters and caves that have been intermittently occupied for 10,000 years.  The dry conditions created in these caves and shelters provide a rare glimpse of the kinds of artifacts that usually rot in the wet climate of the Southeastern United States.  The Arkansas Archeological Survey has begun a new multi-year research project related to this class of sites.  As the first step in this research and in partnership with the Arkansas Natural and Cultural Resources Council and the University of Arkansas Museum Collections we have spent the last year digitizing Samuel Dellinger's field notes and creating a public oriented web site about bluff shelter archeology. 
The web site entitled Bluff Shelters of the Arkansas Ozarks summarizes current knowledge about bluff shelters in a visually appealing and approachable format.  The intent is for the web site to grow and change and continue to be a platform for updating the public about ongoing bluff shelter research and events. The website has a simple design and is organized based on questions we are frequently asked by members of the public at talks and other events.  We aimed to cover the basics of bluff shelters as well as address myths and misconceptions about these sites.  Each section is meant to address questions thematically and offers information about topics such as the geology of the region, the history of early excavations, a time line of bluff shelter use, as well as information on the rare perishable items that can be found in these sites.  The emphasis is placed on the importance and the endangered status of bluff shelters.
We have also included examples of sites and particular artifacts from shelters that convey the kind of important information archeologists can find in bluff shelter contexts. The main "Examples" page is meant to function like a photo gallery.  These sites and artifacts are not meant to be inclusive, but were chosen to provide opportunities to address particular subjects like plant domestication, rock art, and other research topics. 
The final section, "Learn More" sends visitors to bluff shelters that are protected and interpreted―such as those in Arkansas State Parks and the Buffalo National River.  This section also features a reading list for both the public and researchers.  We have included a "Current Research" section here, which is a blog that enables us to keep the public posted about what we are doing.  These posts will be pushed out via Facebook and Twitter as they are created.
We are very excited about the site sand hope you enjoy it.  Go visit, tell your friends, and let us know what you think.
Save
Save
Save
Save