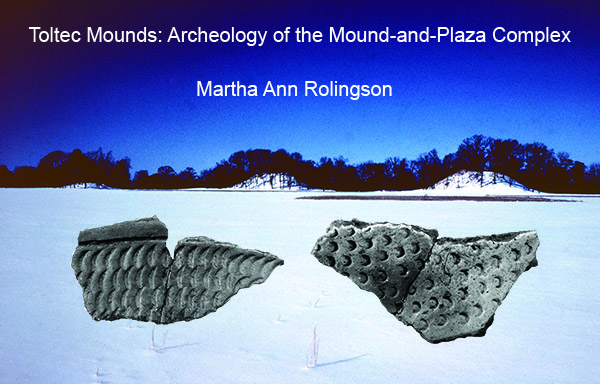 TOLTEC MOUNDS: ARCHEOLOGY OF THE MOUND-AND-PLAZA COMPLEX
by
MARTHA ANN ROLINGSON
(WITH A CONTRIBUTION BY LUCRETIA S. KELLY)

Research Series No. 65
Paper, 293 pp., 2012
ISBN: 978-1-56349-104-7
$42
(plus s&h and sales tax within AR)
To order, visit our Online Storefront.
Toltec Mounds was the most significant place for Plum Bayou culture from ad 700 to 1050. The plaza and surrounding mounds have received the most study at the site over more than three decades. The concept of a formal arrangement of multiple mounds around a rectangular plaza is rare for terminal Woodland cultures. The full plaza was apparently conceptualized early in the occupation with mounds or earthen platforms constructed throughout the period of occupation. The biggest gap in knowledge concerns the two big mounds; without details about these, our understanding of the mound-and-plaza complex is limited. Deposits beneath the mounds resulted from diverse activities, some of which were sacred. Later activities at Toltec were coeval with early Mississippian communities and the architectural design was absorbed into Mississippian culture of the Central Mississippi Valley. Various aspects of the site—architecture, artifacts, and foodways—indicate that Toltec Mounds occupied a significant position in the Mississippi River valley, both geographically and culturally.
---
NOTE: On November 2, 2022, the name of Toltec Mounds Archeological State Park was officially changed to Plum Bayou Mounds Archeological State Park and the ARAS research station was renamed the Plum Bayou Research Station. Learn more...
---