On November 2, 2022, the name of Toltec Mounds Archeological State Park was officially changed to Plum Bayou Mounds Archeological State Park and the ARAS research station was renamed the Plum Bayou Research Station. Learn more...
---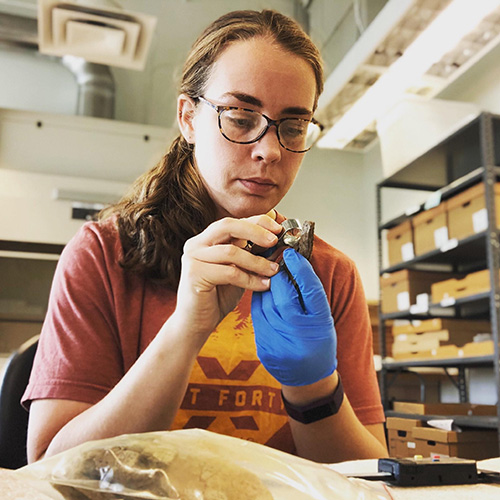 Paige A. Ford (PhD, University of Oklahoma, 2021) will start as the new Station Archeologist for the Toltec Mounds research station on August 2, 2021. She succeeds the work done by Dr. Liz Horton and plans to utilize her experiences in public outreach and research to continue fostering a community of folks interested in learning about and doing archeology. Working alongside colleagues at the Arkansas Archeological Survey as well as state park officials, interpreters, and avocational archeologists, she will build a program balanced between research, education, and outreach that will further our understandings of the archeology of this station's area as well as teach the public how we learn about the past.
Paige has been at the University of Oklahoma for the past five years, working on her PhD under the advisement of Dr. Patrick Livingood in the Department of Anthropology. In pursuing this degree, she has a wide range of experiences with many institutions, including working at the Oklahoma Archeological Survey doing Section 106 reviews, teaching undergraduate level courses, working as a research assistant on grant-funded projects in Oklahoma, working with avocational archeologists on annual excavation projects, and also working alongside colleagues in the Oklahoma Public Archaeology Network (OKPAN) to build education and outreach programming.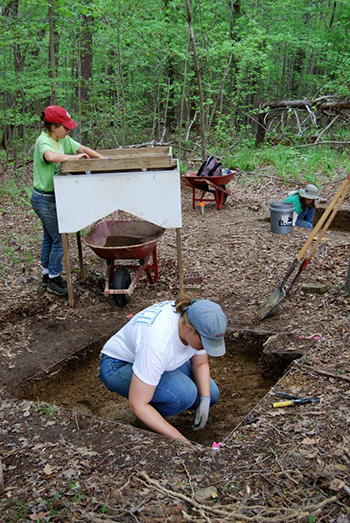 Paige's dissertation work, funded by the National Science Foundation (NSF), focuses on the study of Late Pre-Contact cultures (AD 1400–1650) within and surrounding the Ozark Plateau to understand how communities in this area built and maintained relationships with one another. In collecting data on ceramic sherds from many sites in this region, she examined similarities and differences in how people manufactured and decorated their pottery with the goal of reconstructing social networks through which these communities shared ideas and practices in the past. Paige was able to illustrate that various communities held distinctive decorative practices that distinguished them from surrounding groups, but that all these communities held similar techniques of overall ceramic manufacture (things like processing the clay and forming the vessels), signaling that they also built and maintained strong relationships to those other groups. Thus, she was able to untangle a complex web of connections, relationships, and differences between these Late Pre-Contact peoples.
Throughout her archeological career, Paige has worked in many places including North Carolina, Maryland, Kansas, Oklahoma, and even Peru! Most recently, Paige served as a research assistant with the Oklahoma Archeological Survey on a grant funded by the Oklahoma State Historic Preservation Office. Alongside the assistant state archeologist, she conducted geoarcheological surveys along Little Beaver Creek in north central Oklahoma to understand the landscape of the area and locate potential landforms and sites that date to the Paleoindian and Archaic periods. As part of this grant Paige also worked with local landowners and Oklahoma Anthropological Society members in excavating a multicomponent site with occupations that spanned 6,000 years.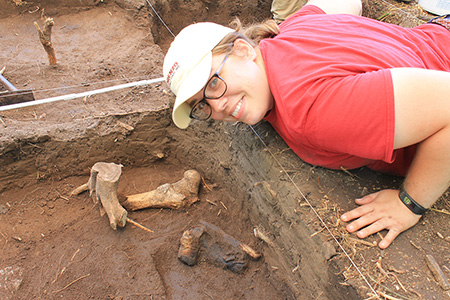 Public outreach and education make up another large part of Paige's archeological career. In OKPAN she has served as the Collaborative Partnerships Liaison for three years, where her goal has been to build and maintain relationships with Tribal Nations. In fostering those connections, she has worked alongside Tribes such as Chickasaw Nation, Osage Nation, Quapaw Nation, Choctaw Nation, and Muscogee Nation to develop archeology programs that not only teach the public, but also amplify the voices of Native peoples in archeology overall. Most recently she has worked alongside a colleague at Muscogee Nation to build OKPAN's Tribal Histories Series, where the Tribes are able to teach their histories directly to archeologists and the public.
She's also developed educational programming such as the Oklahoma Community Heritage Project (OKCHP), taught workshops on various archeological methods including ceramic analysis, and regularly organized events for Oklahoma Archaeology Month. Through all of these initiatives, her goal is always to get people involved in learning about what archeologists and anthropologists do in their studies of the past, and contributing as volunteers. She strives to make learning fun and to create experiences that are special and memorable.
Paige will be moving to Little Rock with her cat Milo, and is excited to start working with the people in the Toltec station area on research, education, and public outreach. She can't wait to meet all of you and hear your ideas!