Jami J. Lockhart (Computer Services Program), Juliet E. Morrow (ASU Research Station), & Shaun McGaha
The Old Town Ridge site is located in northern Craighead County, Arkansas. Recognized historically for more than a century, the ca. A.D. 1350 site was formally recorded in 1967 by Mr. R.W. Lyerly, Jr.  The site is known to contain houses and numerous ceramic and lithic artifacts, including a ceremonial mace discovered in 1925 and a spectacular gorget displaying elements rooted in Braden and Craig-style iconography associated with the Southeastern Ceremonialism of the Mississippi Period, which links geographically-distant sites such as Cahokia (Illinois), Spiro (Oklahoma), Etowah (Georgia), and Moundville (Alabama).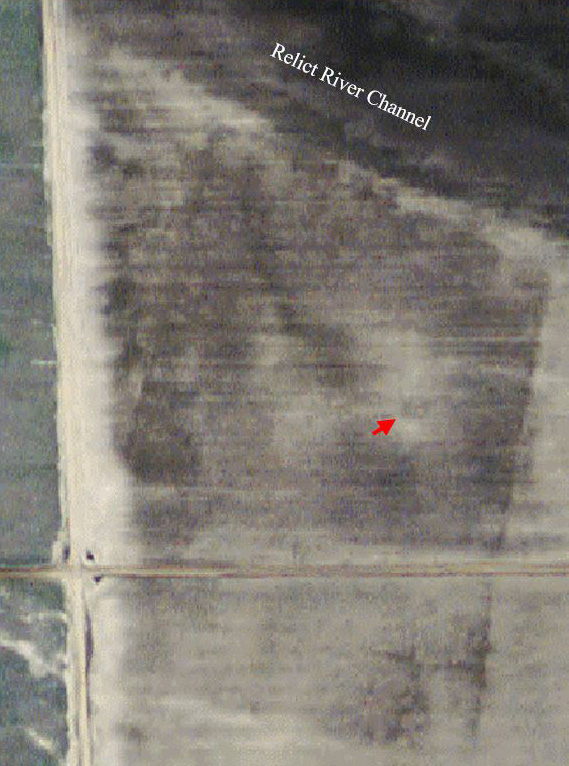 Prior to the geophysical fieldwork, aerial photographs were examined, resulting in interpretations of potential site boundaries and interior features.  Horizontal striations visible in the photo above are east-west trending cotton furroughs.  The red arrow marks a large rectangular anomaly that is visible from the air and in the gradiometer data at right.
Looking beyond surficial artifact discovery, objectives of the project were to locate the corners of bounding earthworks and other internal site features as initially interpreted from aerial photography. Onsite, centimeter-level spatial precision was achieved by establishing a permanent grid system using a total station. Most of the 18-acre fortified site has now been surveyed using a fluxgate gradiometer to identify and locate structures and other archeological features for use in ongoing research examining intrasite organization and Middle-to-Late Mississippian Period life ways in the region.  Results indicate a fortification ditch, palisade, numerous structures (large and small, burned and unburned), and earthquake features from the New Madrid or earlier, possibly-contemporaneous quakes. The study also compares areas of the site that have been land-leveled for agriculture with areas that have been less disturbed.

Depiction of an engraved "birdman" gorget said to have been found at 3CG41. Stylistically, the gorget suggests long-distance trade and communication with Spiroan and other contemporaneous cultures.
Save
Save
Save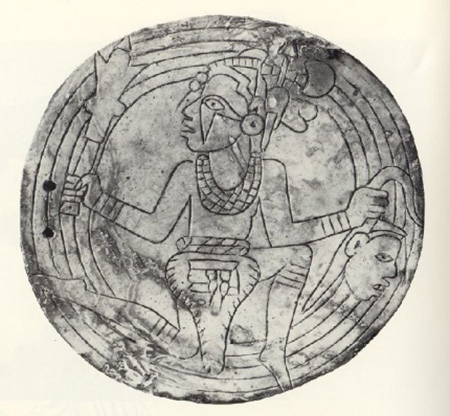 Above is a photo of a Braden-style engraved gorget that is more realistically rendered, but portrays similar symbolism and design elements. (Castalian Springs site, Sumner County, Tennessee).
Describing the gorget from 3CG41, Dr. George Sabo III: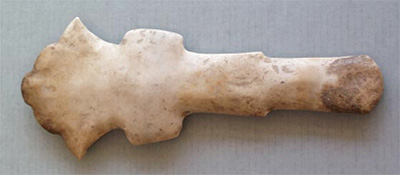 "The engraved image is a composite bird consisting of several elements. Working our way out from the center, the artist began with a vessel very similar to the vessels on other Spiro gorgets. The cross-in-circle design indicates that this is meant to be seen as an "earth vessel" or This World locative. Bird wings sprout from both sides of the vessel and these are rendered in a typically Spiroan manner, and the concentric half-circles along the forward edges of the wings can be read as "Above World" locatives. The detached head that emanates from the vessel opening is also typically Spiroan, especially in the tongue, nose, eye, and hair treatments. The tail extending from the vessel base is distinctively that of a falcon, and the legs are decorated with cross-hatching that Spiroans generally used to index snakes (and thus a Below World locative).  Both sets of talons clutch additional detached heads like the one emanating from the top of the vessel. So we have here a very odd "bird" or even possibly a "bird man" tableau comprised of This World ("earth vessel")/Above World (Wings)/Below World (Snake) imagery that also links with the concept of death/ancestral characters and/or the multi-generational connections (detached heads). The encircling lines along the gorget border, within which the composition is rendered, can also be read as a "portal" symbol -- that is, as a symbol indicating the permeability of boundaries separating the three cosmological realms. In its particular arrangement of motifs, the gorget is one of a kind, but the overall thematic expression falls squarely with Southeastern Ceremonial Complex iconography."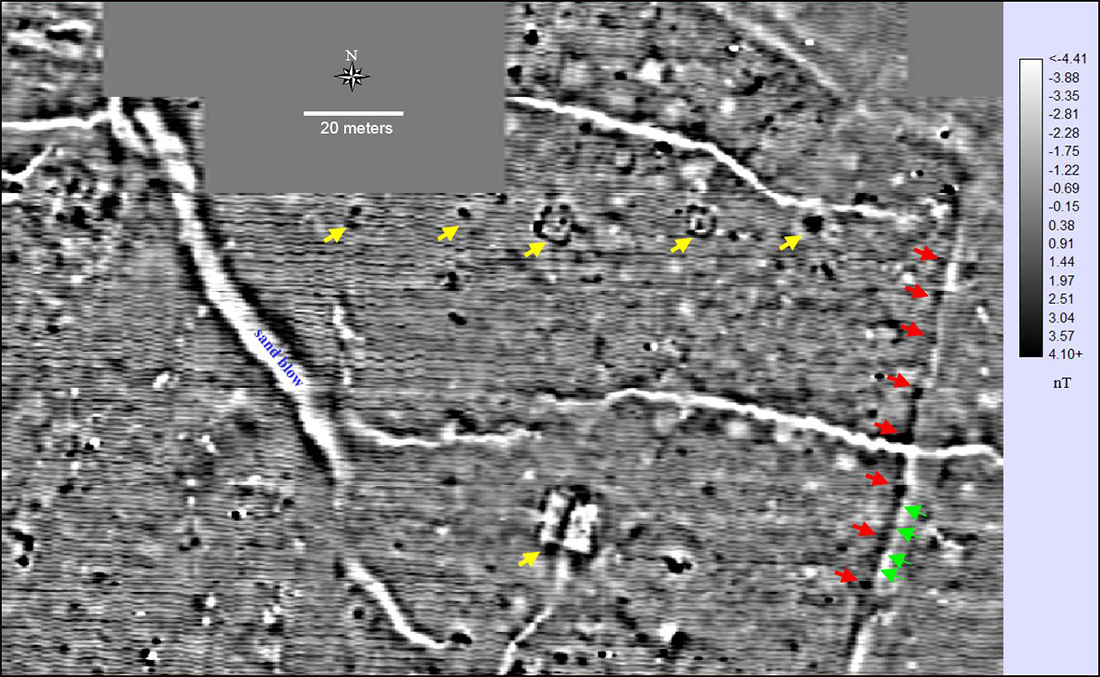 An enlargement of the gradiometry for the northeastern portion of the site (above) shows numerous anomalies that are consistent with prehistoric structures and other burned and unburned archeological features. Some examples of probable structures are marked with yellow arrows, and many other similar structure-like anomalies can be seen.  The largest of these is approximately 15 meters on a side.  Smaller magnetic anomalies may indicate hearths or pits of various types.  Red arrows mark the fortification earthworks at small, evenly-spaced, round magnetic monopoles that may be sizable posts/post molds. Smaller green arrows mark possible interstitial posts.  The irregular, linear, white areas of decreased magnetism are earthquake liquefaction features (sand blows).

Assorted surface artifacts from 3CG41.
Acknowledgements and References:
Thanks to Dr. Thomas J. Green, Dr. George Sabo III, and Arkansas Archeological Society members Russell Henry and Melinda Martin. 
Morse, Dan F., Phyllis Morse. 1983. Archaeology of the Central Mississippi Valley (New World Archaeological Record).
Academic Press, Inc. San Diego, CA.
About This Series
The Arkansas Archeological Survey celebrates its 50th anniversary in 2017. Our mission to study and conserve the state's archeological heritage and to communicate our knowledge to the public was established by the Arkansas legislature with passage of Act 39 in 1967. In honor of that occasion, we are posting weekly "Historic Moments" to share memories of some of our most interesting accomplishments and experiences.