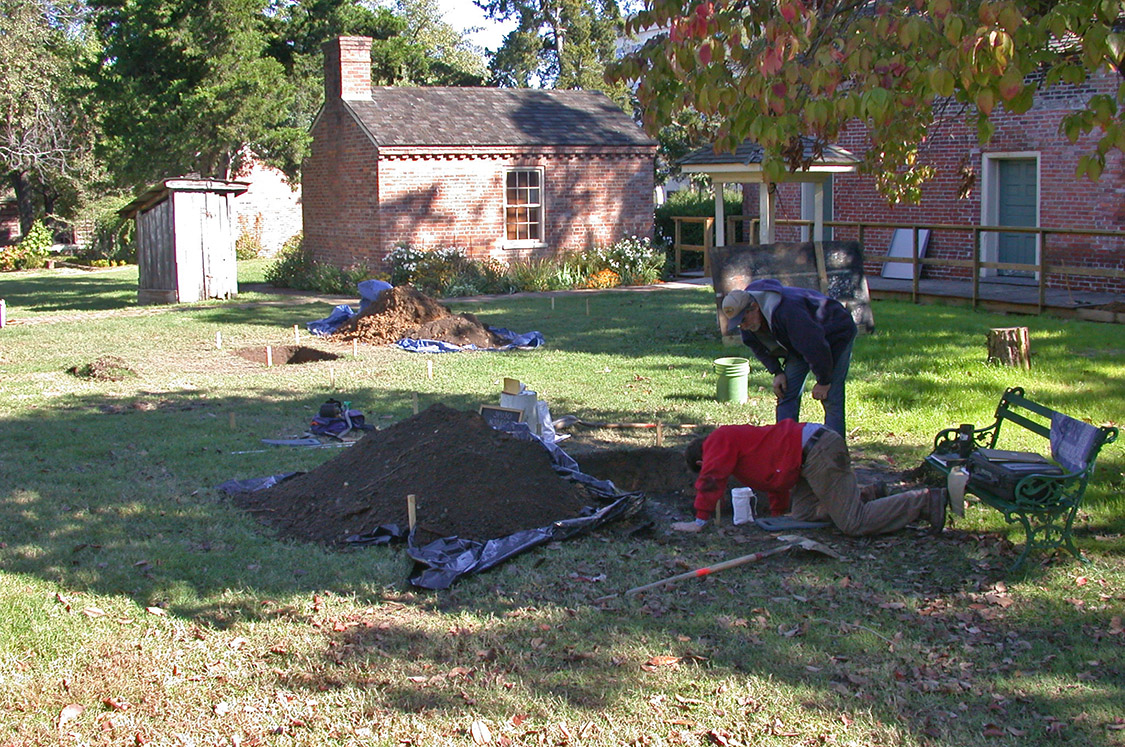 Jodi Barnes, UAM Research Station
Happy Women's History AND Archeology Month! This is a great time to remember the women of Arkansas's past and learn how archeology helps tell their stories. Women were less likely to be recorded in historic documents, but archeology is an important source of information about their lives. Archeologists study the things people lost or discarded to learn about people and cultures of the past. Artifacts, like tablewares and animal bones, help fill out the stories of the extraordinary and everyday women who played a role in creating the state's unique history.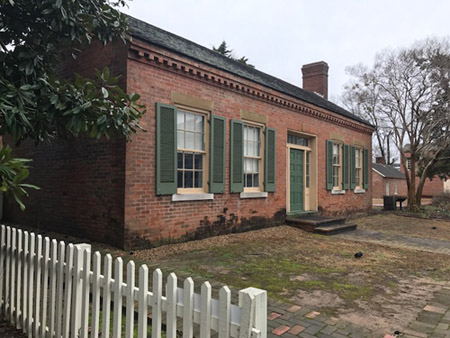 In antebellum Little Rock, archeology at the Brownlee House provides a glimpse into the everyday lives of two women. Family records tell us a good deal about the Brownlee family. We know that Robert Brownlee was a Scottish immigrant and stonemason by trade. He came to Little Rock in 1837 to work on the city's capital building, which is today's Old State House Museum. Brownlee built his federal style, one-story brick home in 1846, where he lived with his brother James, James's wife, Isabelle, and an enslaved woman named Tabby until 1852. The Arkansas Archeological Survey conducted a geophysical survey and uncovered the brick foundation of the smokehouse and the kitchen behind the house. They found animal remains, including poultry, pig, and cow, tablewares, bottle fragments, buttons, and an array of other artifacts. A careful pairing of historical records and archeological findings provides a clearer picture of Isabelle and Tabby's lives at the Brownlee home.
The tablewares recovered from the excavations include transfer printed and hand-painted ceramics. With the invention of transfer printed ceramics in the 1790s, it was possible to have intricately decorated and exactly matching pieces at a cost far below hand-painted pieces. By the late 1820s, a wide variety of goods, including tablewares, were being shipped into Little Rock by steamboat from Cincinnati, Philadelphia, and New Orleans. The purchase of both hand-painted and transfer printed ceramics and the building of the modest house on Cumberland Street in the heart of the new city tells us that the Brownlees aspired to be middle- to upper-class citizens in this burgeoning community.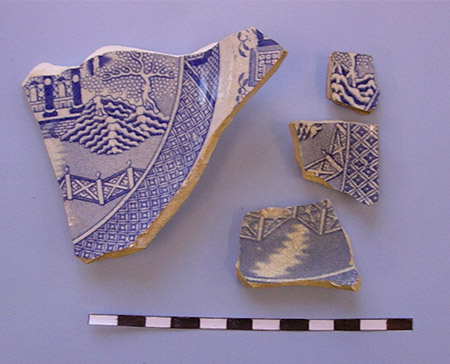 Yet the arrival in the new territory, far from her family in Scotland, was difficult for Isabelle. In an 1892 oral history, Robert Brownlee talked about his brother's wife, her poor health, and "homesickness." Although Brownlee thought Isabelle was "better than she had ever been used to, plenty of everything and a Negro woman to do the housework, having a good brick house with no rent to pay," he indicated that she would still "take the sulks, wouldn't speak to anyone for weeks and made all around her unhappy as she vent her feelings on the enslaved woman named, Tabby." In 1831, Hiram Abiff Whittington, a transplanted New Englander, noted the tradition of owning house servants: "It is not the custom for the women to work in this over-civilized and refined country. Slaves do everything here." Where a wealthier household, like the nearby Ashleys, maintained a labor force that included a butler, maids, and a nurse, an enslaved woman, like Tabby, of less affluent owners labored at all these tasks and more. Tabby lived and worked in the kitchen, preparing meals, cleaning house, and caring for Isabelle Brownlee.
Tabby maintained the "2 neatly furnished rooms, separated by a spacious and airy hall" (Arkansas Gazette 1840, April 12). In addition to washing the laundry, Tabby also likely performed the duties of a lady's maid, mending Isabelle's clothing and sewing bone or porcelain buttons on her dresses. She likely made the beds and swept the floors. She set the table with transfer printed or hand-painted tablewares and stored the dry goods, like flour, in crocks. She served the evening meal in serving bowls made of whiteware or porcelain, depending on the occasion, cleared the table, and washed the dishes, after she cooked the meal over a hot fire in the kitchen.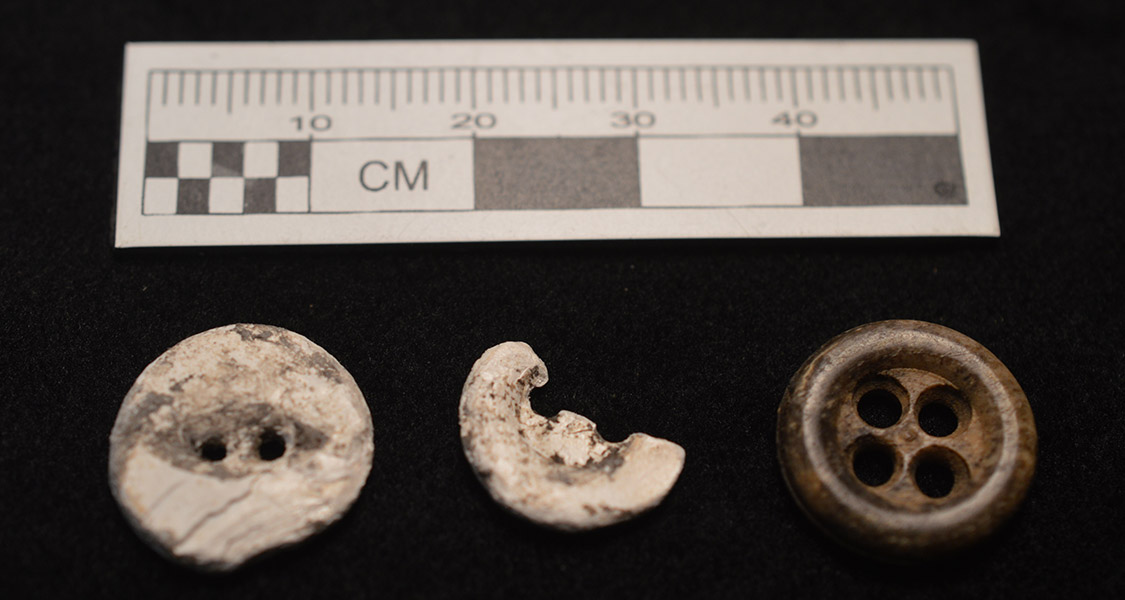 The large quantity of cow bones recovered archeologically suggest that Tabby prepared beef and potato based-meals that reminded Isabelle of home, since potatoes were readily available from local markets. These meals, prepared to make Isabelle feel better, differed from the typical Arkansan's pork-based diet. And the Scottish fare likely had characteristics of Tabby's African-Caribbean roots, creating a uniquely Arkansas flare.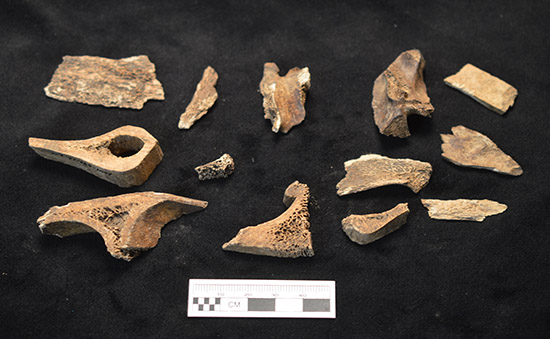 The archeology at the Brownlee House allows us to see the lives of the Scottish immigrants who settled in this frontier town. It helps us see the enslaved women, like Tabby, who cooked, cleaned, and cared for that family in the modest home they built. To learn more about Isabelle and Tabby, join us for the 4th Annual "Behind the Big House" program. Preserve Arkansas, the statewide nonprofit dedicated to the preservation of Arkansas's historic places, in partnership with the Arkansas Humanities Council, Black History Commission of Arkansas, Arkansas Archeological Survey, Butler Center for Arkansas Studies, and Historic Arkansas Museum, a museum of the Department of Arkansas Heritage, is proud to present "Behind the Big House" on March 29–30, 2019, at Historic Arkansas Museum in Little Rock. The "Behind the Big House" program moves beyond the "Big Houses," or stately historic homes, to explore extant slave dwellings and interpret the experiences of the enslaved people who inhabited them. This workshop will include live historical interpretations and lectures to highlight the important contributions African Americans made to Arkansas's history.
This year's program focuses on best practices for interpreting slavery at historic sites as well as researching the lives of enslaved Arkansans. On Friday, March 29 at 5:30 p.m., participants will sample enslaved antebellum cuisine while rotating through three interactive stations on the Museum's grounds. At 6:30 p.m., Dr. Jodi Skipper will give a lecture about slavery and roots tourism. Afterward, guests are invited to join a Fireside Chat with Joseph McGill of the South Carolina-based Slave Dwelling Project, moderated by Dr. Kelly Houston Jones. Participants are invited to spend the night on the Museum grounds. On Saturday, March 30, a half-day of programming will include lectures about documenting and preserving enslaved dwellings and researching and interpreting slavery at historic sites, as well as a genealogy workshop at the Butler Center for Arkansas Studies. Click here for a full schedule of events.