The UAF station is located at the Survey coordinating office in Fayetteville, with additional office space in the Anthropology Department on the UAF campus. The station archeologist teaches in the Department of Anthropology at UAF and performs other faculty service to the Department and campus. The UAF station territory covers 12 counties and lies almost entirely within the Ozark Mountain region of northwest Arkansas; only the extreme southwestern portion dips down into the Arkansas River Valley. The archeology of the Ozarks is justly known for the excellent preservation of organic material such as basketry, textiles, woven sandals, and plant food remains in dry rock shelters. Large collections of such remains, excavated in the past from sites now inundated by reservoirs, are housed in the UA Collection Facility awaiting modern analysis. Rock art, both painted and carved, is also found in some shelters. Station research in the last 30 years has broadened the archeological picture by focusing on ceremonial mound sites that link the Ozarks to the Mississippian and Caddo cultures. Other projects have emphasized historical sites left by pioneer Arkansans, Civil War related sites, and environmental history. The station's latest initiatives are a comprehensive study of prehistoric rock art, analysis of museum curated archeological collections from the Ozarks and central Arkansas River valley, and new studies exploring how artistic expression on decorated artifacts, such as the world-class ceramic collections from Carden Bottoms in central Arkansas, reflect social boundaries and social interaction.
Jamie C. Brandon (Ph.D., University of Texas at Austin, 2004) is the Survey's UAF Research Station Archeologist, and is a Research Assistant Professor of Anthropology at the University of Arkansas–Fayetteville. He has over 25 years of experience in the field of archeology, has been involved with projects in 13 southeastern states, and has authored or coauthored publications and/or technical reports on research in seven of those states. He has worked with the Arkansas Archeological Survey in various capacities since 1997. Brandon has excavated at sites dating from the Pleistocene to the twentieth century, but his research interests focus on historical archeology of the 19th century South, prehistoric and protohistoric cultures of the Midsouth and trans-Mississippi south, cultural and historical memory, and working with descendant communities.
Jerry E. Hilliard (M.A., University of Arkansas, 1980) moved to the position of UAF station research associate in 1994 after 15 years with the Survey doing public archeology, records management (he is a former Survey registrar), and research on prehistoric and historic sites in the Ozarks. His specializations include American Indian rock art and historic archeology in northwest Arkansas, especially Civil War related sites, and Fayetteville area sites. He also works closely with local volunteers from the Ko-ko-Çi Chapter of the Arkansas Archeological Society.
Current Projects
Archeology at Ruddick's Field, Pea Ridge National Military Park
UAF Station in the Media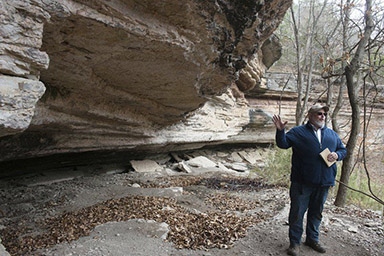 Ozark bluffs preserve stories about first residents
Andy Ostmeyer, Joplin Globe
March 18, 2017

Alliance Names Endangered Historical Sites In Arkansas
Associated Press
May 14, 2015
Silent Storytellers: Cemetery Preservation Documentary
Video, AETN and the Department of Arkansas Heritage
January 23, 2013
Commemorating the Civil War in Arkansas
Video Documentary, AETN
2011
Save
Save
Save