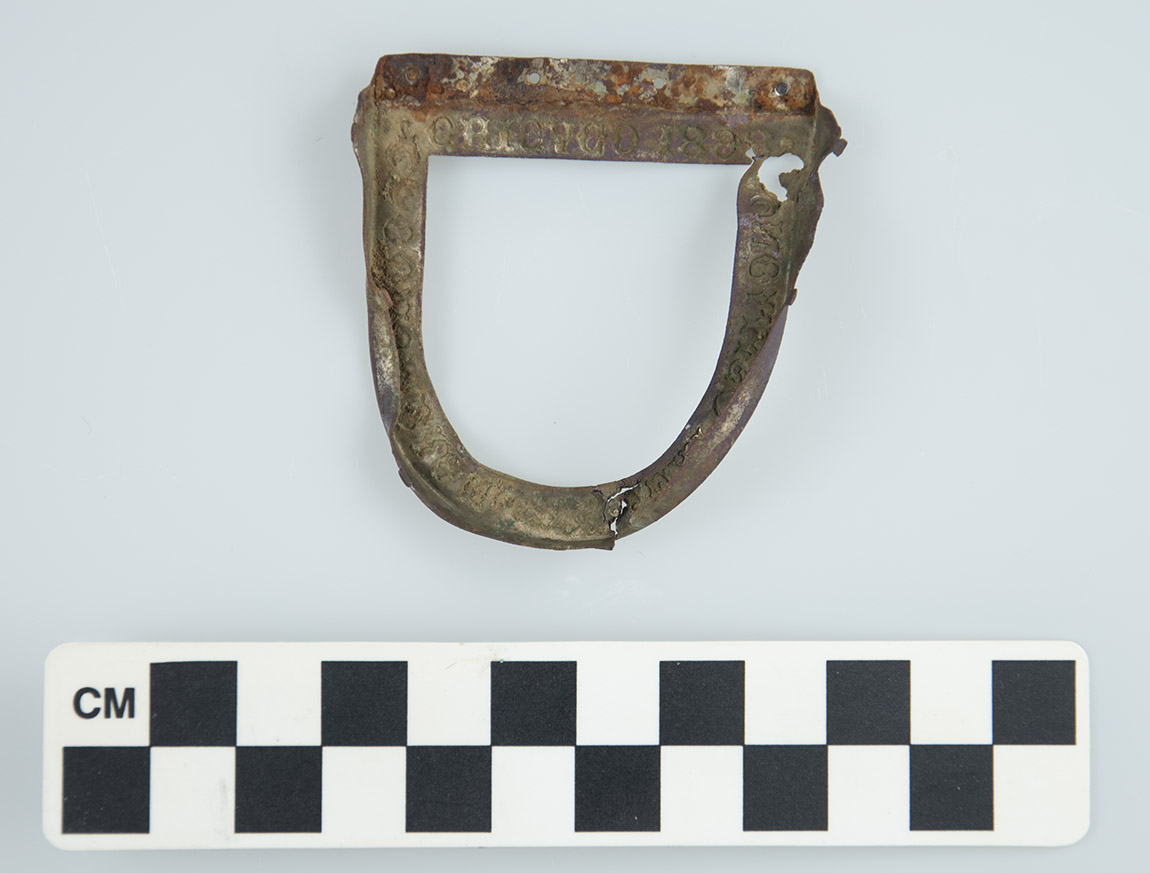 George Sabo III and Leslie C. Stewart-Abernathy, ARAS
Artifact of the Month - May 2019
Our featured artifact this month is a white metal badge or souvenir frame, possibly brass plated when new, measuring 55mm wide and 57mm long. The frame is stamped with the words "Columbia Exposition Chicago 1893" and "Pat Appd For" along the base.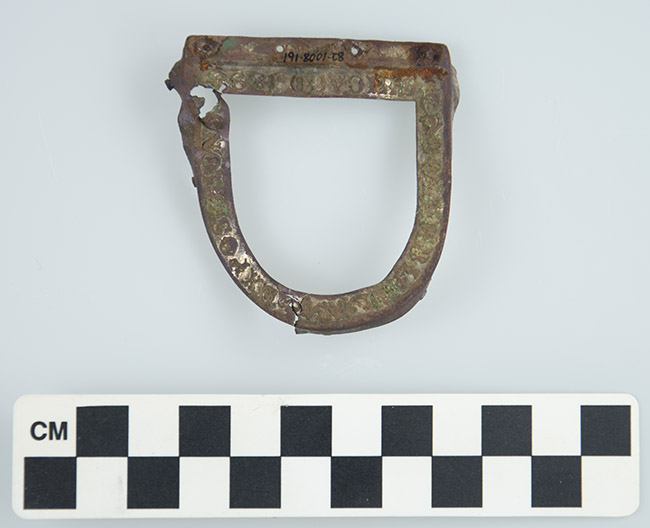 Excavations conducted in 1982 at the Moser Site (3BE311) in Benton County produced many thousands of late 19th and early 20th century artifacts, including this specimen. The project was directed by Leslie C. Stewart-Abernathy as part of a larger Arkansas Archeological Survey mitigation effort in advance of the relocation and expansion of U.S. Highway 71 (now Interstate Highway 49).
The Moser site was a rural Ozarks farmstead occupied between ca. 1875 and 1919 by several families, but most prominently by the Sharps (1882–1904) and Mosers (1907–1915). During that era, expanding highways and railroads linked many rural northwest Arkansas communities to wider social, economic, and political networks. Moser site occupants, like many of their neighbors, raised animals (horses, hogs, mules, and chickens) and crops (fruits, vegetables, and grains) both for personal consumption and for commercial sale in the nearby town of Rogers. Excavations identified a series of below-ground features, including cellars, a well, a cistern, and excavated pits that served as trash receptacles filled during successive episodes in the site's history. As such, each served as a "time capsule" illuminating many aspects of late 19th and early 20th century lifeways in the rural Ozark Highlands.
The rich body of material evidence preserved at the site provides many insights. One of the most interesting is the degree to which rural Ozark farmers participated in national and international markets. This is reflected by changing inventories of commodities, including personal items, household furnishings, and table wares acquired from as far away as Staffordshire, England. The 1893 Columbia Exposition badge—quite possibly acquired during a trip by members of the Sharp family to attend that event—is one of the most singular indicators of direct participation in those larger networks. All of which points to an overarching conclusion, contrary to popular stereotypes, that post-Civil War Ozarkers were truly independent, but not isolated.
---
Reference
Stewart-Abernathy, Leslie C.
            1986 The Moser Farmstead—Independent But Not Isolated: The Archeology of a Late Nineteenth Century Ozark Farmstead. Research Series No. 26. Arkansas Archeological Survey, Fayetteville AR.
Artifact of the Month Series
A first principle of archeology is that the significance of artifacts depends upon documented information about the context of their discovery. At what site was the artifact found? Can we figure out the age of the artifact? Where was it found in relation to site features (houses, trash deposits, activity areas, etc.) and the distribution of other artifacts? Only with knowledge of those facts can we assess further information about the manufacture and use of artifacts, and their role in other spheres of activity such as social organization, trade and exchange, and religious practice.
In this series

, we feature select artifacts that are extraordinary both for the context of their discovery and for their unique qualities that contribute exceptionally important information about Arkansas culture and history. New artifacts will be added monthly. Find the list of artifacts here.