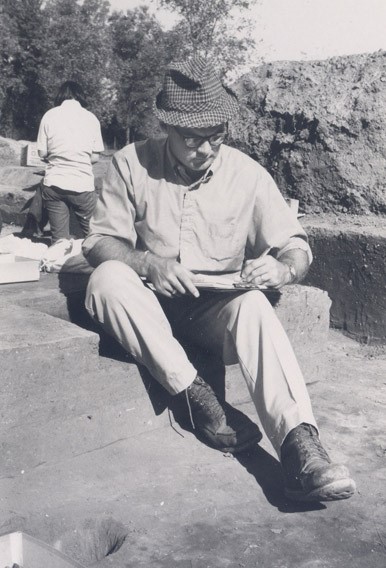 We are deeply saddened to learn of the passing of our friend and colleague Frank F. Schambach, who since his 2006 retirement from the Arkansas Archeological Survey has resided with his wife Marilyn in Afton, New York.
Frank was hired by Charles R. McGimsey III to serve as one of the first cohort of research station archeologists when the Arkansas Archeological Survey was created in 1967. At the time, Frank was completing his PhD from Harvard University, producing a dissertation on pre-Caddoan, Fourche Maline culture artifact assemblages excavated by WPA crews from several sites in southwest Arkansas. Frank became the first research station archeologist at Southern State College in Magnolia—now Southern Arkansas University—and remained in that position throughout his career.
Frank's long tenure with the Survey is reflected in an extensive series of publications that, above all else, provide a careful reconstruction of the emergence and development of Caddo communities out of earlier Woodland period Fourche Maline and Archaic period cultures in southwest Arkansas and adjacent regions. Much of this information was generated from Arkansas Archeological Society training programs, which Frank enjoyed hosting as much as his colleagues and volunteers valued their participation. Frank also co-authored (with Society member Leslie Newell Peacock) Crossroads of the Past, the Survey's first Popular Series overview of ancient Indians in Arkansas.
He is being remembered by many today for his scholarly achievements as well as his mentorship of archeologists around the state and region, his passion for archeology, and the care and respect he showed to those he worked with. He will be missed greatly, and we extend our deepest and sincerest condolences to Marilyn and his son, Eric, of Brooklyn, New York.