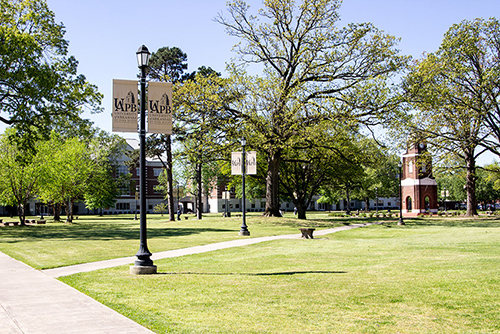 The Arkansas Archeological Survey (ARAS) invites applications for a permanent, full-time position as Research Station Archeologist based at the University of Arkansas at Pine Bluff, just south of Little Rock. The responsibilities of station archeologists are multifaceted and dynamic, ranging from academic scholarship to public outreach and preservation. Research is integral to ARAS' mission, and the qualified candidate will develop an innovative research program in their designated station area, conduct said research individually and in collaboration with colleagues and/or descendant communities, seek internal and external funding to support their endeavors, and present and publish the results of scholarship in local, regional, and national venues.
Ample resources are available to the successful candidate, including but not limited to rich existing collections and opportunities for new research throughout the lower Arkansas River Valley; the ability to hire a full-time station assistant; a station vehicle and basic field equipment; strong existing relationships with descendant communities; and support from the University of Arkansas Fayetteville through an associated Research Professorial appointment.
While research specialty is open, we particularly welcome scholars interested in studying the African diaspora and the African American experience in Arkansas as UAPB is the only HBCU in the University of Arkansas System, or French Colonial archeology associated with nearby Arkansas Post National Memorial. The station's research territory also has sites associated with early Quapaw history and a full sweep of precontact sites dating back to the first peopling of the area.
Station archeologists also contribute to their host institutions and teach two courses per year. ARAS also emphasizes public outreach and the development of educational materials and projects, while also providing support to the Arkansas Archeological Society and their associated programs such as local chapter activities and the annual Training Program.
All research station archeologists are supported by a Coordinating Office and nine other stations with associated staff, as well as technical resources including 3D scanning, drone-based photogrammetry, RTI imaging, remote sensing (e.g., resistivity/conductivity, magnetometry, GPR) and a range of archeometric capabilities, as well as fiscal and grant administration support.
Minimum Qualifications
PhD or equivalent in anthropology, archeology, or a closely related field

Field and research experience in North America east of the Rocky Mountains

Experience teaching at college/university level (TA experience included)
Preferred Qualifications
Experience in the archeology of the North American Southeast or Midwest

Experience/success in acquiring external funding in support of research

Experience in public archeology

Experience in working with avocational archeologists, descendant communities, and local, state, and federal agency officials
Knowledge, Skills, and Abilities (KSA)
Knowledge of North American archeology east of the Rocky Mountains with preferred specialization in the North American Southeast or Midwest

Skill in archeological field and lab methods, preparation of publications and grant proposals, working on collaborative projects involving organizational team members, and completing assignments in a timely manner.

Ability to provide teaching and related service to the ARAS research station host institutions; to the Arkansas Archeological Society and interested members of the general public; and to municipal, state, federal agency, and descendant community stakeholders.
Responsibilities
Research and Scholarly Activity 20%
Develop and maintain creative research and scholarly activity in research station area

Participate in collaborative research activities with other ARAS colleagues

Publish research results in peer-reviewed venues

Acquire external funding in support of research and creative activity
Higher Education and Service to Host Institution 20%
ARAS-contracted postsecondary classroom instruction (2/0 or 1/1 load)

Assigned activities from park, campus or institute leadership

Student advising and academic committee service

Other host institution support activities
Preservation and Professional Service 20%
Work and consultation with municipal, state, tribal and federal agencies regarding archeological sites and heritage

Consultation regarding the preservation and management of specific sites and resources

Service to and engagement with professional societies, including committee service and leadership

Committee and internal service to ARAS
Public Archeology 20%
Engagement with amateur societies and chapters of the Arkansas Archeological Society

Public education and K-12 outreach activities in archeology

Outreach to landowners, community organizations, descendant communities, and other non-professional entities that manage or affect archeological resources

Advocacy for the conservation of archaeological and heritage resources
ARAS Records, Data and Collections Work 20%
Record new sites and update existing site file information

Maintenance of site and project records

Care, inventory, digitization and rehabilitation of collections

Manage station operation and records; supervise research station assistant
Compensation
$51,000 USD, with full benefit package
Anticipated start date: July 1, 2024
---
The Arkansas Archeological Survey is an independent unit of the University of Arkansas System. The University of Arkansas is an equal opportunity, affirmative action institution. The university welcomes applications without regard to age, race/color, gender (including pregnancy), national origin, disability, religion, marital or parental status, protected veteran status, military service, genetic information, sexual orientation or gender identity. Persons must have proof of legal authority to work in the United States on the first day of employment. All applicant information is subject to public disclosure under the Arkansas Freedom of Information Act.