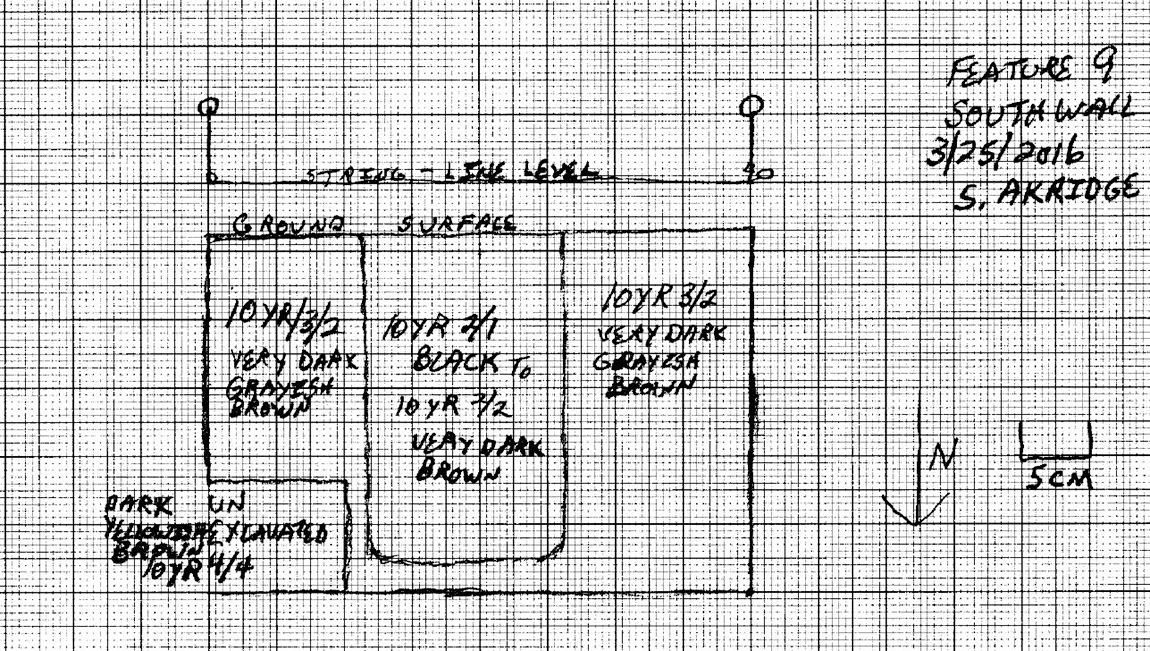 Michelle Rathgaber
Feature of the Month - July 2023

In 2016, I was excavating what I hoped was a Mississippian house in northeast Arkansas as part of my dissertation research into how Mississippian people reacted to the New Madrid earthquakes of the late fifteenth/early sixteenth century. The house at the Manley-Usrey (3MS106) site was buried by sand from a sand blow caused by an earthquake, but we had located a hearth and a variety of artifacts on what would have been the floor. This suggested that we were excavating the interior of a house, but we were looking for evidence of the walls. We found that evidence in the northeast corner of the excavation block in the form of postholes. There were a few in the area, as well as a few more that we thought might be postholes at first but turned out to be possibly tree roots or some other form of bioturbation.
The best-looking posthole was Feature 9, excavated by Scott Akridge (Figure 1). This feature has the distinct characteristics of a posthole in that it is circular in plan view (not pictured), has a distinct, darker soil color that allows us to distinguish it from the surrounding soil (Figure 2), and it has a flat bottom that was dug out to place a pole into it. It also goes quite deep into the soil, suggesting that it would have been a sturdy post to hold up a wall and roof.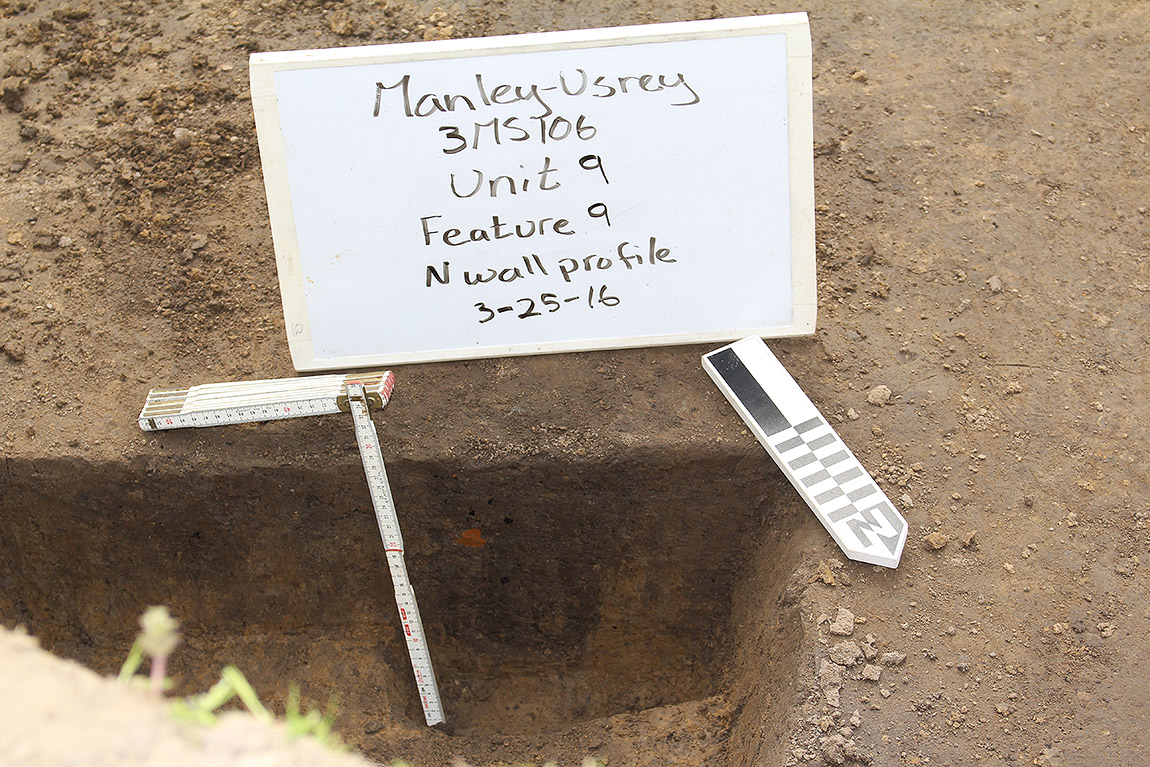 Circular features seen in plan view in excavation units must always be tested via cross-sectioning because they are often not, in fact, postholes. Figure 3 shows another "feature" that we identified in the plan view, but which turned out to just be a blob of darker soil. This could be due to bioturbation in the area (the movement of soil by animals, insects, and plant roots), or perhaps something burned or rotted in that location, but the uneven bottom and the shallow nature of the dark soil show that it was not a hole dug for placing a post.
Postholes are often the most common feature on a Mississippian site, but their initial numbers often decrease as they are cross-sectioned and mapped, just as they did in this example at 3MS106. Careful excavation, photography, and mapping/profiles allow us to make the distinctions and learn more about houses and their construction during the Mississippian period in northeast Arkansas.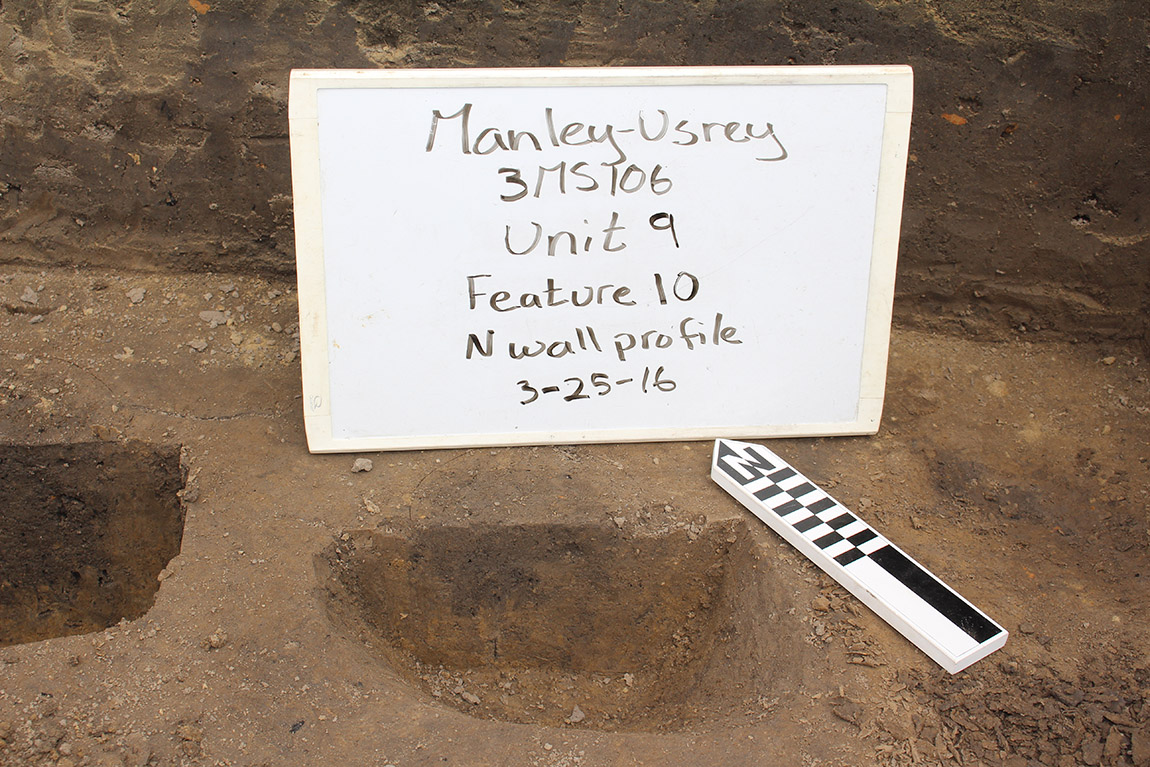 Feature of the Month Series
Archeological features are elements or structures that are nonportable or cannot be easily removed from a site (such as a wall or a post hole). Archeologists document archeological features extensively in the field to record what will otherwise be destroyed in the process of excavation. The records of these features are often all that is left at the end of an excavation. Excellent record keeping is necessary for these features to provide insight into the archeological record and site formation.
In this series

, we present interesting and important archeological features that have helped archeologists to better or more fully understand the sites on which they were working. New features will be added monthly. Find the list of features here.